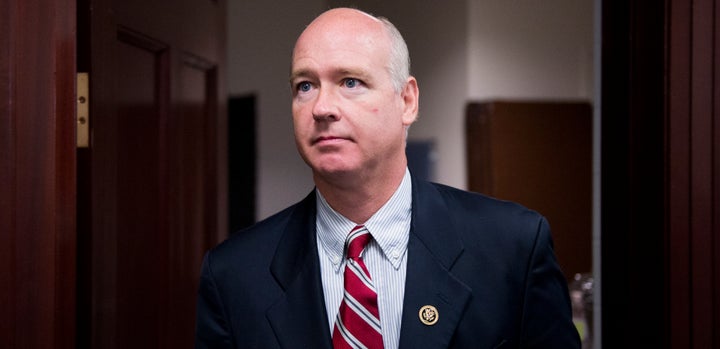 WASHINGTON -- A top Republican wants the federal government to spend half a billion dollars so states can make people on food stamps pass drug tests.
Federal law doesn't currently allow states to drug test food stamp recipients, an obstacle that has prevented Republicans in Georgia, Wisconsin and elsewhere from carrying out the policy. Aderholt's bill would allow drug tests, but not require them.
"This bill provides states with the ability to identify those who are gaming the system as well as those who are struggling with addiction," Aderholt said in a statement from his office. "For those struggling, it provides funds to assist states in providing drug treatment."
Roughly 45 million Americans receive food stamps, making nutrition assistance one of the country's most important antipoverty initiatives. It's a $75 billion federal program but states are in charge of distributing benefits.
One of the Democrats' most vocal food stamp supporters, Rep. Jim McGovern (D-Mass.), called the bill an attempt to demonize poor people in a House floor speech Friday.
"Why aren't my Republican colleagues calling for drug testing for wealthy CEOs and oil company executives who receive taxpayer subsidies?" McGovern said. "Why is it that they always pick on poor people? It's a lousy thing to do."
Urine tests are better for catching marijuana than any other substance, since pot chemicals can remain in the system for much longer than their counterparts for cocaine, opiates or alcohol. Studies of drug use among public assistance recipients find rates slightly higher than in the general population, according to a 2011 summary of available data from the Department of Health and Human Services, though alcohol was the most common substance.
Aderholt chairs an appropriations subcommittee that oversees food stamp spending. Rep. Mike Conaway (R-Texas), who chairs the committee that oversees food stamp policy, has previously resisted appropriators' efforts to tinker with food stamps. Conaway has been conducting his own review of the program.
"While the committee has not yet delved into this particular topic during our hearings, I anticipate we will discuss this important issue under our comprehensive review of SNAP," Conaway said in a statement.
This story has been updated to include comments from Aderholt, Conaway and McGovern.
Arthur Delaney is a co-host of "So That Happened," the HuffPost Politics podcast.
Popular in the Community