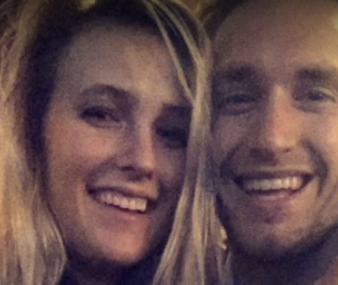 Can a couple find love on Snapchat?
Maybe, if they have the entire campus of the University of Wisconsin-Madison rooting for it to happen.
It also depends on what you mean by "love."
Such is the case of "Mystery Girl" and "Vikings Fan," two college students whose failed attempts meet went viral this past week and they became the talk of Snapchat, according to Seventeen.com.
This real-life rom-com began Thursday night when "Mystery Girl," whose real name is Abby, spotted a hunk in a Minnesota Vikings jersey at the library.
Abby decided to track him down using the University of Wisconsin-Madison Snapchat story, which anyone in the area can submit photos or videos to.
"I'm seriously in love with you," she said in her snap, adding, "Find me."
"Vikings Fan," whose real name is "Reed" responded with a time and place to meet, but -- as anyone who has seen a romantic comedy can guess -- she didn't see the snap, according to New York magazine. 
What happened next is a whole comedy of errors and missed connections that ended up with fellow university students jumping in to make sure this star-crossed couple crossed paths.
Want to see the meet-cute? Take a look at this video summary which is better than any rom-com you'll see on the Lifetime Channel and a heckuva lot shorter:
That was nearly a week ago -- a lifetime on social media. So what's happened since?
New York magazine tracked down the couple, who are both 22-year-old seniors.
The two say they have spent "every day-ish together" since, doing things like watching scary movies, baking brownies and attending a block party.
Both insist though that they are "definitely not dating."
Whether their new friendship can survive college remains to be seen.
Abby, who is majoring in zoology and environmental studies, is thinking of moving to Florida after graduation, while Reed, a biomedical-engineering student, is focused on med school.
Abby is happy with how things have worked out, but admits it could have gone badly.
"I don't regret what I snapped, because everybody is saying how bold and funny it was, but it definitely made me look a little desperate," Abby told New York magazine. "But I don't care, because obviously now I'm here."
Calling all HuffPost superfans!
Sign up for membership to become a founding member and help shape HuffPost's next chapter
BEFORE YOU GO
PHOTO GALLERY
College Advice From Snapchatters (Follow HuffPost On Snapchat!)