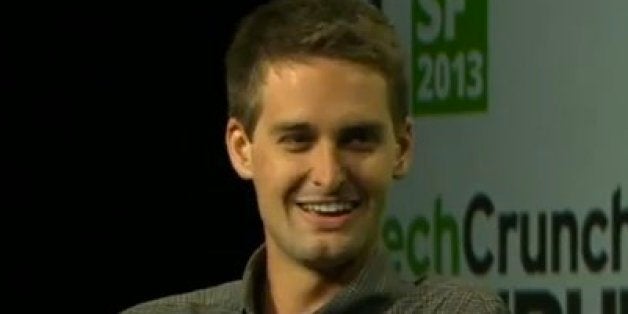 SAN FRANCISCO -- Glassholes, don't expect a Snapchat app anytime soon.
Evan Spiegel, the CEO and co-founder of the wildly popular photo and video sharing app Snapchat, said on Monday that his company is not working on an app for the Internet-connected eyewear Google Glass, unlike dozens of other companies.
"A lot of people talk about the feeling of wearing Google Glass and having technology melt away, but I don't think that acknowledges the experience of all the people standing around the person wearing the glasses," he said during an onstage interview with TechCrunch's Jordan Crook at TechCrunch Disrupt SF, a five-day technology conference. "[Y]ou kind of feel like you have a gun pointed at you, and that doesn't fit into the Snapchat experience and certainly doesn't make Snapchatters feel comfortable -- so that's not something we're willing to explore right now."
On the other hand, Spiegel said, Snapchat is developing an app for Galaxy Gear, the recently announced Samsung smartwatch that has a 1.9 megapixel camera on its band. He said his company is interested in the watch because it reduces the "amount of time between seeing something you really want to share and being able to share it."
Snapchat, which allows people to share and annotate photos and videos for a pre-selected amount of time, currently has 350 million daily photo shares, up from 200 million in June, Spiegel said.
The market research firm Forrester found that 28 percent of U.S. adults who took a survey said they'd consider wearing "a sensor device on their wrist," but only 10 percent said they'd wear one on glasses. Additionally, a number of smartwatches have either already hit the market or have been announced -- from Sony, Pebble and Qualcom. Apple is said to be working on a smartwatch-like device as well.
Smartwatches are also less expensive than Glass -- at least for now. Glass isn't currently on the market for the general consumer, but "Explorer Editions" sent to a select group of people earlier this year cost $1,500 each. When it's released next month, Samsung's smartwatch will come with a $299 price tag.
TechCrunch is owned by AOL, which also owns The Huffington Post.
Calling all HuffPost superfans!
Sign up for membership to become a founding member and help shape HuffPost's next chapter
BEFORE YOU GO