 Snapchat promises to make your photos, videos and messages disappear. It doesn't, however, do enough to make the government disappear, according to a new report.
The popular photo messaging startup was singled out in a survey released Thursday that gave it only one star out of six for how it protects consumers' data from government requests. The annual survey by the Electronic Frontier Foundation, a digital rights group, evaluated more than two dozen companies on several factors, including whether they require a warrant before handing over communications and whether they notify their users and the public about government data requests.
Snapchat received just one star, for its policy of publishing law enforcement guidelines.
"This is particularly troubling because Snapchat collects extremely sensitive user data, including potentially compromising photographs of users," the EFF report said. "Given the large number of users and nonusers whose photos end up on Snapchat, Snapchat should publicly commit to requiring a warrant before turning over the content of its users' communications to law enforcement. We urge them to change course."
Snapchat denied the EFF's charge that it hands over information even in the absence of a warrant. Spokeswoman Mary Ritti told HuffPost the company "routinely requires a search warrant when law enforcement requests user data."
"Of course, the very nature of Snapchat means that we often don't have content to divulge," said Ritti, adding that messages are deleted from the company's servers once they've been opened by all recipients.
"We look forward to developing a formal transparency report and processes for providing notifications to users in the future," she said.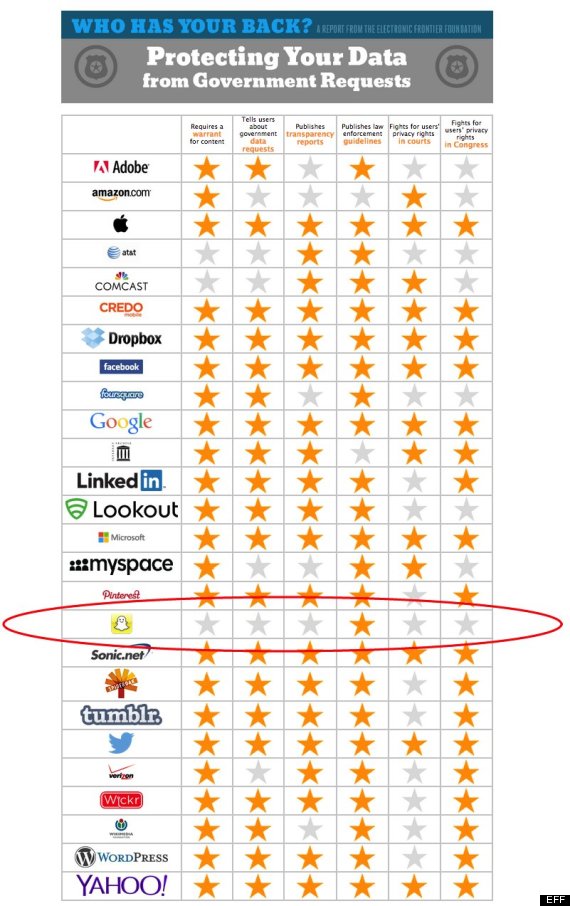 The report marks the latest criticism of Snapchat in what has been a challenging few months for the 3-year-old startup.
Last week, Snapchat settled charges with the Federal Trade Commission that it had deceived users about the vanishing nature of messages sent through the service, about how much data it collected and about its security measures.
In a May 8 blog post, the company said it has resolved "most of those concerns" and continues "to invest heavily in security and countermeasures to prevent abuse."
In January, anonymous hackers published the phone numbers and usernames of 4.6 million Snapchat users. A group of security researchers said afterward that the company had ignored their warnings about a major security flaw that could allow hackers to steal users' personal data.
While the EFF report singled out Snapchat for criticism, it gave high marks to many other tech companies. The group said it saw "major improvements" in how the industry informs its users about government data requests.
The group said those improvements were likely in response to revelations last year by former National Security Agency contractor Edward Snowden that the agency had been collecting data from tech companies for surveillance.
"This seems to be one of the legacies of the Snowden disclosures: the new transparency around mass surveillance has prompted significant policy reforms by major tech companies," the report said.