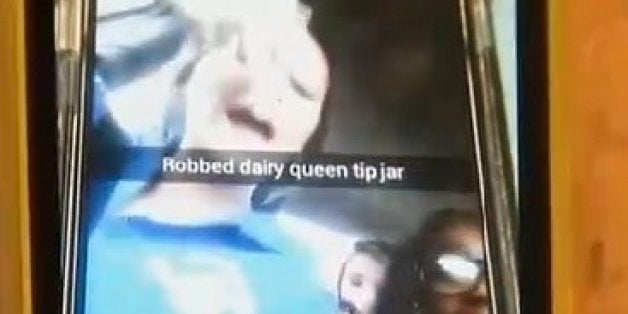 It takes a certain callousness to rob an ice cream shop of tips on free cone day. But blatantly bragging about it on the Internet is just plain stupid.
They shared their photos with police, who are investigating the robbery. Those photos alone may have been enough to lead police to the girls, but Hope said what the accused teen thieves did next truly surprised her.
The five girls posted a video clip of themselves in the car waving what appears to be cash from the robbery to Snapchat. The caption says "Robbed Dairy Queen tip jar." They sent it to all of their friends.
"I think they are stupid. I mean, really, who does that? They should be the dumbest criminals," Hope told Fox Detroit.
Snapchat is a photo messaging app that claims to delete images after they are sent. However, those who receive them can take screen shots of the "snaps" and thereby preserve them. That's one way cops may have gotten ahold of the video.
So in addition to footage of the girls allegedly committing a robbery, cops may now have their hands on a confession. It's not clear if police have located the young women yet.
Hope says she doesn't want them to go to jail, but that she wants them to learn a lesson.
"They shouldn't be doing things like that," Hope said. "It's not how they should be growing up."
There have been worse alleged crimes where Snapchat has played a role.
The traditional teen traits of confusion-fueled idiocy and responding to the pressures of capitalism with petty crime are compounded by technology... Teens are an instrumental part of [Snapchat's] success, so there's a certain poetry in the idea that the app is inspiring them to commit crimes for cash.
BEFORE YOU GO
PHOTO GALLERY
Dumb Criminals: Mugshot Gallery