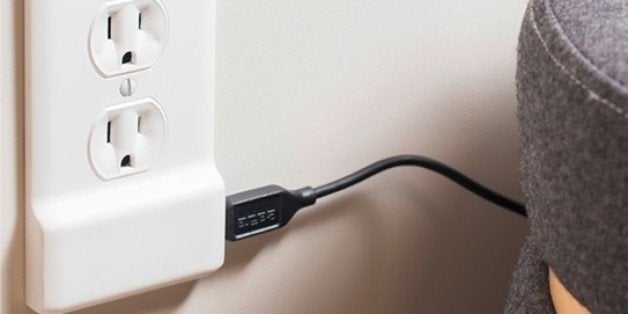 If there's more than one device in your life, you probably understand the frustration of big, blocky chargers lying all over the place, clogging up your outlets and looking nothing like an organic part of your home.
Chargers are a pain, basically.
But a new Kickstarter project might change that. The SnapPower Charger, an outlet cover plate equipped with a built-in USB slot, fits over your power outlet and lets you plug phones and tablets directly into the wall -- no bulky USB converter necessary.
The SnapPower replaces the regular cover plate on a typical wall outlet, but it doesn't block the outlet's two sockets, meaning your outlet will work just as it did before, with the addition of a USB port for additional charging space.
It's such a simple, brilliant solution that you might wonder why you didn't think of it yourself.
"The standard outlet cover plate found in homes is one of those things that's there but not noticed," Sean Watkins, a co-founder of SnapPower, told The Huffington Post. "Our goal was to take something ordinary and turn it into an easy-to-use product that solves an everyday need."
Installation is pretty easy. First, for safety's sake, you'll need to turn off the power to whatever outlet cover you're switching out. Then, you unscrew the existing faceplate, slap the SnapPower cover into place and screw it in. You don't have to worry about messing with wires inside your wall, because the device is set up to draw power directly from the outlet.
Watkins told HuffPost the SnapPower charger is safe to use. It will ship with UL certification, meaning it's been tested for consumer use by an independent safety company. Watkins also said the device "incorporates safety features that prevent surges from damaging attached devices." Plus, it shouldn't overload your gadget with too much of a charge.
"Our charger uses a USB-dedicated charging port controller that determines the correct charging settings," Watkins told HuffPost. "The actual user device itself will determine how the output of the charger is used to charge its own battery. For example, depending on the user device being charged, it will monitor the level of charge in its battery and reduce the charging rate as the battery nears full charge."
The idea of a USB wall socket isn't necessarily new, but the SnapPower is considerably simpler than previous examples.
The SnapPower's Kickstarter campaign has made nearly 13 times more than its initial funding goal -- and counting. Well over 10,000 people have backed the project so far, and it runs until May 15. For now, if you contribute $16, you'll get one SnapPower charger, expected to ship in August.
Related