[Updated 3:50 p.m. with comment from Snarf's head of marketing.]
With just days until Christmas, a Chicago sandwich shop abruptly fired all 20 of its employees via email Sunday night.
"We really regret our employees were given last-minute notice, but they were aware of the loss of business during the past year," Jill Preston, Snarf's director of marketing, told HuffPost by phone Monday.
In the email's eight-item list, number three was the kicker: "All staff is terminated, effective Monday, December 23, 2013." Per the email, staff members were informed they could apply for unemployment and were invited to "keep an eye out for the grand opening of the new store."
Preston said the store will be reconcepted as a burger joint similar to one of their Colorado locations and said the company was unable to retain or temporarily lay off employees since there's no set date for the store's re-opening. Preston said the 20 fired employees were largely part-time staffers; several managers were retained to oversee the reconcepting.
Preston admitted the closing comes "at a really bad time" but said "our location there is suffering," citing the increase in company cafeterias in the building and competition from nearby food trucks.

"It was prudent to shut down [on Dec. 23] because we don't have a lot of business during that time," Preston said. The company's second location in the Loop remains unaffected by the closure and firings.
Chicago advocacy group Fight For 15 blasted the firings as retaliation for the earlier strike and called on Snarf's to re-hire the workers:
Preston said that the strike was "tough on us as a business," but called issue was resolved. The company denied the firings were retaliation for strikes that twice closed the shop this year.
"We can't pay them $15 on base pay," Preston said, adding that workers "do make a lot on tips."
In early December, Snarf's employee Kait Ziegler told the Sun-Times, "I have no problem making wages that are appropriate to my work, but it's impossible to live on the wages we make."
Support HuffPost
The Stakes Have Never Been Higher
Related
Before You Go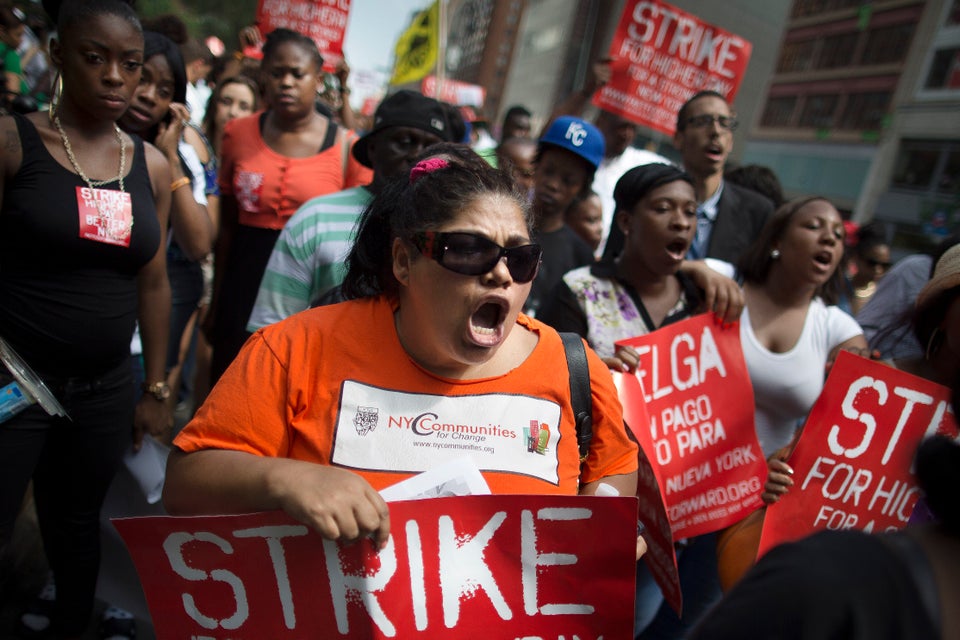 Fast Food Strikes 2013
Popular in the Community