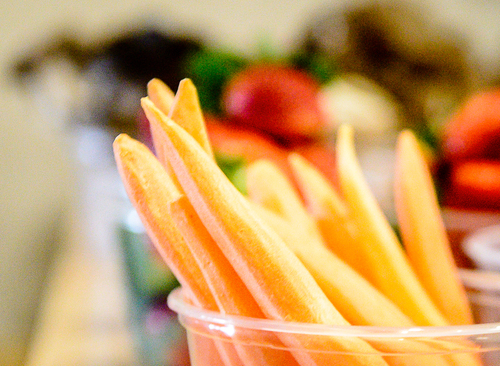 It's a fact of life - kids need to eat their veggies. But it's another fact of life that kids don't like to eat their veggies. What's a parent to do?
First, it's important to have an understanding of what kids need to stay heathy.
Dr. Jack Maypole, advisor to The Goddard School and pediatrician for medically complex children at Boston Medical Center, offers some guidance:
• Toddlers should eat two to three servings of fruit and vegetable a day of fruits A serving size for this age group is about a quarter to half what the grown-ups at the table are served.
• Preschoolers should be offered about a quarter to half a cup of canned or fresh fruits and the number of tablespoons of vegetables for every year of their age daily.
• All children should be served protein two to three times a day and carbohydrates up to six times a day (think snacks!).
While some families have toddlers who will happily eat whatever is offered, many parents find that around 12-15 months old their children tend to become picky or even avoid healthy foods they previously loved when they start to become more aware of taste and texture.
If you have a picky eater at home Dr. Maypole has some tips to help.
• Offer one new food with two well-established foods. For example, if you know your daughter likes pasta, serve that as usual and add a portion of a new vegetable to her plate.
• Establish a rule that children have to at least try one bite or taste of a new vegetable other food. Research shows that most children will take to a food after up to about a dozen tastings (for some super picky or rigid eaters, such as those on the autism spectrum for example, it may be many, many more times).
• Set kids up for success by discouraging snacking or tanking up on beverages before mealtime, and try not to feed them when they are too tired or too hungry.
• Keep mealtimes positive by involving kids in food prep and getting enthusiastic in the craft and presentation of food. This may cultivate interest and curiosity in the food, which can lead to the development of a more adventurous palate.
• Never force feed or go to war about making your child eat. Everyone loses. If you are concerned that your child may have issues with food, such as sensitives to texture or allergies, contact your child's primary care provider.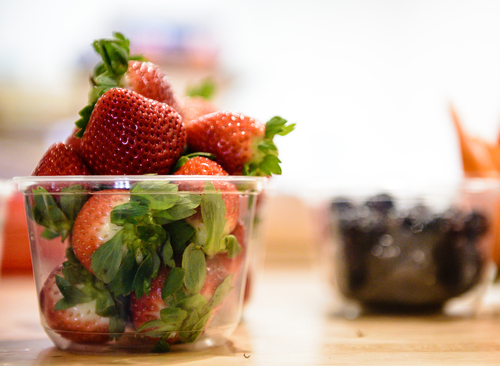 As the Mother of a couple of picky eaters I've found some other things that help get my kids their veggies.
• My kids have grown to like veggies they drink. Sometimes I make smoothies with spinach and carrots but we also drink a lot of drinks like Naked Juice that my kids love with fun names like Green Machine and Kale Blazer.
• Using colorful, kid-themed plates, cups, and utensils helps. For my son in a serious owl-phase we purchased Skip Hop's owl-themed mealtime set. He will eat any veggie or fruit we give him out of his own container with his owl fork and spoon.
• Making it easy to experiment with small portions is helpful for taking chances with new veggies and other foods. The Baby Breeza Glass One Step Baby Food Maker is great for making small portions to introduce to babies but also works well for toddlers, preschoolers, and even my big kid when I want to prepare a small amount of a new food for my kids to try. It's also kid-sized so it's easy for older children to use to "help" in the kitchen.