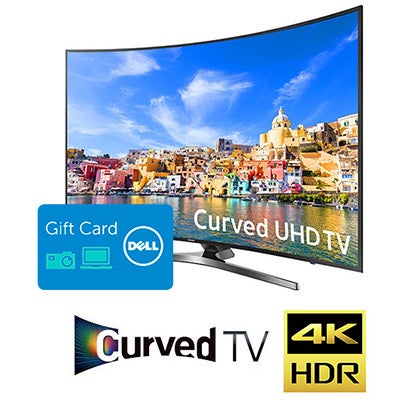 Black Friday is only a few weeks away and many believe that the Black Friday deals will start earlier and earlier. Already retailers are starting up Flash Sales or Countdowns to Black Friday and electronic deals are starting to get aggressive earlier and earlier. The team at TechBargains has collected some of the best deals currently available so that you can start buying the stuff you want instead of waiting in line.
This 2016 Samsung TV is a deal worthy of Black Friday. You are getting this year's 4K Samsung with an immersive curved display for a very low price of $600. The bonus $150 Dell gift card can be used to buy anything Dell sells: computers, the PS4 or Xbox One, headphones, electronics and more. After you use up that gift card you've effectively only spent $450 on a current gen Samsung.
Use Code DELLBIZ579. This is one of the most popular and best selling deals we see from Dell. At $600 there is no better value to be found. The Inspiron desktop uses Intel's powerful i7 four core processors, a full 16GB of RAM to push multi-tasking to the limit and a generous 2TB hard drive to store pictures and movies. This desktop has been redesigned to take up 45% less space without any compromise to performance. If you are looking for a desktop deal during Black Friday this deal will not be beat.
Sony's new VR headset has gotten strong reviews and if you weren't quick to pre-order it or buy it on release day now is your chance. These have been selling out quickly and it's going to be one of the items that everyone wants this Holiday Season.
If you have WiFi deadspots in your home or you just can't get a strong signal in your bedroom than this WiFi extender will do the trick. It works with the 802.11n wireless that most routers use and will support newer protocols like 802.11ac so you can still use it if you upgrade to a newer router. We bought one for $30 and at a price under $30 it is a fantastic price since these extenders can cost you twice the price. Installation is easy. Simply plug the extender into an outlet, hook it up to a laptop or PC with the included cable and join it to your wireless network. Place the extender at the nearest outlet between your deadzone and router and you are done.
When you factor in the $200 gift card you effectively pay less than $300 for a 4K TV from Vizio. This is less than you would pay for a 48" 1080p TV so getting the newest 4K resolution at this price is an incredible deal. Vizio is one of America's favorite brands because they give you high quality TVs at aggressive price. This deal is no different except it includes the huge $200 Dell gift card at the same low price. It's so low you may even consider getting this as a 4K UltraHD computer display since it is cheaper than many 4K displays available at half the size.
The Huffington Post may receive revenue via links on this page.
REAL LIFE. REAL NEWS. REAL VOICES.
Help us tell more of the stories that matter from voices that too often remain unheard.