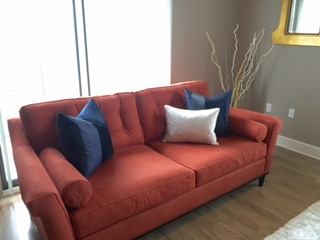 I definitely took advantage of this 3 day holiday weekend. I spent most of it decorating our new apartment. I live in Downtown St. Petersburg, with that being said I knew I wanted to go with a chic modern look with a splash of color. I'm not an interior designer nor have the slightest idea of what I'm doing half the time but I choose to have fun with it.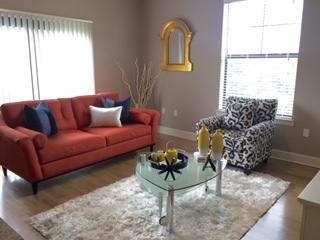 I know I wanted my sofa to be the focus point in the room (so, to spice things up, I went with this mandarin color) I decided to pair it my floral print chair I packed with me, all the way from California. Then, I added this off white fluffy rug to balance the room out. And to set the tone I added this mellow yellow tea set to got with my cocktail glass coffee table-a pop of color is always a great idea, in the right places, of course.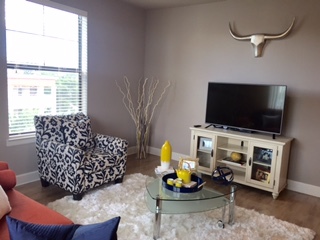 I know color can be tough to play with- or mixing too many colors at once can become dangerous and off balance. I advise to choose from one or two primary colors and feel free to add a number of secondary accent colors, and some unique pieces- this adds character to the room. As you can see I'm not quite finish with my living room- It's a work in progress, so stay tuned as I add the finishing touches.
Mandarin Sofa-Rooms To Go
Glass Coffee Table- Rooms To Go
Glass Cylinder Vases- Ikea