I received an exclusive tour of Graceland last week. No, not Elvis' infamous mansion in Memphis, Tenn., but a set visit of USA Network's hit hour-long original drama series Graceland.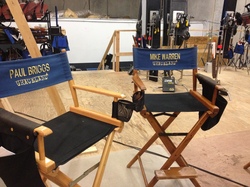 Although the series is set in Southern California, the Graceland cast films scenes on a soundstage in Ft. Lauderdale and throughout the Southern Florida area. Apparently, the film industry in Florida is one of the largest in the United States. Who knew?
The highly addictive law enforcement TV drama is already half-way through filming its second season, which airs this summer. Until then, I have the following scoops for fans eager to hear what's next after where things left off last Fall (
light spoilers ahead
):
This season will be more of an ensemble, developing each of the house members more
There's a new roommate in Graceland and we might possibly see an old roommate return (maybe Donnie or Lauren? Not sure).
The Johnny Tuturro character wants to be taken more seriously and will have his own cases. His mother will also be shown.
Character Mike Warren (Aaron Tveit) returns to Graceland as a new "Mike." He's not as innocent as before and is some ways acting more like Paul Briggs, blurring the lines in order to get the bad guy.
Paige and Mike will try to keep their relationship a secret in the beginning.
Besides "PIKE" (Paige & Mike) there will be another house relationship shown.
Paige's skillset will be explored more, requiring her to do more physical stunts this time around.
Mike will be shirtless on the show this season, and so will many of the other characters.
Jakes' view of the house is changing - it's not just a house to him anymore. Also, we learn more of his backstory and see his kid Daniel.
There will be a LGBT plot line developing.
And yes, the tape incriminating Briggs is still out there!
More details below:
The series, which was wrought with twists and turns last year, will continue keeping one-step ahead of viewers. Although there will be some smaller side cases, there will be a larger overarching case and evil guys that will weave itself throughout the storylines this coming season.
During interviews, all of the six main cast members echoed the fact that Season 2 will be darker than last year's, which was already riddled with heroin, severed limbs and secrets.
"Last season was an introduction to bring the USA viewers in and now it's going to get dark," said Graceland actress Serinda Swan who plays DEA Agent Paige Arkin. "But we figure we have a solid group now that understands what our show is about and how dark we get, so they really gave us the liberties to have some fun, it's great."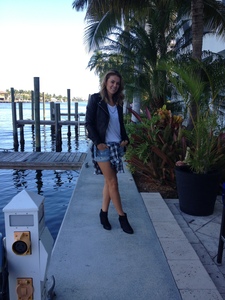 Providing additional insight in to what some of those darker elements would be, Swan revealed that one of the cases will include human trafficking, combining her real-life philanthropic passion with her on-screen work. In 2011, Swan founded "Friends to Mankind" (F2M), an organization that partners with non-profits to raise awareness and funds through educational campaigns and high-profile -- and sometimes dangerous fundraisers. F2M's first collaboration was with the Somaly Mam Foundation benefiting victims of sex-trafficking.
"It's so nice when the two worlds come together and we can actually use the spotlight as an actor to illuminate something else in the world that's happening. I'm fulfilled!" said Swan.
Actor Daniel Sunjata, known for The Dark Knight Rises, The Devil Wears Prada, TV's Rescue Me and Grey's Anatomy, stars as FBI Agent Paul Briggs.
"Where we find Briggs in the beginning of season 2 is in a place where he is kind of looking for some redemption. He's did some bad things for maybe justifiable reasons, understandable reasons, and he's trying to not continue living in such a dark place, a morally ambiguous place," said Sunjata "Although the job does have certain demands, so of course the curve ball in season two is that every time Briggs tries to get out, they pull him back in. Somebody in the house needs a piece of the old Briggs, or needs something done that only the old Briggs would do or know how to do, so there is that tension for him."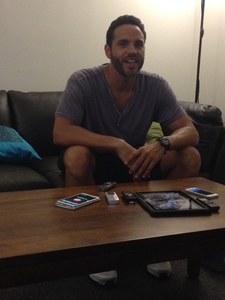 And unfortunately, for fans of actor Aaron Tveit's singing (Les Misérables (2012), Broadway's "Catch Me If You Can" and "Next to Normal"), you will be disappointed to learn that he has no plans of singing on Graceland, not even under an alias or during drunken karaoke (boo!).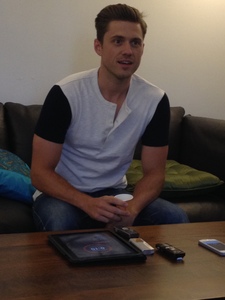 "I will not be singing on the show," said Tveit. "It's kind of funny, but I don't think Mike can sing, he can do many things, but I don't think he can sing. If it was another type of show, but we're really trying to go for a realistic drama and I just don't think it would work for Mike to be singing on the show, so that is sadly out."
However, he often sings on the set to release tension when preparing for an emotionally powerful scene. "Half the time I don't even know I'm doing it, that's the thing," says Tveit with a laugh. According to the crew on set, the other day he was caught singing "Climb Every Mountain" while filming.
Related
Popular in the Community