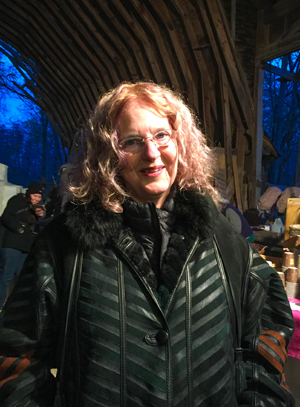 How lucky were we to be invited over to The Rokeby Estate in Red Hook, New York last Saturday to watch the rehearsal of the giant illuminated dancing "puppets" for this week's famous Village Halloween Parade? Very lucky!!! We have been friends for years with the amazingly talented Jeanne Fleming, the long-standing artistic director of this beloved festival in its 42nd year. We have also witnessed other grand events she has hosted at this creative hub she calls home. Little did we know the adventure we were in for when we first walked into the towering old barn buzzing with people.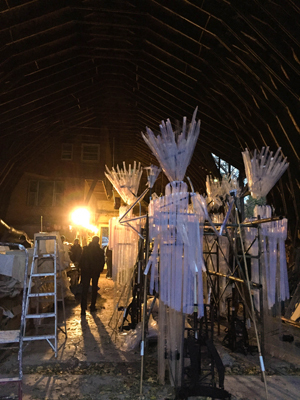 We could see a host of large objects made from plastic tubes, dangling from stands in the center of the barn. Along side them another long table with dozens of large lamp shades propped up at odd angles. People were schmoozing, sipping hot cider and munching on carrots and hummus. Everyone was bundled up against the night's cold, then they all started moving toward the plastic-tubed objects and voila, some were getting attached to what looked like backpack frames. A-HA! Now things were coming into focus -- they were going to wear these sculptures!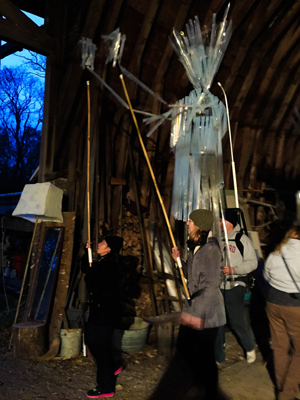 They broke up into teams of three, one person wearing the backpack and the other two each holding a long stick with more plastic tubes attached to a rope, then to the main "puppet" (I was informed -- these are giant "puppets")! Another A-HA moment! Suddenly the magic started happening as they turned the lights on from the core of the puppet and as a team began stretching their "limbs", learning how to walk together, and making sure the lights worked in tandem.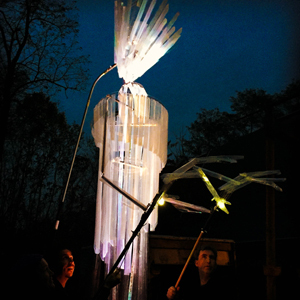 Everyone began migrating from the barn up to the main house where the rehearsal was being staged. I jumped ahead to snap some pictures because several of them were walking, illuminated and the whole thing had an other-worldly quality. We got a great spot to watch as they all listened to the final directions, and then the music began! Thank goodness for my trusty iPhone, which captured this first run through. I'm sure this is just a taste of what you're in for if you're going to the parade this Saturday! Enjoy this preview.
The New York City Village Halloween Parade was founded in 1973 by Ralph Lee, puppeteer and mask maker. Jeanne Fleming was also a puppeteer who had been doing large scale outdoor theater pieces at her home, Rokeby, when she was introduced to Ralph by her friend Robbie Anton. Around 1980, Ralph was getting burned out and challenged by lack of funding and Jeanne said she would come in to help him for a few years, then he dropped out!
Jeanne's main interest was to keep this a "people's parade"! (Having greatly enjoyed participating in many of these Halloween events during the 1980's I can attest that her goal has been fully realized.) Thank you Jeanne! Her main focus has been to keep alive the tradition of giant puppets as the stars of the show. From the beginning the creation of these puppets has been the heart and soul of her work. Initially volunteers would come and stay with her at her home, sometimes for weeks, making the puppets. Now, volunteers come up from the city for the day and are provided with lunch and dinner, a walk to the river, and then they go back. Many many volunteers have spent long hours these past months creating these illuminated puppets and for some the greatest joy is wearing them in the parade.
There have been different folks responsible for the themes and designs of the puppets over the years. The current duo are Sophia Michahelles and Alex Kahn, who have grown up helping create these fabulous scenarios and are currently making this their full time passion.
The procession will start this year with the Dancing Skeletons who have been the first to march out into the crowd for many years. Next we will be treated to all the classic puppets that have graced the parade throughout its history. These stunning illuminated puppets will come next and are a reflection of this year's theme: "Shine a light! In times of darkness we bring the light!" They are asking everyone to wear illuminated costumes and the puppets will be giving out lights to the crowd with the hope that this light will shine on as an inspiration for goodness. Over 53 bands will be interspersed amongst hundreds of other puppets, dancers and artists. If you want to be in the parade go to 6th Avenue and Canal Street by 6:30 wearing a costume! If you want to watch the parade gather anywhere along 6th Avenue above King Street after 7:00.
To find out more information about the parade, go to https://www.halloween-nyc.com. The whole parade will be featured on NY1 television starting at 7:30 and also streamed live.

Mary Anne Erickson is an artist who has been documenting the demise of the American roadside culture for over 30 years in paintings and photography. Her work can be seen at vanishingroadside.com and maryanneerickson.com. She also blogs about great food and entertaining ideas at bluemountainbistro.com/blog.
Related
Popular in the Community