When the five members of the 1990s pop supergroup the Spice Girls reunited for the closing ceremonies of the London Olympics on Sunday, Victoria Beckham -- formerly known as Posh Spice -- needed to bring her "A" game, style-wise. After all, she's now a fashion designer who won Designer Brand of the Year at the 2011 British Fashion Awards. For the big night, Beckham reinterpreted her '90s little black dress by Gucci as a very of-the-moment high/low hemline gown by Giles Deacon.
But it was Melanie "Mel C" Chisholm -- Sporty Spice, she of the tracksuits and sneakers -- who literally dipped a toe into one of today's hottest trends. She accessorized her white catsuit (tailor-made by Nafisa Tosh, according to a spokeswoman) with $650, silver, high-top, wedge sneakers by Giuseppe Zanotti.
Like Posh's high/low style, which was disparaged as a "mullet" dress before it took off last year, Sporty's wedge sneaker is the kind of thing that makes many people say, "I'll never wear it" on first viewing. But my fashion motto is "Never Is the Next New Thing": If a style is provocative enough to get a strong reaction, it's likely to become appealing when the shock of the new wears off.
Such looks don't necessarily come from the runway. Rob Zangardi, a stylist who works with Jennifer Lopez and Gwen Stefani, points out that "...wedge sneakers have been popular in the streetwear culture for years. It's been viewed as urban, hip-hop and had a more menswear focus." Ash Shoes, for example, has been selling wedge sneakers since the company was founded in 2000. So why is the style suddenly appearing at every price level from Steve Madden to Marc Jacobs? Siobhan Bonnouvrier, the fashion director of Allure magazine, notes that "there's always been a trickle-up effect" from street fashion to high fashion and says, "It really just takes one great must-have item to be put out there and that opens up the gateway for everyone." In this case, Bonnouvrier credits French designer Isabel Marant with jump-starting the trend last fall after her wedge sneakers were worn by singers Beyoncé and Alicia Keys. Marant's sneakers have also been seen on models Joan Smalls and Miranda Kerr, while Ash wedges have been sported by pop star Katy Perry and actresses Megan Fox and Lucy Liu.
Other style experts say the wedge sneaker offers a rare chance to be practical and fashionable. Rachel Johnson, who has worked with tennis star and Olympics gold-medal winner Serena Williams, says the wedge is "perfect for days when you want to have height but be comfortable, like on shopping days or sightseeing with the kids." She and Charles Wade, who has worked with Beyoncé's sister Solange Knowles, both recommend the wedges for traveling.
Wedge sneakers will be plentiful this fall, when both Marant and Ash Shoes come out with new styles. Ash will offer various wedge heights. Wedges are already on the shelves at high-end boutiques such as Prada and Louis Vuitton. Stylist Wade has a tip for taking the look into the next season: "Menswear looks paired with the sneaker wedge are my absolute favorites," he says. "I love a lean suit with a sneaker wedge instead of a brogue or Oxford."
If you still don't dare wear a wedge, there are plenty of flat-soled sneakers that you'll never confuse with exercise gear. In the luxury category, Miu Miu offers glittery flat-soled sneakers with studded toes. Christian Louboutin's black leather high-tops bristle with silver spikes. The more moderately priced Aldo sells studded sneakers. Jeffrey Campbell offers sneakers with a chunky 1 3/4" platform, and Italian brand Superga collaborated with British designer Henry Holland on a similar "flatform" style with a polka-dotted sole. Very '90s Spice Girls. Still too edgy? At least switch from running shoes to Chuck Taylor All Stars by Converse, which Allure's Bonnouvrier calls "a very classic design with real heritage behind it."
I count on fashion bloggers to be early adopters of any new trend. Take a look at how they wear their stylish kicks in the slideshow below. You might find yourself humming Tommy Tucker's 1964 hit, "Hi-Heel Sneakers."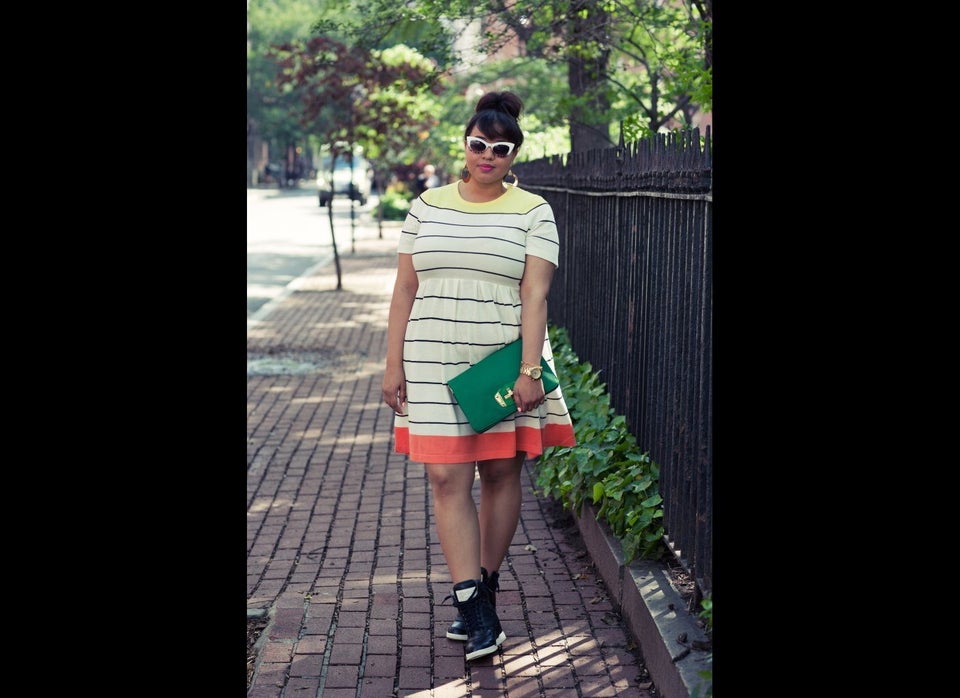 Chic Sneaks
Support HuffPost
A No-B.S. Guide To Life
Related
Popular in the Community