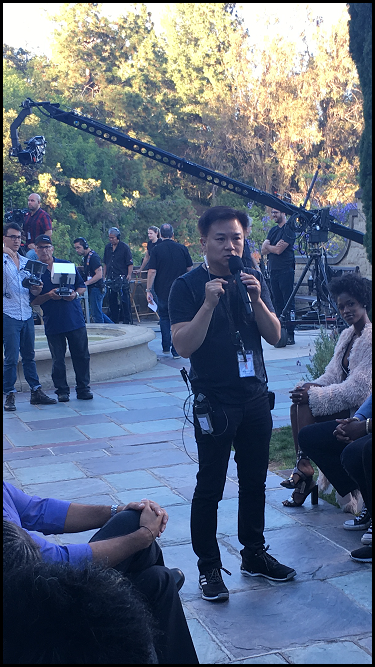 Everyone knows I love my kicks. I'm getting hyper just thinking about my Converse Batman ones, which nobody seems to be able to beat, in my opinion. (Yeah, hello Adidas. I'm ladies sneaker size 8. Whatever!)
Or – maybe the contestants of the YouTube original series 'Lace Up: The Ultimate Sneaker Challenge' can come up with something that really gives me the chills.
So I just had to interview Ken Mok, the executive producer of Lace Up. It's like… you know that excitement you get when a new video game is coming out…? Like that.
Ken, you're the EP for YouTube Original Series, 'Lace Up: The Ultimate Sneaker Challenge'. All of the episodes are up now. Previous to Lace Up, you were the producer of America's Next Top Model. How do you choose your projects?
Fortunately at this stage in my career, I am only picking projects that really speak to me. I loved the idea of Lace Up, as it is based on a real sneaker design school in Portland called Pensole that's run by D'Wayne Edwards. D'Wayne started the school to help women and people of color break into an industry that up until recently had little diversity. So I thought the show was not only fresh, but one that could have a positive social impact.
Who is in charge of finding the people that will be creating the sneakers? How do they find people who can just take off from everyday life / work to do eight grueling weeks of the show? Do the designers get paid during the show?
The designers are primarily vetted by D'Wayne as they all have to have the requisite skills to be able to participate in the program. Once D'Wayne approves, we look over the candidates for personality types. The designers were not paid during the show, but they got to attend the class for free and were provided room, board and a small per diem.
As EP, what exactly are your everyday duties on Lace up? Do you have multiple projects happening at the same time?
As an EP on an unscripted show you do everything – from creating the format for the show, casting it, writing, producing the day to day, trouble shooting on the set, and then editing the episodes. It's exhilarating but exhausting!
You're the founder and president of 10x10 Entertainment, a production company that produces TV, film and alternative media. How did you come up with the name 10x10 Entertainment?
When I started my production company, I operated out of a 10x10 office with my assistant. The name reminds me every day of my really humble beginnings.
You knew that you wanted to go into entertainment since you were a teenager. What was the most valuable work ethic lesson you learned along the way?
Self-motivation. You have to be able to be a self-starter in the entertainment business and deal with being rejected most of the time. It takes a lot of effort, passion and persistence to survive.
As a producer, what are the differences and similarities of working on a reality show versus a film such as Joy, which starred Jennifer Lawrence, Robert De Niro and Bradley Cooper?
It may sound funny, but there's not a lot of difference. As a producer, you need to put together the pieces of the project and keep it all together. And as a storyteller, the same principles apply to the unscripted world as it does the scripted world. You have to have engaging characters and tell their story.
You're working with YouTube. What happens if you're given an opportunity to work with Facebook's new original programming?
The media world is changing so rapidly. People are digesting content in new ways, across new digital platforms. We are in the middle of a revolution and it's exciting to be able to produce shows and films in this new era. As an independent producer with my own company, I'm able to produce for anyone.
How did Adidas get attached to Lace Up?
D'Wayne's program is always sponsored by a shoe company. We were lucky that Adidas wanted to be attached to this show and be part of the prize package (the winning team gets jobs at Adidas).
The entertainment business is very time consuming. How do you manage home and work or does it cross over since your wife is also in the business?
My life is work and family. I'm lucky that my wife is in the business as well and is an established artist and writer in her own right. She's a great support system – we work together often, and she is far more talented than me.
Anything else you'd like to say?
I loved the way Lace Up came out. It gave me new insight into the design of sneakers and now I'm a sneakerhead myself! I think viewers, sneakerhead or not, will really enjoy the episodes!
Related
Popular in the Community