Father's Day is right around the corner and we like to celebrate this holiday by honoring our dads with food, naturally. Some of the father figures in our lives are inextricably tied to our food memories, so what better way? HuffPost Taste put out a call for stories, and we were rewarded with some heartwarming (and sometimes tear-jerking) tales. The first in our series is written by Michelle Lettrich of the food blog Brown Eyed Baker. Read her sweet tale below -- and then be sure to head on over to her site for the Snickers cake recipe she never got to make for her father.
Tomorrow would have been – should have been – my dad's 60th birthday. Last year on his birthday, I shared his very favorite cake, the one he would always request for his birthday. It's a fabulous cake – a moist, chocolate cake with a river of cheesecake running through the middle and topped with sugared walnuts. It's a very worthy birthday cake. However, if he were still here, I would have insisted on making something different and more elaborate than the cake he requested every year since it would be the big 6-0. I have no doubt that he would have been completely smitten with this cake and found every excuse in the world to eat piece after piece.
When we were kids, my dad got some routine blood work done that showed his cholesterol as borderline high. My mom banished sweets from the house (my dad was an ice cream fanatic) and started whipping up homemade banana-nut oat bran muffins. The only problem? He went to work for eight hours a day. My dad worked for a small company not far from where we lived, so sometimes if we were out, my mom would stop by for a visit. One day we walked into his office and my sister and I saw tons of candy bar wrappers in his garbage can. Apparently my dad was a big Snickers fan. You know little kids love to tattle -- especially if they get to tattle on their parents -- it took all of two seconds for my sister and I to let my mom in on our discovery. We totally busted my dad for sneaking candy at work while my mom was making batch-after-batch of bran muffins. Sorry Dad!
I've had the idea for this cake bouncing around in my head since last summer, but remembering that moment of finding those candy bar wrappers, I knew I wanted to save the recipe to commemorate my dad's birthday. I'm so glad that I did -- it's definitely a special occasion cake that he would have absolutely appreciated.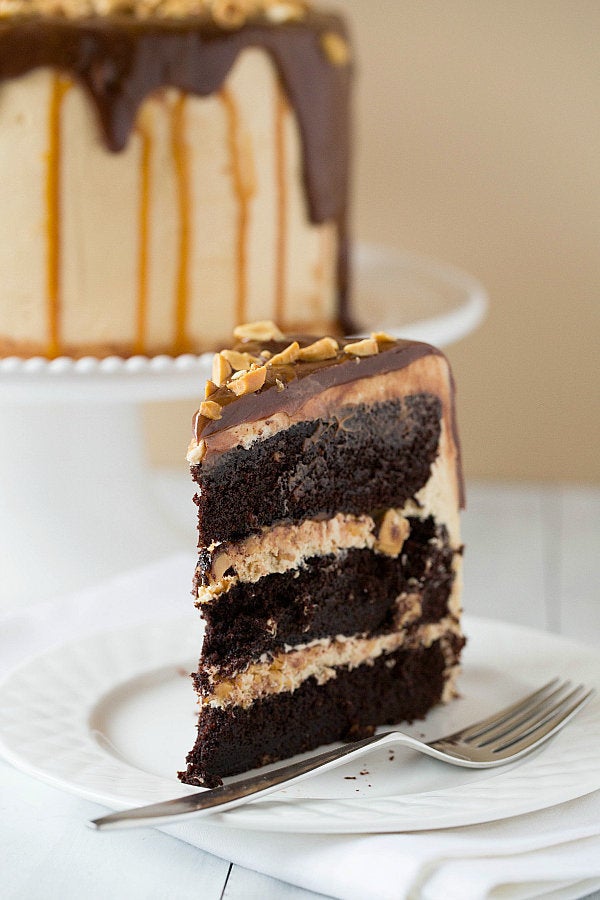 As is always the case, commemorating the birthday of someone who is no longer with us is bittersweet. I love to think about the time we shared, but of course wish that he were still here. It's been a little over 14 years since he passed away and I was only a week past my 18th birthday when it happened. As I get closer to having spent just as much of my life without him as I did with him, it's a strange feeling, but I continue to relish all of the wonderful memories of the time I did get to share with him. This cake is a celebration of that time, and of him.
Happy Birthday, Dad! I know you would love this cake … I'll have a slice for you 🙂 xoxo