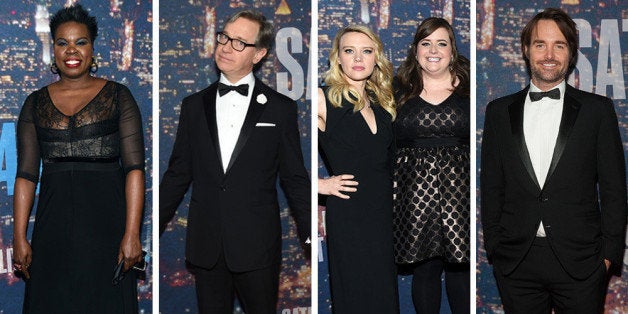 Here are 10 things that we heard, saw or learned while watching comedy legends, newcomers, and Sarah Palin, talk to press outside of 30 Rock before the show.
Aidy Bryant and Kate McKinnon were starstruck by The Backstreet Boys.
When BSB's A.J. and Howie passed by Bryant and McKinnon on the red carpet, it was as if there weren't dozens of other celebrities within range.
"A Backstreet Boy just said hi to me!" Bryant squealed to McKinnon after meeting A.J. and ushered her over to do the same before making this face:
"It's not just them, it's the entire night," McKinnon told us after they returned to the press line, flustered. "It's everyone that we grew up loving, that will happen to be in this room. It's just such a bizarre thing to meet people who formed the core of who you are... This visceral love of Molly Shannon, Cheri Oteri and A.J. fucking McLean!"
Bryant backed her up: "It's a lot. Sorry, we're just screaming at you guys!" Bryant
Will Forte took us through his favorite 'SNL' sketches of all time.
"Favorite one I was in? Probably the halftime coach sketch where I got to dance with Peyton Manning."
"Favorite of all time? [Long pause] Unfrozen Caveman Lawyer. Loved that so much. Then Mr. Bill was always one of my favorites as a kid. I would stay up way past my bedtime to try and watch Mr. Bill. I was just getting old enough to watch when Eddie Murphy was on, so all that Eddie Murphy stuff, and then of course the Hartman era. Then there was Sandler, and I was a huge Chris Farley fan, so Matt Foley and that Chippendales sketch. A lot of these are old classics that seem like easy choices, but they are remembered for how awesome they were. Cowbell."
Fred Armisen also said his favorite sketch was Phil Hartman's "Unfrozen Caveman Lawyer."
If you haven't seen this yet, you need to fix that:
Paul Feig opened up about one of his new "Ghostbusters," Leslie Jones, and how they could have connected a long time ago.
"Thank God for 'SNL,' because whenever I'm casting a movie, the first thing I do is go, 'Okay, who do I want from the show?' It's a very hard choice because everyone's so good. There are so many combinations of people you could cast. [Leslie Jones] has got such a funny energy and such a unique take on the world. I just look for people who have this thing that jumps out at you that's undeniable. And Leslie is just undeniable."
Feig cast Jones along with fellow "SNL" players Kate McKinnon and Kristen Wiig in his all-female reboot of the classic '80s comedy, but it wasn't just her work on "SNL" that got her the job, it was years of Feig knowing she was out there perfecting her stand-up act.
"I didn't know her from the stand-up comedy scene although, ironically, we both started out as stand-ups around the same time. She was just the one out there doing it and doing it, and staying with it. So, when we finally sat down for a drink and compared our comedy notes, I thought she was so cool because I love comedy veterans, people who have just been working at it and working at it. Because those are the people who deserve it. They get it, they appreciate it and they're going to do their hardest to give you their best."
Speaking of Leslie Jones, she and Whoopi Goldberg clearly had a moment on the red carpet.
There was a lot of laughing, smiling and talking in a way that requires you to grab somebody by the shoulders.
Tim Meadows remembered that time he made Will Ferrell crack up.
"My favorite sketch is probably Cowbell, that's one of my favorites to watch. I laugh every time I see it. But for me personally that I was in, that would probably be what they call the "Dr. Poop" sketch. It was another Will Ferrell sketch where he's playing a crazy doctor. I walked in, and he didn't know that I was going to be in the scene, so when I left he started laughing. And my name was Dr. Poop. They started calling it the 'Dr. Poop sketch.'"
Chris Parnell named his favorite "SNL" sketch, one that goes all the way back to Season 2.
Life imitated art when "30 Rock" star Jane Krakowski soaked up the red carpet audience's attention.

She posed for both cell phone selfies and press photos in a way that would have made Jenna Maroney proud.
Seth Herzog shared one of Jimmy Fallon's favorite stories from his time at "SNL"
Herzog is a stand-up comedian who also happens to be Fallon's warm-up act on "The Tonight Show," so we suspected that he's heard a lot of Fallon's "SNL" anecdotes. When asked if he had a favorite, he painted this hilarious picture of a freshman Will Ferrell pissing off P. Diddy:
"Will Ferrell was new on the show and P. Diddy was going to perform that song, the theme from "Godzilla," with a full band. During rehearsal, Diddy was doing this thing and Ferrell walked out on stage, in character, holding a grocery bag as this sort of innocent suburban father character. He just wanders out on stage starts going, 'What's going on? What's song is this?' Diddy didn't know who he was or that he was in character, so he's just furious that this guy just wandered out on stage. Diddy's like 'Who is this guy? What's he doing in my rehearsal?' And everyone was laughing and crying too hard to even explain what was happening. I wish I had been there to see that. Just to see Will in character, not caring."
And, finally, Sarah Palin reminisced about sneaking in some "SNL" time as a kid.
"Well, I can't be self-centered so I won't say the Tina Fey stuff. You know, it was the stuff way before you girls, way before your time. The ones with Joe Piscopo and Eddie Murphy, way back in the day when we used to sneak up to our TV room and watch it. And then, years later, we found out our parents liked it as much as we did."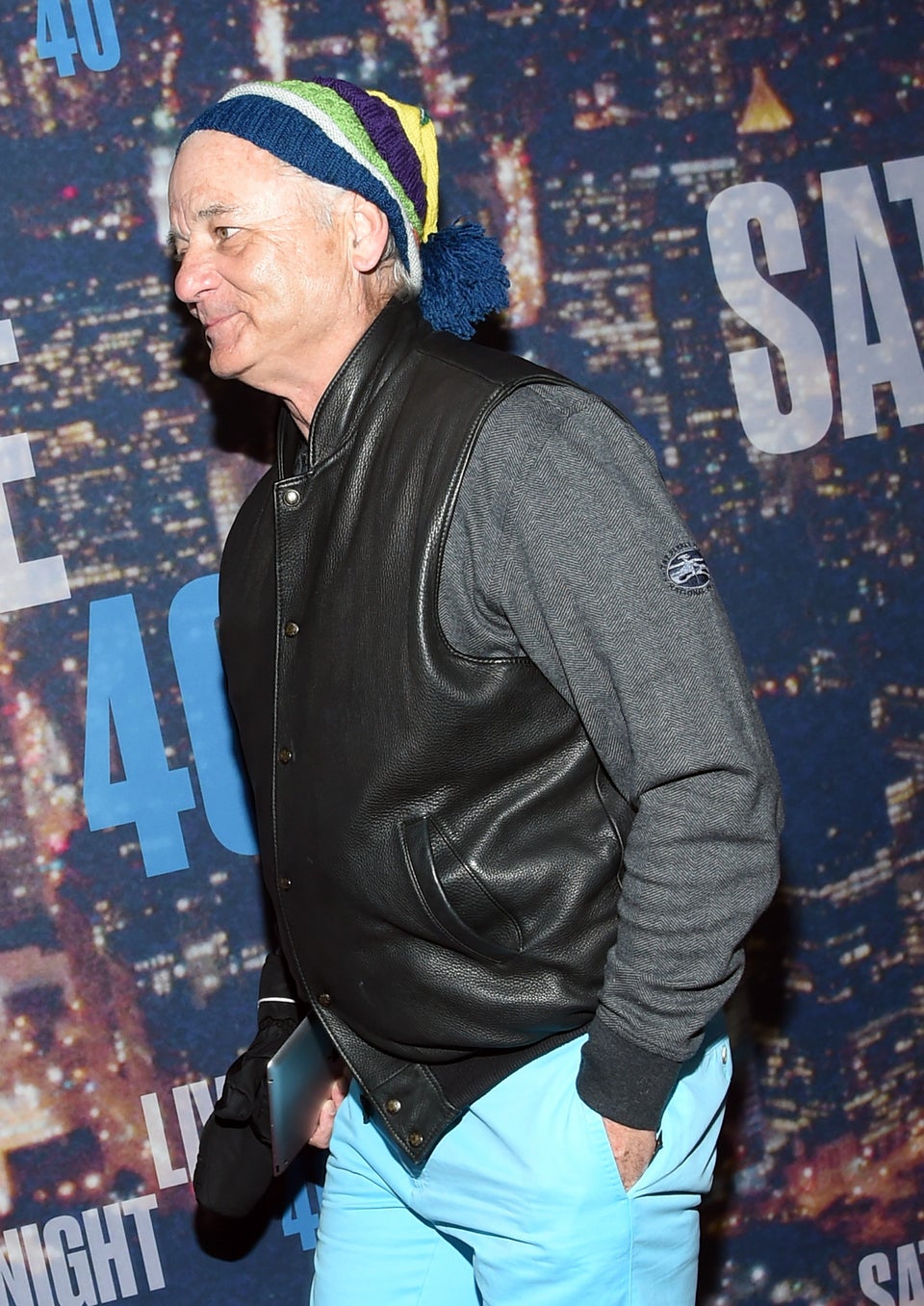 SNL 40
Popular in the Community