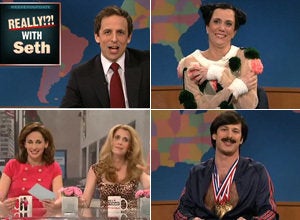 "Saturday Night Live" was hosted by Bradley Cooper ("He's Just Not That Into You," "Wedding Crashers") this week.
The show featured skits making fun of the fourth hour of "Today," the marijuana incident of Michael Phelps, Iceland's fiscal crisis and more.
During Weekend Update there were two segments on Michael Phelps' marijuana bust.
Seth Meyers did a "Really!?!" with his thoughts on Michael Phelps, on Kellogg's for possibly dropping him as a spokesman, and on whoever snapped the now-infamous bong photo and sold it to a tabloid.
"Parents, if your kid says Michael Phelps smokes pot, why can't I? Say you can, as soon as you win 12 gold medals for your country."
WATCH:
In the other, Andy Samberg played Mark Spitz commenting on the incident:
Also during Weekend Update, Icelandic singer Bjork (Kristen Wiig) commented on Iceland's economy. "Instead of paper money, we should change our currency to clouds."
In a second skit spoofing the fourth hour of "Today" (
with Kathie Lee Gifford and Hoda Kotb, Gifford (Wiig) continued with menopausal hot flashes and insults of Kotb (Michaela Watkins) while the two talked about current events and learned to model walk.
Popular in the Community