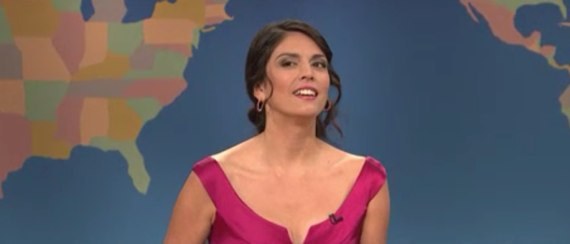 There's obviously no shame with being part of the show's writing staff (it is one of the most coveted jobs on television). It's also telling that even though he's no longer in the cast, Lorne Michaels still saw enough talent in Robinson to keep him on staff. This is very rare: usually, once a featured player is dropped for the cast, that's it. Casey Wilson, Michaela Watkins, Jenny Slate, and Paul Brittain did not get jobs on the writing staff after being let go -- they were simply gone. But, having said all of that -- unless there's some sort of master plan that we are not aware of -- this is most certainly a demotion. And that's very surprising.
It seemed like by the end of last season, Robinson was finally coming into his own. With the departures of Fred Armisen, Bill Hader, and Jason Sudeikis, a breakout season for Robinson didn't seem out of the question. (He was responsible for the "Z-Shirt" sketch that's still stuck in my head, "Is it a D Shirt?")
Here's why I'm so shocked: On two separate occasions I was told by an "SNL" cast member how talented Robinson is. During last season, in a social situation, a cast member (who I won't mention by name because it wasn't on the record) told me that Tim was always the funniest cast member at the table reads.
"You know who's great? Tim Robinson is really fucking funny -- I know because I've seen him on Wednesday at the table read. [...] I didn't get as much laughs as Tim does at the reads -- but Lorne does that on purpose. He holds you back. He kind of figures out how do you connect to that live audience."
Hader is referring to the live audience that's actually in the studio. For whatever reason, Michaels decided Robinson wouldn't be able to connect with that live audience -- at least not as a performer. Michaels has been doing this a long time and I don't want to even pretend that I know something that he doesn't, but I do know that Robinson should have been given one more season. I really thought that he was something special. Perhaps he can return to the cast some day (which is not unheard of: Chris Parnell pulled off this trick).
As far as Cecily Strong, there's very little doubt that she'll excel on "Weekend Update." (Even if she does wind up fainting or barfing during her first show.)
The only question that remains is how this will affect her sketch duties. It's hard to believe that after Meyers leaves, Strong will host "Update" on her own (and, yes, Lorne is already teasing that Meyers could return in some capacity from time to time).
Traditionally, at least since the Dennis Miller era, the host of "Update" isn't seen a lot in cast sketches. Now, a co-host -- like Jimmy Fallon and Amy Poehler - can perform their duties on Update and still be in a lot of sketches. This seems like the best fit for Strong, which it will certainly be for the first half of this season, but, after Meyers leaves, either there will need to be a Meyers/Fey-type host appointed or Strong's role in other aspects of the show will be significantly diminished.
Yes, this is a transition year for "SNL," but the core talent is still extremely solid. (And "SNL" has had more daunting transition years than this in its past). Though, including Robinson, four cast members have departed since last season. And a whopping six new featured players have joined the cast: Mike O'Brien (who had been a writer), Beck Bennett (yes, the AT&T guy), Kyle Mooney, John Milhiser, Noël Wells, and Brooks Wheelan.
To put that in perspective: This is the biggest addition of new talent to the cast since the 1995 overhaul that wound up adding Will Ferrell, Cheri Oteri, Darrell Hammond, Jim Bruer, David Koechner, and Nancy Walls to the cast. (Chris Kattan, Colin Quinn, and Fred Wolf joined the cast later that season.)
Regardless, we have our cast for the 39th season of "SNL." For those who were complaining the cast had gotten stale (and I, at times, had expressed those concerns), well, that's no longer an issue. However this season turns out, it will be interesting to watch this new cast try to gel over the upcoming season.
Mike Ryan is senior writer for Huffington Post Entertainment. You can contact him directly on Twitter.
REAL LIFE. REAL NEWS. REAL VOICES.
Help us tell more of the stories that matter from voices that too often remain unheard.