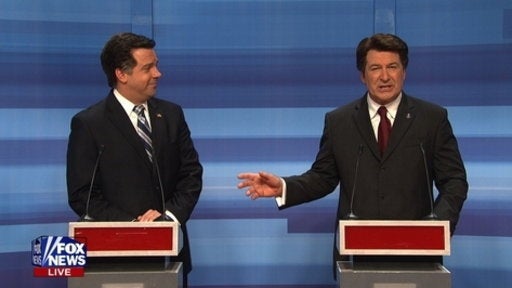 Saturday Night Live opened its 37th season with a send-up of the seemingly endless parade of GOP debates.
This one, entitled "Either The 7th or 8th GOP Debate," started out by tackling the inappropriate cheering of previous audiences, and then made it clear that Mitt Romney (Jason Sudeikis) and Rick Perry (host Alec Baldwin) were the only candidates worth the attention of moderator Shepard Smith (Bill Hader).
After briefly introducing the other "six people who will never be president but showed up anyway," the sketch tackled Rick Perry's inconsistent performances -- "Can you speak for 10 seconds without alienating your base?" -- Romney's inability to connect, and the rest of the field's general lack of gravitas. An extended bit with Taran Killam as Jon Huntsman, addressed the former ambassador's two years in China in a way that had us both squirming and laughing out loud.
Kristen Wiig, Paul Brittain and Kenan Thompson also had fun turns as Michele Bachmann, Ron Paul and Herman Cain respectively, and given that Cain just won the Florida straw poll by a healthy margin, maybe Thompson will get to roll out this impression a few more times before the season is over.
Popular in the Community