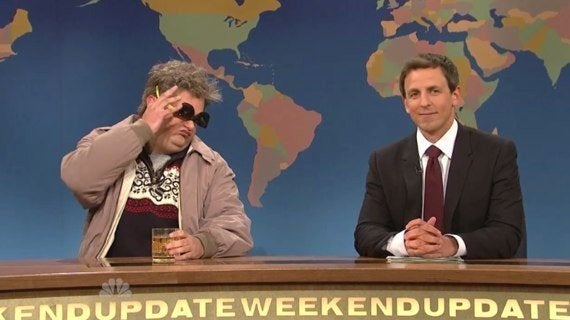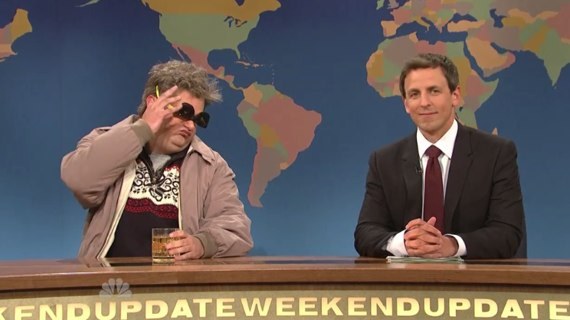 'SNL Weekend Update Thursday" returned for the first time since 2009 and, boy did they come out with guns a blazin'. Literally. (OK, not literally, but I'll explain below.) And it was perfect timing for "SNL" to weigh in on the Mitt Romney "47 percent" scandal while it is still very much in the news cycle. On to this very special Thursday night (non) Scorecard!
(And if you're interested in a special Thursday night "SNL" Not Ready For Primetime podcast, Hitfix's Ryan McGee and I have already recorded one. The full audio is embedded at the bottom of this post. And, as always, I apologize for my voice in advance.)
"Fox and Friends" (Taran Killam, Vanessa Bayer, Bobby Moynihan, Jason Sudeikis, Aidy Bryant, Jay Pharoah, Cecily Strong, Kate McKinnon, Tim Robinson) This is what I mean by guns a blazin': There was a meanness to this sketch that I have not seen on "SNL" in quite some time -- and I don't necessarily mean that in a bad way. Put it this way: What Mitt Romney said in real life was strange enough, but instead of letting Sudeikis' Romney just repeat the actual words -- or a version of the actual words -- to comic effect, "SNL" amped up their version and had him say things that were much, much worse, which was an interesting thing to witness. I mean, Tina Fey has stated that when she played Sarah Palin, she was for the most part just repeating the very things that the real Sarah Palin actually said. It's just curious that "SNL" felt the need to inject performance-enhancing drugs into statements that already sounded like they came from a comedy writer.
(Also, the end scroll of corrections at the end of "Fox and Friends" is one of my favorite things in life. With, "Rocky never fought Lassie," and "Benedict Arnold was not a character from 'Diff'rent Strokes,'" being personal favorites this time around.)
"Weekend Update" (Seth Meyers, Bill Hader, Bobby Moynihan) First, I always enjoy Moynihan's Drunk Uncle and Hader's James Carville. Though, both of them felt like Meyers told them before the show, "We really need to drag these out because we have a lot of time to kill." Look, I know this is "Weekend Update Thursday," but the format could probably benefit from one more short sketch or commercial parody because -- especially with Drunk Uncle -- it was apparent someone asked Moynihan, "How much entertaining nonsense can you spew?" (Thankfully, the answer is "a lot.") Meyers himself seemed to have more energy than he did on Saturday night -- I'm sure the primetime aspect helped -- but there just seemed to be something missing -- something that would have made this seem special as opposed to a Saturday night edition.
In 2008, Bill Murray made a cameo during the Thursday night special and, looking back, it's apparent now just how big of a behemoth Tina Fey's Sarah Palin impression became. Because even after a week like it's been for Romney, for whatever reason, tonight's show didn't feel like it had the urgency those shows from 2008 had. Then again, I suspect this will change after the debates start.
"Convention Cutaways" (Ensemble) This was fantastic because it's true. I don't know who these delegates were at these conventions, but there were certainly some strange people out there. Of course, the biggest laughs came from the two that I had noticed myself during the convention: the person who is dancing even though no music is playing and the person who brought props that only that person knows the meaning of -- and, in this cast, that would be Fred Armisen's hammer and giraffe. (Also, I have a soft spot for any sketch that utilizes the entire cast.)
Mike Ryan is senior writer for Huffington Post Entertainment. You can contact him directly on Twitter. Click below for the new "SNL" Not Ready For Primetime Podcast featuring Mike Ryan and Ryan McGee.
Also on The Huffington Post:
Popular in the Community