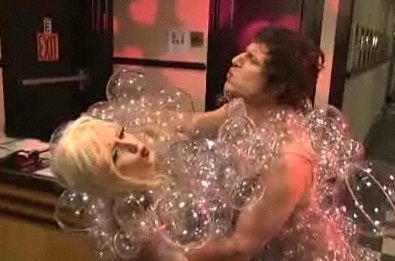 What's more important to SNL, comedy or buzz? To the writers, players and guest hosts, it's probably the former; to Lorne Michaels and the suits at NBC, it's ultimately probably the latter. The show can't exist without being funny, at least some of the time -- that's its raison d'être. But it's also not on at 2:00 PM Saturday on Comedy Central for a reason: this isn't just about people being funny, it's about which people are being funny. A punchline knocked home by Sarah Palin is a knockout heard 'round the YouTube-o-sphere; it takes a little longer for the quality work of a Kristen Wiig or a Jason Sudeikis to penetrate.
Short-term, the buzz will get people tuning in -- Who's the host? Who's the musical guest? Might this be one of the fifty episodes where Justin Timberlake cameos?). Long term, though, the repeat viewer will be drawn in by the quality, too (think "SNL isn't funny" vs. "Bill Hader/Andy Samberg/Fred Armisen/Kristen Wiig cracks me up, dude"). When the parade of cameos is over, at the end of the day there's got to be something else there to keep viewers giving a damn.
This episode is a terrific example of just that. The Madonna-Lady Gaga girlfight was the take-away moment of the "Deep House Dish" sketch -- but it also featured Wiig and guest host Ryan Reynoldsdo two of their own funny bits. Reynolds was an excellent, team-player of a host -- happy to play support and ensemble roles rather than being a greedy frontman -- and it showed. It was a big improvement over last week's slightly bland effort starring Megan Fox (maybe that's what happens when your sketches aren't all excuses to dress the hot host in sex-kitten outfits).
If you missed it -- you do have a life! -- here are all the clips from the episode, with my thoughts on what made them great. Darrell Hammond as Arnold Schwarzenegger or the "Family Feud" sketch riffing on Mackenzie Phillips didn't get the ink of Gaga or Madonna, and that's to be expected, but they were among my top moments in an pretty stellar episode ("So You Committed A Crime And Think You Can Dance" was another). Videos and recap below.
Cold Open: Obama on his Track Record
Ouch. Scathing sketch on what Obama has/has not accomplished in his 8 months in office (though realizing we're a month shy of the one-year-anniversary of his election is a shock). Armisen's Obama impression, which I've always liked but which others have impugned, is a little lax to start, but since he nails the "Nnno!" and that word gets lots of play during the sketch, it's a win. Also a win for the truth-hurts subject matter. (Though of course, to be fair, re: the Olympics and health care and even Afghanistan, who wants a president who signs on just because it's easy and he's sure he'll win? Come on.)
Ryan Reynolds was a terrific SNL host. Did he have those break-out YouTube moments? Nope - that's because he was a total team player, through and through. There was no insistence on self-promo, no star-turn diva moments - he was there to partcipate and play parts across types and support the sketch as a whole, not just his screen time. The monologue is decent but I'm going to turn what I just said on its head because it's the one place he
deserved
that star turn - Reynolds has been effortlessly carrying scenes since
Two Guys, A Girl and a Pizza Place
(once on the WE network right after
Felicity
- so yes,
) - he would have been equal to anything they threw at him, and happy to do it. A musical number, a battling-Wolverine bit, or at least using the women in the cast to underscore his romantic lead status (a
Definitely, Maybe
nod?) -- amping up the energy would have made the monologue pop more. Still, perfectly decent.
70's Family Feud with the Osmond and Phillips Families
Yes, incest and child abuse is not a joke. Obviously. But how could SNL ingnore the
Mackenzie Phillips
story -- especially when she put it front and center on Oprah and across the rest of the dial? This handling of it was pitch-perfect, placing the joke within a larger context that allowed so much more opportunity for jokes subtle (sets, costumes, Osmonds) and and not so much ("Things You Do With Your Father!"). Hader was at his best creepy weirdo here, too; glad they played Mackenzie down; better to focus on the Osmond-love between Reynolds and
Abby Elliott
. Loved Sudeikis as
Richard Dawson
too. Only thing missing was the kissing (for you young 'uns - host Dawson used to kiss all the ladies).
Porcelain Fountains! With Scarlett Johanssen
Nice - bringing back
Scarlett Johansson
to reprise a sketch she did when she hosted SNL. Happy marriages are good for SNL ratings.
I Threw It On The Ground (Digital Short - Andy Samberg)
I am sure people out there got this -- I didn't, but I am not the target demo of the patented Lonely Island rap parody. (Confession: When I first saw, "I'm On A Boat!" I was like, this is
stupid.
Yeah, I'm in touch with the kids, all right.) I did double-take at
Elijah Wood
though. Frodo! Frodo on a boat would be even more fun. Free Willy!

This post is a slightly modified version of one which ran earlier at Mediaite.com
Popular in the Community