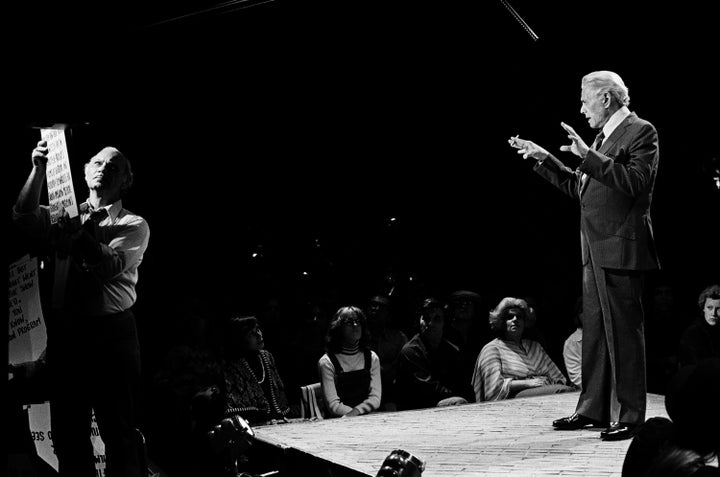 On Feb. 21, 1976, the Cuban-born actor and musician Desi Arnaz took the stage to host the 14th episode of the inaugural season of "Saturday Night Live" -- a comedy show that would become a pop culture fixture, offering wide exposure for those lucky enough to be invited to host. Arnaz was followed on episode 18 by Raquel Welch, an actress of partial Bolivian descent.
Fifteen years would pass before another Latino would hold the honor of SNL host.
Some contend that if SNL were more diverse, the choice to "dump Trump" would be an easy one. A Huffington Post review of the nearly 800 SNL shows over the last four decades shows that these critics have a point about Latino representation: Of those 790 shows, just 19 have had a Latino host.
"If SNL had a better track record of hiring Latino staffers, then perhaps there would be less controversy over Trump's hosting stint," NPR TV critic Eric Deggans wrote last month. "Or perhaps it would have thought harder about whether it made sense to bring him on the show at all."
SNL has also been called out for diversity issues before. Fusion pointed out in March of this year that Taraji P. Henson, who hosted in April, was just the 10th black woman to host the show in 40 years. The show's cast has also routinely skewed white and male.
When it comes to Latino hosts, even the 19 figure doesn't mean 19 different Latinos have taken the stage. Actress Cameron Diaz has hosted the show four times, comedian Louis C.K. has hosted three times and actress/singer Jennifer Lopez has hosted twice, meaning that in terms of individual people, just 13 of the hosts over 40 years have been Latino. Only two Latinos have ever been part of the full-time cast of SNL.
The term "Latino" generally refers to people of Latin American descent, which includes Brazilians but excludes Spaniards. The term "Hispanic" generally refers to people descended from Spanish-speaking countries and excludes Brazilians.
Four shows over the last 40 years were hosted by people of Spanish birth or heritage -- Martin Sheen, Charlie Sheen, Emilio Estevez and Antonio Banderas.
Heritage and nationality can be muddy and depend to some degree on how people with mixed ancestry choose to identify. Therefore, it's possible that some hosts over the past 40 years have some Latino background that is not public or was not readily available during HuffPost's review. HuffPost's numbers are slightly higher than some other estimates compiled by activists.
For one contrast to the 19 figure, Canadians have hosted SNL at least 43 times over the last 40 years -- a figure that includes some people of dual Canadian and American heritage. The show's director, Lorne Michaels, is a Canadian immigrant. British hosts have also far outnumbered Latinos, with 38 appearances.
NBC Universal did not respond to a request for comment about SNL's host selection.
The 40-year trajectory of "SNL" roughly coincides with an era of mass migration from Latin America that fundamentally reshaped the demographics of the United States. The Latino share of the U.S. population shot up from 4.5 percent in 1970 to 17 percent by 2013, according to the Census Bureau, and demographers project that it will continue to rise. To revisit the Canadian comparison, a study by the Migration Policy Institute found that in 2012, Canadians accounted for roughly 2 percent of the total immigrant population and 0.25 percent of the total population.
Alex Nogales, the president and CEO of the National Hispanic Media Coalition, said a show like SNL with a wide national audience should have better reflected the country's shifting demographics.
"Do the math. It's disgraceful," Nogales told HuffPost. "It's a lack of appreciation and concern for the Latino community. We've had a lot of Latino stars in that period of time, so it can't be argued that they couldn't find any."
Nogales, who has helped organize protests against Trump's appearance on the show, said SNL's decision to give Trump a platform in the wake of his degrading comments concerns him more than the show's lack of diversity.
"Trump is the bigger issue," Nogales said. "He's very harmful to our community. [Diversity] is another major issue in the background, but to me it's a secondary issue. Let us discuss it after we deal with the Trump issue."
Popular in the Community