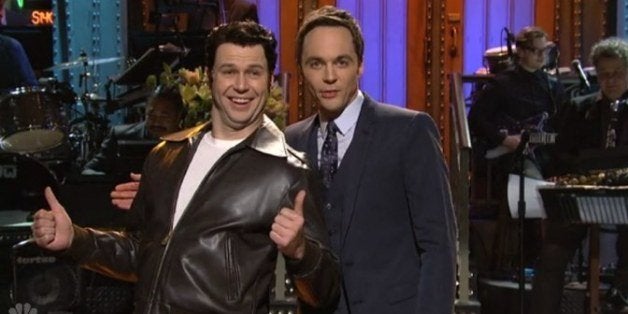 After almost a month off for the Olympics, "SNL" returned last night with a new feel – hey, there's a new guy hosting "Weekend Update"! – and a fairly disjointed show. It's almost as if this new cast was really starting to gel, then comes a long break and the loss of the most tenured cast member and, boom, it feels like we're almost starting over again. This Jim Parsons-hosted show had the nervous jitters of a season opener, not a show from March. And Parsons was fine, but it's almost as if the vibe made him look nervous at times, too.
"Bird Bible" (O'Brien, McKinnon) I am honestly surprised that this aired when it did in the show -- and good for Mike O'Brien to get something so obviously his and so obviously weird on that early in the proceedings. And a special congratulations has to be given out to whoever it was that actually illustrated the Bird Bible – top-notch work, there.
"Dance Floor Killer" (Bennett, Parsons, Ensemble) The sight of the cast, dancing around to the songs of the '80s, while a stoic and sinister -- and obviously a serial killer -- Jim Parsons stares off into the distance was my favorite visual gag of the show. I almost wish the sketch had not elaborated on this any further, which eventually ended with Parsons verbally outing himself as the killer. I kind of just wish the whole sketch was the dance show with Pasrons just standing there looking evil, yet no one suspects he's the killer.
"12 Years Auditions" (Thompson, Bayer, Strong, Wheelan, Zamata, O'Brien Parsons, Pharoah) First, I never thought the day would come that someone portrayed "12 Years" director Steve McQueen on "SNL" – and, well, here we are! Well, I'll give credit to "SNL" for this: "12 Years a Slave" has often -– and rightfully so -- been described as a movie that can't be parodied because of its subject matter. I can only imagine that was looked upon as a sort of a challenge. And, you know, I think they pulled it off. Strangely, the situation depicted has crossed my mind. Like, when Paul Dano showed up for his audition and looks at that dialogue, good grief, how do you say that? Also, Jay Pharoah has the best "I have my eye on you" look of maybe anyone alive today.
"Spotlightz" (Bayer, Parsons, Wells, Killam, Zamata, Bryant) There's really only one real reason that this is funny and it's because no one does a better "I'm a child and I'm acting" voice than Vanessa Bayer. I am entranced by this voice.
"Weekend Update" (Strong, Jost, Pharoah, Thompson, Killam) I'm starting to not like this new trend of late night personalities telling me how much it means to them to be on my television entertaining me. It's one thing when someone is saying goodbye, but on a first show -– Fallon did it on his first "Tonight Show," Colin Jost did it here on "Update" -– it just feels too sentimental. Instead of taking a moment to audibly "take it all in," Jost should have, instead, just come out of the gates firing.
I once wrote that it's almost as if Seth Meyers was created in a test tube for the sole purpose of hosting "Weekend Update." That's not the case for Jost –- and no one is doubting that Jost is funny; he's been a writer at "SNL" since 2005 and is currently co-head writer -- he's just going to have to work hard to become good at hosting "Update." And, look, it was his first show, so it's forgivable that he has that wide-eyed look of a new morning anchor just out of journalism school. If you go back and look at Cecily Strong's first "Update" compared to now, it's night and day. (Speaking of Strong, I wish there had been more interaction between her and Jost.) It's just a shame that the way the schedule is set up, by the time he gets into a grove, it will probably be right when the cast breaks for the summer. Right now, "Weekend Update" is officially a work in progress.
Pharoah and Thompson were fine, as always, as Shaquille O'Neal and Charles Barkley (though, it's almost an odd pairing because Thompson's Barkley sides on the goofy side while Pharoah's Shaq is disturbingly canny). Though, it was Killam's Jebediah Atkinson going through each Best Picture nominee that made "Update" last night. It's almost as if Killam's little accidental trick that he did with his index card proves that this character is magic.
"Elevator" (Parsons, O'Brien, Bryant, Thompson) Well, what a nice night for Mike O'Brien. He gets his terrific "Bird Bible" sketch on the air and his "guy poops his pants after a bomb goes off" sketch. I mean, that's really running the gauntlet between subjects.
"Jim Parsons Monologue" (Parsons, Pharoah, Moynihan, Killam, Thompson, McKinnon) Boy, Bobby Moynihan sure does play a creepy George Costanza. Parsons tripped over a couple of lines, but the parade of former television stars was fine. But did anyone out there really think that in real life Jim Parsons is a scientist who loves "Star Trek"? Is this a real problem for him? I suppose it could be?
"Cold Open: The Ellen DeGeneres Show" (McKinnon, Pedrad, Bayer, Pharoah, Parsons, Thompson) Kate McKinnon's Ellen DeGeneres impression is still a delight. And with DeGeneres hosting the Oscars on Sunday night, it was a good bet that we'd see DeGeneres in some capacity during the show. Though, it is surprising that this sketch wasn't about the Oscars instead of just another sketch about DeGeneres' daily talk show. "SNL" has on staff the person who does the definitive impression of tonight's Oscar host and they don't do an Oscar sketch. This seems like a big missed opportunity.
"Murder Mystery" (Killam, Zamata, Parsons, Strong, Bennett, McKinnon) The premise started off strong: Everyone is given wacky character traits – except for Parsons, who is given very vague instructions. The problem is, this is a really funny idea, but it just doesn't go anywhere. Like, it's much funnier to just hear the concept versus actually watching this sketch not know how to play itself out.
"Cowboys" (Bennett, Parsons, Wheelan, Thompson, Mooney) Especially airing in the ten to one timeslot, I wish this had just gone "all in" and been weirder than it actually was. It's as if it couldn't quite pick its tone. "Am I a weird sketch? Am I a mainstream sketch about a birthday? Whoa, I get surprisingly violent at the end there, don't I?"
"Peter Pan" (Parsons, Bryant, Milhiser, Mooney, McKinnon, Moynihan) Tinkerbell? More like Stinkerbell. (Ugh, I'm sorry, it's early.) Anyway, this was not great. And with a couple of actual gems spread throughout the show, it's just strange this aired so early and brought the show to a thud. Why something like Vanessa Bayer's "Spotlightz Acting Camp" wasn't in this slot, I will never understand. Perhaps this played better at dress, but this seemed dead on arrival during the live show.
Average Score for this Show: 5.51
Mike Ryan is senior writer for Huffington Post Entertainment. You can contact him directly on Twitter. Click below for this week's "SNL," Not Ready For Primetime Podcast featuring Mike Ryan and Hitfix's Ryan McGee.
Calling all HuffPost superfans!
Sign up for membership to become a founding member and help shape HuffPost's next chapter