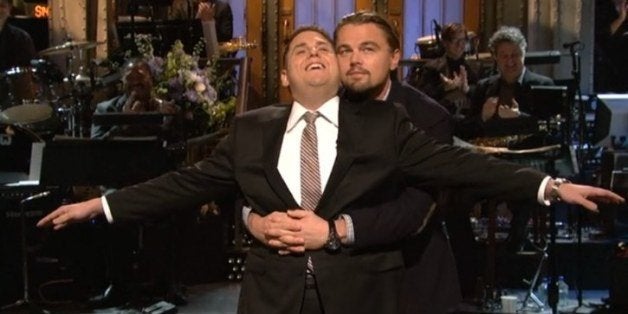 Jonah Hill has quietly become a good "SNL" host. His name doesn't get mentioned in the same sentence as Timberlake or Jon Hamm (who somehow hasn't hosted since 2010), but here he is -- back for a third time -- giving another solid performance.
Though, the cast is way too big right now. It's impossible to get to know the cast when there are 17 (!) cast members fighting for airtime. There's no way around it, the show just feels muddled right now. I thought the cast was a little too big when it was at 14 for the past few seasons – but 17 seems to be a real hindrance. Look, this was the 12th episode of the season and I'm still catching myself saying, "Wait, was that Brooks Wheelan? I think that was Brooks Wheelan." My point: I really don't know who Brooks Wheelan is. (I don't mean to pick on Mr. Wheelan, I could mention quite a few other cast member names instead.) I don't know what the immediate solution is (even with the upcoming departure of Seth Meyers, he's being replaced in the cast by Colin Jost), but it's been difficult to build a connection with this particular cast.
"Lamborghini" (Bayer, Strong, Hill) I've never been a huge fan of this particular sketch. I mean, it's certainly not "The Californians" when it comes to the echelon of "sketches I do not like," but these always seemed like they were missing something or went on way too long. Having said that, this installment was hilarious. All of the jokes worked and Strong and Bayer have a rapport with each other now that's really, really great. If the attitude is, "We're going to keep doing this sketch until we get it right," well, it's done.
"Jonah Hill Monologue" (Hill, Wells, Milhiser, Killam, DiCaprio) Leonardo DiCaprio doesn't really bother with the talk show circuit, so it's a little startling to see him pop up on network television. It was interesting, because he seemed a bit if a natural on stage and it would be interesting to see him host some day – which, by the way, will never happen. Anyway, DiCaprio and Hill mocked "Titanic" and it was funny – and I'm sure, somewhere, Billy Zane threw a shoe at his television.
"Weekend Update" (Meyers, Strong, Thompson, McKinnon) I get sadder every week because Meyers and Strong keep getting better and better with each other – this week the two actually broke down laughing at one point. Look, I'm sure Colin Jost will be fine – but there's no way possible that "Update" won't suffer, at least temporarily. Watching videos of Jost doing standup, he's okay, but he seems nervous. No one is doubting his ability to be funny, but it's going to take some time for him gain confidence as a performer, especially in contrast to a pro like Meyers.
As solid as Meyers and Strong were last night, the individual segments were a mixed bag. Kenan Thompson as the police officer who arrested Justin Bieber was fine, if not forgettable. I like McKinnon's Olya Povlatsky well enough, but I couldn't stop thinking Why aren't you playing Justin Bieber right now?!
"The Hit" (Thompson, Pharoah, Killam) Three hitman get distracted by the snow. Eh, this was nice. And I thought Thompson, Pharoah and Killam all had a nice little chemistry working.
"Cold Open: Men's Figure Skating" (Killam, Strong, Moynihan, Pharoah, Bennett, McKinnon) The gist is that Vladimir Putin won't allow gay athletes so the United States sends an all straight male figure skating team to the Olympics and they are predictably horrible. Honestly, the premise bugged me at first -- assumptions about the sexuality of male figure skaters and all -- but good gosh, Bobby Moynihan and Jay Pharoah won me over with their individual performances. If the actual Olympics featured Moynihan and Pharoah, I'd watch more male figure skating.
"Spike Jonze Trailer" (Hill, Bayer, Cera) It's a little surprising that "SNL" would film a parody of "Her" considering how few people have actually seen "Her." It's a solid enough parody – this time, our protagonist falls in love with himself; also, Michael Cera shows up – but a movie like this seems ripe for a bigger payoff than the one we got.
"Couples Quiz" (Thompson, Hill, Strong, Killam, Zamata) Jonah Hill clogged the toilet. Okay, fine, I laughed. What do you want from me? I'm only human. SOMETIMES POOP JOKES CAN BE FUNNY!
"Inside SoCal" (Bennett, Mooney, O'Brien, Wheelan, Killam, Hill, Moynihan) First, I do love that Tarn Killam said "Philomania" with Leonardo DiCaprio who accidentally invented that word at the Golden Globes lurking backstage. As for the sketch … I don't know. Look, I like Bennett and Mooney's particular brand of humor, but the kinda, sorta play the same guys every time they do these shorts. I mean, they are getting them on the air, which is important, so why would they stop? But I'd like to see them do something else other than these two guys. (Also, was that Ken Griffey Jr. Baseball for the Super Nintendo playing in the background?)
"Benihana" (Hill, Bayer, Wells, Zamata, McKinnon, Pedrad) Seeing six-year-old Adam Grossman isn't quite the same without Bill Hader's sad dad sulking next to him. Anyway, I have no idea how this became a recurring sketch. (I once mentioned this sketch to Hill during an interview and he barked back something that at least seemed to be irritation, yet they keep happening. Anyway, who knows?) At least there's an added inside joke this time with Benihana being a punchline in "The Wolf of Wall Street."
"Boss Dinner" (Hill, Bennett, McKinnon, Thompson, Bryant) I think Aidy Bryant got more screen time in Adam Scott's "Bosom Buddies" recreation than she did on "SNL" last night. (Again, this cast is way too big.) Anyway, Jonah Hill screams a lot. That's about all you need to know.
"Ranch" (Hill, Pedrad, Strong) "Hey, isn't it funny when horses kick people?" "Yes, it was a laugh riot on 'Mad Men' … say, should we do a whole sketch about a horse that kicks people?" "Yes, yes we should."
(Mercifully, this sketch is not online because a Joni Mitchell song was briefly performed.)
Average Score for this Show: 5.73
Mike Ryan is senior writer for Huffington Post Entertainment. You can contact him directly on Twitter. Click below for this week's "SNL," Not Ready For Primetime Podcast featuring Mike Ryan and Hitfix's Ryan McGee.
Related
Popular in the Community