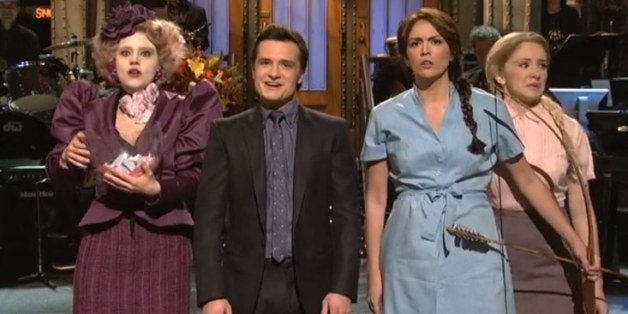 Josh Hutcherson as an "SNL" host was … serviceable. He certainly wasn't great -- I'm not sure he brought really anything special to the table except having a nice attitude about the whole thing -- but, at the same time, he didn't get in the way.
Hutcherson just kind of blended in to his surroundings until the show was over (much like Peeta in the first "Hunger Games" movie, really). And, honestly, I'd take this any week over a host who makes the whole proceedings about him or her. (I don't think we have to mention any names here.)
Join me, if you will. For this week's edition of the SNL Scorecard:
(Also: I'd be remiss if I didn't mention the work of Chris Harnick who gets up every Sunday to edit these posts and who is now moving on to bigger and better things. Anyway, expect more typos in the future.)
"Office Boss" (Beck Bennett, Josh Hutcherson, Kenan Thompson, Taran Killam, Vanessa Bayer) I'm under the impression that Beck Bennett used this adult baby character as his audition and that would make perfect sense. And it's nice that he finally got to do it on the show. And there's no way that we won't be seeing this as a recurring character in the future. I mean, with Bennett's deep, monotone voice, this is near impossible not to laugh at.
"'80s Party" (Vanessa Bayer, Josh Hutcherson, Ensemble) My least favorite part of this sketch was the fact the punchline was Rick Springfield's "Jessie's Girl." After basing an entire sketch on a known, but certainly not overplayed song from The Outfield's "Play Deep" album ("Your Love" peaked at number seven on the Hot 100), the punchline of the sketch turns out to be the most overplayed, perhaps widely known song from the entire decade of the 1980s. I can only guess this came down to "Well, we need to play something else at the end and the most obvious choice was used. Also, I wish Josh Hutcherson knew the lyrics to "Your Love" because his lip-synching was pretty lousy. Alas. Still, hey. "SNL" based an entire sketch on The Outfield's "Your Love."
(Due to song rights issues, this sketch isn't online.)
"Dancing" (Kyle Mooney, Beck Bennett) I'm glad that Mooney and Bennett are getting this kind of stuff on the air. And Mooney is quietly having a pretty nice rookie season -- I say "quietly" because his stuff is airing deeper into the show and isn't quite getting the recognition it deserves.
"Matchbox 3" (Jay Pharoah, Kenan Thompson, Josh Hutcherson, John Milhiser) I honestly wonder if this is funny to anyone who doesn't live in New York City. Perhaps this kind of sketch falls on deaf ears much like my disdain for "The Californians." Regardless, I do live in New York City and this was pretty dead on stuff -- especially when subway performers try to do their act during rush hour, it really does wind up being something kind of like this.
"Bugs" (Mike O'Brien, Josh Hutcherson) Mike O'Brien: What a weirdo. I mean that in the most positive way possible. I honestly could watch a 30 minute show of Mike O'Brien talking to bugs. (OK, yes, that last statement might be hyperbolic -- but not counting "Parks & Rec," have you actually seen NBC's primetime lineup? I feel "Mike O'Brien Talks To Bugs" would do quite well in comparison.)
"Josh Hutcherson Monologue" (Josh Hutcherson, Kate McKinnon, Noel Wells, Cecily Strong, Vanessa Bayer, Kenan Thompson, Bobby Moynihan) Well, he seems nice. And the "easily injured" joke was solid. Yeah, yeah, the whole "Hunger Games" theme was a bit convoluted, but we couldn't have an entire show without some mention of the movie and it's actually impressive that this was the only mention of the movie. And, again, Hutcherson seems nice.
"Weekend Update" (Seth Meyers, Cecily Strong, Aidy Bryant) I'm not sure what happened here: Aidy Bryant's "The Worst Lady on an Airplane" should have been comedy gold. It's one of those "Weekend Update" segments that, when the title of the character is announced, it's hard not to get excited because we all know terrible people on airplanes! Alas: it didn't hit. It happens, but this one felt a little more disappointing than usual. Actually, this was the most disappointing "Update" of the season -- and certainly the shortest. The whole thing just felt rushed. Honestly, it's hard to be too critical of "Update" considering how good it's been overall this season -- just not tonight.
"Thanksgiving Guest" (Vanessa Bayer, Josh Hutcherson, Aidy Bryant, Taran Killam, Bobby Moynihan, Kyle Mooney) Yeah … I'm not sure if this sketch knew if it wanted to be a play on "Guess Who's Coming To Dinner" or if it just wanted to be a sketch about a turkey that is dating a human being. Anyway, this seems like a bit of a missed opportunity. (Though, the shot of an actual turkey leaving the house was quite bizarre.)
"Girlfriends Talk Show" (Aidy Bryant, Cecily Strong, Josh Hutcherson) It's usually Aidy Bryant who makes this recurring sketch at least notable -- but Bryant's yin to Cecily Strong's yang just seemed off for whatever reason.
"Cold Open: Piers Morgan" (Taran Killam, Kate McKinnon, Bobby Moynihan, Beck Bennett) OK, yes, the George Zimmer/George Zimmerman joke wasn't bad. But other than that this was possibly the most lackluster cold open of the season. C'mon, just bring Moynihan's Mayor Rob Ford back again -- there's no shame in that, I guarantee it.
"Animal Hospital" (Cecily Strong, Aidy Bryant, Josh Hutcherson, Kate McKinnon, Kenan Thompson, Brooks Wheelan) Boy, this went nowhere. There seemed to be an interesting idea here -– and, hey, live animals! -- but I think there may have been too much of an attempt to be "weird" as opposed to just being weird (see Mooney and Bennett's "Dancing").
"Best Buy" (Bobby Moynihan, Cecily Strong, Josh Hutcherson, Ensemble) I don't know what else to say about this recurring sketch other than, again, it just seems mean-spirited and crass. And the best thing about this sketch -- Tim Robinson's dopey boss character -- is now gone. I get that it puts the whole cast on stage at once, but when the main joke here is the overuse of the word "bitch" -- please, please put this one out to pasture. Actually, no, I would never want to eat cheese made from this sketch. Just make it go away.
Average Score for this Show: 5.75
Mike Ryan is senior writer for Huffington Post Entertainment. You can contact him directly on Twitter. Click below for this week's "SNL," Not Ready For Primetime Podcast featuring Mike Ryan and Hitfix's Ryan McGee.
Related
Before You Go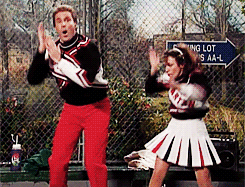 SNL GIFs
Popular in the Community