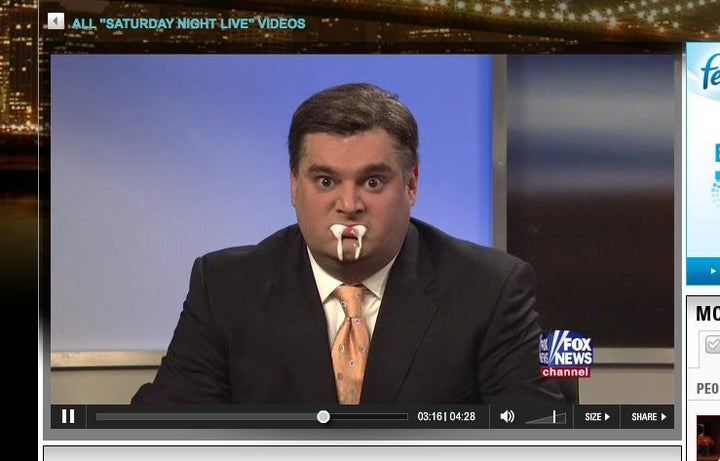 Like all topical comedy outlets this week, "Saturday Night Live" was faced with the difficult task of commenting on the tragic events in Tucson. In last night's cold opening, "SNL" addressed it by mocking Fox News for their attempt at a toned-down rhetoric, finding humor in what has not been a humorous week.
In the sketch, Kristen Wiig plays Fox News host Greta Van Susteren and is joined by Sean Hannity (Bobby Moynihan), Michelle Malkin (Nasim Pedrad) and of course Glenn Beck (Jason Sudeikis) as they attempt 'embracing civility' on the typically heated network.
The conservative analysts first discuss the "Repealing The Job-Killing Health Care Law" act that Republicans are trying to pass, when Van Susteren poses the question: is 'job-killing' the kind of angry rhetoric we should be using?
"Hmm... I'd go with 'job choking' or 'freedom raping,'" Malkin suggests.
After throwing a few more far worse names around, the hosts put their new civility to work, inviting CNN's James Carville, played hilariously by Bill Hader, to the show. The Ragin' Cajun immediately said Fox News as the 'civil polite network' is never going to work, and even demonstrated why with a single sentence about his day:
"Today I had nice lunch with Arianna Huffington, Michael Moore and my friend Lucien -- he's a gay soldier. We ate at a Vegan restaurant, which is nice because it means no animals got hurt. Which is important, because animals are just people with fur. Isn't that nice Sean Hannity?"
Watch the rest of the sketch below to see how Beck, Hannity and the bunch react to that statement, as well as the rest of Carville's story involving free x-rays under Obama care.
Popular in the Community