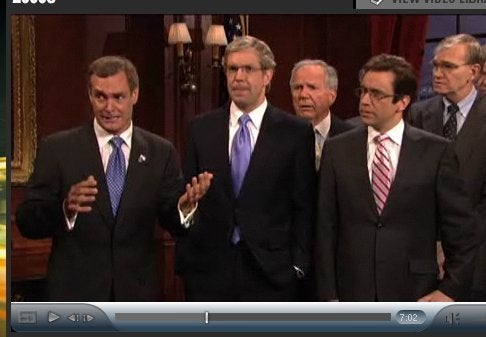 "Saturday Night Live" premiered its new spin-off show last night, a half hour version of Weekend Update that joins NBC's Thursday comedy block. They opened the program, hosted by Amy Poehler and Seth Meyers, with a typical SNL political sketch that still ended with "Live from New York it's Saturday night," despite the fact that it clearly wasn't.
The sketch centered around Joe Wilson's outburst during a joint session of Congress in which he yelled "you lie" at the president. According to SNL, the outburst was planned by the Republican leadership, but Joe Wilson was left in the lurch after he went to the bathroom while the rest of the representatives reconsidered their plan.
Kristen Wiig appeared as Michele Bachmann, mocking the congresswoman for her rhetorical choices, and Fred Armisen played a Republican playing Obama, making the whole thing as meta as possible.
Popular in the Community