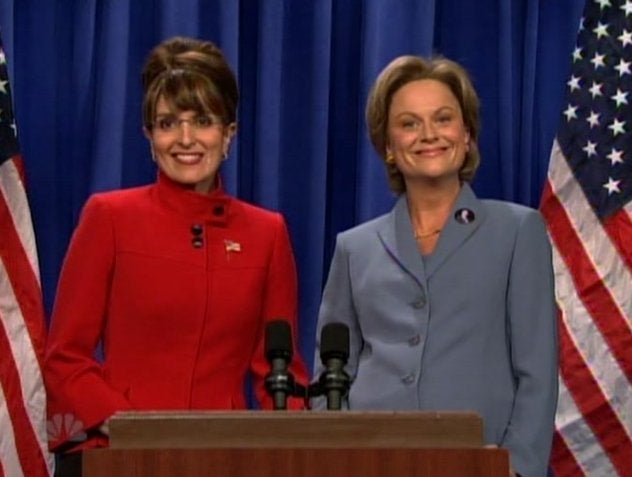 Well! Last night was the 34th season premiere of "Saturday Night Live," and perhaps the most eagerly-anticipated opener in the show's long and storied history. The reason: This wild and wacky election season, and particular the most recent addition to the storyline, Alaska governor Sarah Palin. — well-known first as the Republican vice-presidential nominee, and second as a dead-ringer for Tina Fey. Fey, the "30 Rock" creator and former SNL star, returned triumphantly to the show last night to play Palin in a brilliant impersonation, knocking it out of the park and proving me dead wrong. She joined Amy Poehler who returned with her Hillary Clinton impression, her eight-months-old baby-bump carefully hidden by a podium.
Please note that, though Fey stole the show with her Palin (never mind the look, wow did she ever nail the voice!), the best line of the entire show belonged to Poehler's Hillary: "In conclusion, I invite the media to grow a pair. And if you can't, I will lend you mine." BRAVA!
Before launching into the vids (oh yes! We have vids!), a note on the opener as a whole: Really, really strong, not only in the opening political sketch (which, face it, was what everyone had been waiting for), but also in the supporting evergreen material: Two strong commercial parodies ("Jar-Glove" and a T-Mobile Fave Five spoof) plus a great game show opener that included many in the cast (including facetime for newbies Casey Wilson and Bobby Moynihan), which was obviously inspired by the recent FDLS cult scandal in Texas (without the ick overtones). I wish it was one of the sketches SNL provided the embed codes for, because not only was it tightly written and well-performed, it showcased host Michael Phelps in his best moment in the show (as one of three blandly blonde home-schooled kids, Zebediah, Zebediah and Zachariah).
Speaking of Phelps, he's gotten some criticism for not being as sparkling on screen as he was in the pool, but frankly I think that's overly harsh; apart from some stumbles, he acquitted himself competently and, more importantly, committed to the material. You could tell he was trying, he was into it, and that the cast was into it with him — that's the kind of thing that translates to the screen. Expectations for him may have been too high; the monologue was good, with Amy Poehler as his mother plus a cameo from his mother (awww), and he delivered the key line perfectly: "This is seriously, like, the ninth greatest moment of my life." So go easy on the kid! Look at those abs!
Here are some sketches for those of you who are far too popular to be home on a Saturday night; some choice Twitter commentary below, because you know you want it.
Tina Fey as Sarah Palin, with Amy Poehler as Hillary Clinton
Digital Short: "Space Olympics"
(feat.
Andy Samberg
in a powdered wig)
T-Mobile "Fave Five" Spoof:
"Jar Glove"
(feat.
Kristen Wiig
at her antic best)
The Michael Phelps Diet
"The Charles Barkley Show"
(feat.
Kenan Thompson
as Barkley, which left no one to play
Usain Bolt
)
Live Twitter!
(feat. your in-house SNL junkie, me, with a cameo by
Jason Linkins
. Condensed version; full glorious live-twitter
; and Jason
.)
Amy: "I believe that diplomacy should be the cornerstone of any foreign policy." Tina: "I can see Russia from my house!"
"Just look at how far we've come! Hillary Clinton, who came so close to the White House, and me, Sarah Palin, who is even closer."
"I scratched and clawed through mud + barbed wire, and you just glided in on a dogsled wearing your pageant sash and your Tina Fey glasses!"
WHOOO! William Shatner cameo! Aaaaaaah Captain Kirk! (And Priceline ad.)
Ooh my, opening photo of Phelps, shirtless, Greek God-ish. Rawr. (NB: The photos were great.)
Weekend Update! "According to the latest poll, John McCain is only six points behind Sarah Palin."

Will Forte as "Alaska Pete" - accusing Amy of being a media elite. "That dog don't hunt."

First Bristol reference! Where is Amy in a wig? (Or Wiig?)

Aaaaah Forte used the "GILF" line. I am claiming a "first" there. (Hat-tip: Joel Stein and my friend Jeff Gans) (can't find the tweet, sorry)

O.J. Simpson trial: "Man, you know you've lived a crazy life when a trial for robbery, imprisonment and assault isn't your biggest trial." (not quite verbatim; forgive me, Seth)

Here's Fred Armisen - as Nicholas Fein, not Obama. Hmmm.

Best Nicholas Fein ever, I think. (Though he was pretty good in the show we did in Denver, cough cough: http://tinyurl.com/6syzeb)

Third meth reference! The new designer drug, clearly.

Samberg as "Cathy" from the comic strip "Cathy." Saying, "Aaack!" Seth: "So good to hear your actual voice, Cathy." (Voice is Palin-esque.)

"Sweatdrops! Sweatdrops! Sweatdrops!" That last one saved the whole thing.

" Roger Daltrey, Pete Townsend, Morgan Freeman and Barbra Streisand will be recognized at the Kennedy Center Honors this weekend...as the worst version of The Who ever assembled.

Weekend Update, fin. Welcome back, Seth's dimples, we missed you.
Keenan gets his moment! The Charles Barkley Show! Will they discuss his colonoscopy, I wonder.
Darrell Hammond as Bela Karolyi; somewhere in D.C., @dceiver is weeping with joy.
Michael Phelps as Michael Phelps. Better at swimming than cue-card reading. (But he's doing much better than many I have seen.)
Next guest: Jamacan Sprinter Usain Bolt! They are out of black cast members though! Joke: "Wow he's fast!"
These digital shorts tend toward the operatic. This one reminded me of the one where Samberg is the dark knight fighting crime (NB: Last year's opener was "I Ran So Far" with Armisen as Ahmadinejad - priceless.)
Bobby Moynihan as Mark Payne - one of his famous characters. The UCB kids are going CRAZY right now. See more: http://tinyurl.com/6l9rld
I think Lil' Wayne should have been tapped to play Usain Bolt. A facially-tattooed, green-guitar-playing Usain Bolt.
The Michael Phelps Diet! Joke: He easts a lot. "...and to wash it all down, a pitcher of Hollandaise sauce!"
"You can eat whatever you like, as long as it adds up to 12,000 calories a day." Amy Poehler pregnancy bump put to good use!
Cameo from Jared from Subway! Adorable!
Phelps stumbled a bit here. But those abs let you forgive a lot.
Aaaaaand, scene. Hope you enjoyed your SNL live twitters, peeps. Highlight was unquestionably the cold open, Fey/Poehler.
Popular in the Community