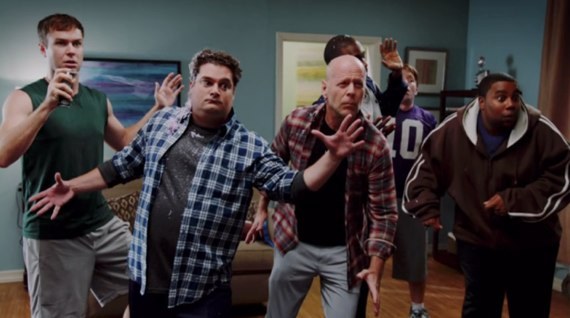 Bruce Willis had not hosted "SNL" since September 30, 1989. On that evening there was a "Thirtysomething" sketch and the fourth ever appearance of "Wayne's World." It's nice that Bruce Willis was promoting absolutely nothing, so, in my own little fantasy world, I picture him waking up one morning and thinking You know, I haven't hosted "SNL" in 24 years, I better get on that. Anyway, Willis did appear to be having fun the entire night, which is half the battle. Follow me, if you will, to a harmonica filled Scorecard...
"Beer Pong" (Beck Bennett, Jay Pharoah, John Milhiser, Kyle Mooney) In college, I wish a drinking game would have led to me having to design my ideal roller coaster. This may have changed my entire outlook on life. Anyway, "Beer Pong" is the first sketch from the new members of the cast (specifically Mooney, Bennett and Milhiser) that has been truly great. Whereas the other pre-taped sketch of the show, "Boy Dance Party," borrows elements from The Lonely Island, "Beer Pong" feels truly original. After a few false starts -- like last week's promising but off key "Miley Sex Tape" -- Kyle Mooney nails one here. And it give us the first true sense in this young season that these new cast members can bring something different to the table -- even if it is buried at the end of the show.
"Boy Dance Party" (Bruce Willis, Taran Killam, Bobby Moynihan, Jay Pharoah, Vanessa Bayer, Ensemble) Boy, Bruce Willis looked like he was having the time of his life during "Boy Dance Party." For Willis, I think he was really having a Boy Dance Party. Good for him, he deserves a Boy Dance Party. Actually, everyone looked like they were enjoying the Boy Dance Party. Well, except Vanessa Bayer, who drives home the short with a well-timed shriek after seeing the Boy Dance Party's robot light man. "Boy Dance Party" had a definite "Digital Short" vibe to it -- which was fine here -- but I'm not sure it's a wise thing to try to emulate The Lonely Island era as opposed to finding a new voice.
"Black Ops" (Beck Bennett, Bobby Moynihan, Bruce Willis, Jay Pharoah, Taran Killam, Brooks Wheelan, Kenan Thompson) For a sketch that was funny, for some reason this felt like it should have been even funnier. It was a killer idea: Bruce Willis walking us through multiple action movie tropes for an upcoming Black Op mission. I don't know, it just felt like something was missing -- preventing this great idea from becoming a great sketch.
"The Ol' Barber Shop" (Jay Pharoah, Kenan Thompson, Bruce Willis, Bobby Moynihan) "Did Bruce Willis make a Wade Boggs reference on the 'SNL' he hosted in 1989 or the one he hosted in 2013?" This will make a good trivia question someday. Anyway, I hope we see this sketch again, Pharoah and Thompson looked like they were having fun.
"Weekend Update" (Seth Meyers, Cecily Strong, Kenan Thompson, Brooks Wheelan) I actually just wrote the sentence "Strong keeps getting stronger," then had to delete it because that's a dumb sentence. But, yes, the banter between Meyers and Strong keeps getting better and better, though the segments were a little off. Thompson's Chaplain Barry Black was fine, but not really memorable. Then Brooks Wheelan came on as himself. First, that's great for him -- it's a nice introduction to the audience for a new cast member -- but I'm really not sure why he was showing us his tattoos.
"Cold Open: NASA Shutdown" (Taran Killam, Cecily Strong, Kenan Thompson, Kate McKinnon) This felt short. Perhaps that's a good thing. Perhaps, instead of dragging out a sketch for far too long even though we all get the punchline after the first few seconds -- which happens far too often -- it was best just to end this and yell "Live from New York." In the course of this paragraph I've changed my mind on this sketch: Good on it for making its two points -- the government is shut down and people like "Gravity" -- then just getting out of the way.
"24 Hour Energy" (Taran Killam, Kenan Thompson, Mike O'Brien, Kate McKinnon, Noel Wells, Cecily Strong, Jay Pharoah, Kyle Mooney, Vanessa Bayer, John Milhiser) I have never dated an actor, so, I'll take this sketch's word for it that it's high maintenance? So much so that I would need an energy drink to successfully do this. This is one of those sketches that I have no strong opinion on either way. I'm sure this hit home for a few thousand people out there who are in this situation. I'm sure it hit home for whoever is dating Vinnie Chase these days. For me, I'm just going to leave it right here at a "6.0" and move on.
"Bruce Willis Monologue" (Bruce Willis, Bobboy Moynihan) Maybe Bruce Willis is hosting "SNL" to promote his 1987 album "The Return of Bruno"? That would at least explain the harmonica showdown. I can picture the pitch meeting now, Willis asking the cast, "Hey, does anyone play the harmonica?" After no answer, Willis looks across the room at the guy hiding behind a plant, "I see you, Bobby. You're going out there with me. Don't worry, it will be fun. We'll have some laughs."
"Lady Gaga Talk Show" (Vanessa Bayer, Taran Killam, Bruce Willis, Kate McKinnon, Aidy Bryant) I can only assume that Vanessa Bayer has retired her Miley Cyrus impression now that Bayer's Cyrus has now met the real Cyrus twice. (This is why I am not a fan of the parody character ever meeting the real person, the bite is just gone.) Now Bayer has moved on to Lady Gaga, which is fine and all. But Gaga's persona is so over-the-top anyway, I'm not sure what the joke is here. Though let's do have an entire sketch about Aidy Bryant's teacher character with the big square on her head.
"Centauri Vodka" (Bruce Willis, Mike O'Brien, Aidy Bryant, Bobby Moynihan, Nasim Pedrad, Noel Wells, Cecily Strong, John Milhiser) I do like the fact that John Milhiser's short list of "SNL" characters now includes "Back Half of Bruce Willis' Centaur." Like the "NASA" sketch, this was really short. Unlike the "NASA" sketch, there really wasn't much of a point here. At least it was kind of weird, I suppose. No, no ... let me rephrase that. "At least it was short," I mean.
"Protective Son" (Bruce Willis, Vanessa Bayer, Nasim Pedrad, Taran Killam) At least there was a "Die Hard" reference. I know Taran Killam seems to really like this character, for whatever reason. My only guess is that he knew someone in his life who would make fun of people who accidentally said two words at once, creating a new word. I have a feeling this sketch will become my new "The Californians" for sketches that I just don't like yet keep coming back.
"Armageddon" (Bobby Moynihan, Bruce Willis, Kenan Thompson, Taran Killam, Beck Bennett) Or maybe this is my new "The Californians." This is the only Bobby Moynihan character I really don't like. I mean, what else is there to say? He likes his cat. Great. (And, on top of that, I thought we were going to have a true "Armageddon" sketch. But, no, it's about the cat guy.)
(Note: "E-meth" aired on an earlier show and is not a part of this scorecard.)
Average Score for this Show: 5.68
Mike Ryan is senior writer for Huffington Post Entertainment. You can contact him directly on Twitter. Click below for this week's "SNL," Not Ready For Primetime Podcast featuring Mike Ryan and Hitfix's Ryan McGee.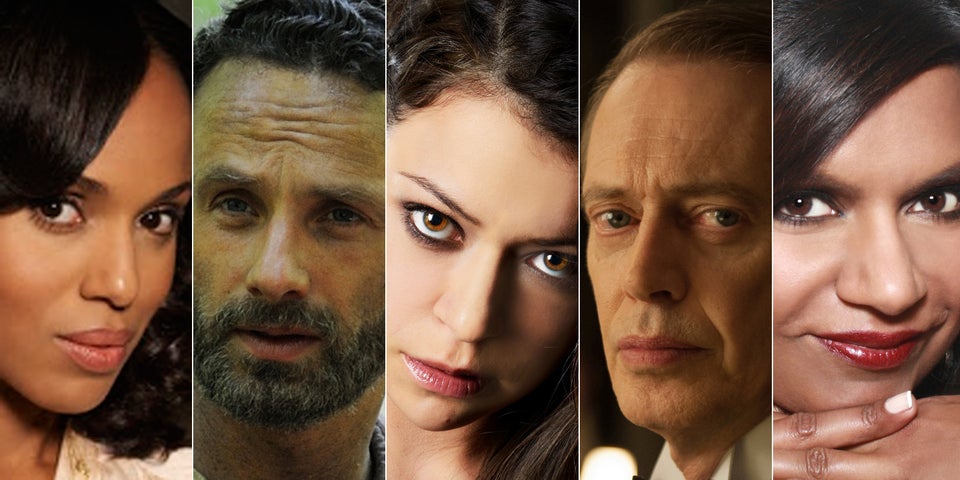 Critics Picks 2013-2014
Related
Popular in the Community