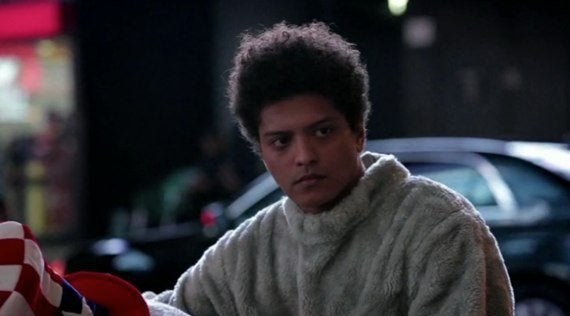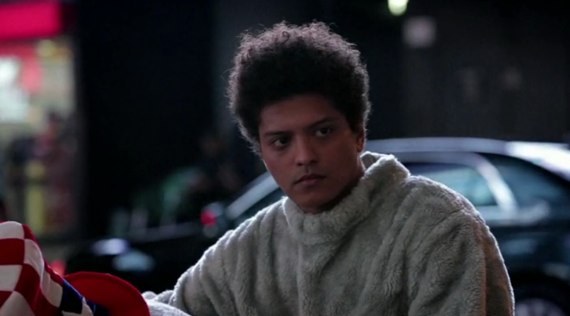 Based on a couple of moments during the show, I can't help but get the feeling that more than one cast member said at some point this week, "You know, Bruno Mars could be our new Justin Timberlake." Timberlake's quite popular hosting style was obviously the blueprint for the evening: Timberlake was even mentioned during the monologue and Mars starred in a sketch that Timberlake had previously performed. Admittedly, I was dreading this show. Musical performers who are thrust into hosting duties have a, let's say, mixed history of success. But, yeah ... maybe Bruno Mars (with a little help from Tom Hanks) really is the next Justin Timberlake? (OK, not quite, yet.) So, the host was great, what about the sketches? That is a slightly more complicated answer. In other words: Bruno Mars was the best host of the season, but this was not the best show of the season. On to a mixed bag of a Scorecard...
"Sad Mouse" (Bruno Mars, Jason Sudeikis) "Sad Mouse" is the first pre-recorded segment of the season that can be truly considered a "Ghost of the Digital Shorts Era." Though, perhaps slightly less weird and a bit more earnest than what we were used to from The Lonely Island. Regardless, this surprisingly sweet tale of a man (Mars) dressed as a mouse in Times Square is a nice start to whatever it is "SNL" is doing with its pre-recorded segments and I hope they continue.
"Pandora" (Jason Sudeikis, Bruno Mars, Tim Robinson, Bill Hader, Bobby Moynihan) Boy, Bruno Mars does a great Billie Joe Armstrong. I mean, if you needed proof of Bruno Mars's eventual world domination, well, this is it. Yeah, some of his impressions were better than others -- and Earth would survive without another Aerosmith impression -- but this was just a pure, "Let's justify why we picked this guy as host" type sketch. And it worked.
(Of course it's not online because of the songs that were featured.)
"Brad Pitt Chanel Commercial" (Taran Killam) The idea that there's no script for the actual Chanel commercial is, honestly, the only reasonable explanation for its existence. This appeared four times throughout the show and, honestly, I wouldn't be upset if Killam's Brad Pitt just made random appearances hawking products for the rest of the season. And, yes, Dr. Zizmor -- the subway doctor -- is actually a real thing.
"Amusement Park" (Taran Killam, Bruno Mars, Jay Pharoah, Vanessa Bayer, Bobby Moynihan, Bill Hader, Tom Hanks) Taran Killam and Jim Carrey were the first to portray the animatronics robots; then it was Killam and Timberlake. So it's not like Bruno Mars was stepping directly into a role that Timberlake founded, but, it's hard not to see the parallels here. The thing is, these sketches are pretty much the same every time (except this time Tom Hanks showed up), but they sure are interesting to look at.
"Bruno Mars Monologue" (Bruno Mars, Kenan Thompson) So, not the most original of monologues -- the host pretending/admitting that he or she is nervous has been done before -- but, Bruno Mars sure is charming. Also, as mentioned, it's certainly not a terrible thing to aspire to be a Timberlake-like host.
"Cold Open: Town Hall Debates" (Jay Pharoah, Jason Sudeikis, Aidy Bryant, Fred Armisen, Bill Hader, Taran Killam, Kate McKinnon, Bobby Moynihan, Cecily Strong, Tom Hanks) It happened quickly, but the best line of the sketch was the question about "dangerous assault weapons," after which each candidate responded that they would both do nothing. Inspired, I assume, by Tagg Romney stating that he wanted to punch the president, this second presidential debate was, well, ratcheted up a bit on the antagonistic scale, which, at times, worked (like both candidates learning the penalties for threatening the lives of the other) and, at times, didn't (Obama giving Romney an off camera finger). But, hey: Aidy Bryant!
"Weekend Update" (Seth Meyers, Bill Hader) I've noticed a recent trend that when "SNL" reaches the end of a monumental stretch of shows -- which they just have -- that seems to be when someone says, "Oh, to hell with it. Just throw Hader out there as Stefon." This is Stefon's first appearance of the season and the scripted portion already feels a bit stale, especially compared to the energy that it used to have. But, of course Stefon is not about its script; it's about making Bill Hader laugh, which, yes, is always fun. And the name "Sidney Applebaum," of all things, did the trick. Meyers looks like a guy at this point who is (deservedly) looking forward to a little bit of time off. His "Do's and Don'ts" were fine, but it's the type of segment that Meyers usually excels at doing and may have benefited from a partner to play off of. (I'll say it again for the 35th time: I have no idea why Meyers is so against the idea of a "Weekend Update" co-host considering just how good he is when he shares the stage.)
"Underground Festival" (Jason Sudeikis, Nasim Pedrad, Jay Pharoah, Bobby Moynihan, Kate McKinnon, Bruno Mars) Well, it's nice to know that Sixpence None the Richer is still getting gigs. Sadly, this is the first time I've ever put one of the "Underground Festival" sketches in the bad category. (At least, I think that's right. It's much too early in the morning to look, so, let's just assume this is true.) With Jason Sudeikis's departure on the horizon, this is probably the last time we'll see one of these and maybe that's for the best. What was just so fresh two seasons ago has, sadly, run its course. Goodbye forever, Ass Dan.
"Wilderness Lodge" (Bruno Mars, Jason Sudeikis, Vanessa Bayer, Bill Hader) Strangely, as the Yeti was performing what I can only assume was anal sex on Bill Hader, I found myself more interested in the small talk chit chat between the oblivious-to-what's-behind-them Jason Sudekis and Vanessa Bayer. I'm assuming that wasn't the point of the sketch.
"Haters" (Cecily Strong, Bobby Moynihan, Bruno Mars, Jay Pharoah, Aidy Bryant, Tim Robinson) I think the premise of this sketch is just that people can be loud. And that they like to boo. I mean, that's it. And, for some reason, this received a prime slot right after the monologue. You know, maybe the placement of the sketch during the show shouldn't matter, but, to me, it does matter. And maybe I'd dismiss this as filler after a quite remarkable five week run (including the Thursday night shows) -- but, again, for this to air right after the monologue makes me feel like someone really thought this sketch would work a lot better than it did. Regardless, even in what was not a great sketch, Bruno Mars gave 100 percent.
Average Score for this Show: 5.81
Mike Ryan is senior writer for Huffington Post Entertainment. You can contact him directly on Twitter. Click below for this week's "SNL," Not Ready For Primetime Podcast featuring Mike Ryan and Hitfix's Ryan McGee.
Related
Popular in the Community