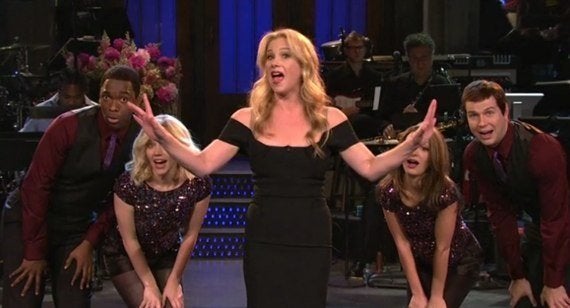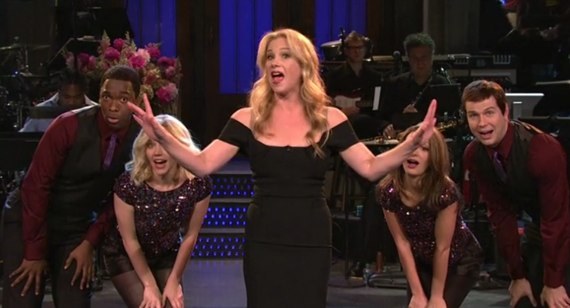 The last time Christina Applegate hosted "SNL" was 19 years ago when she was part of the now quite extremely famous original Matt Foley, Chris Farley sketch, which she mentioned in the monologue. You know the one, where Applegate and David Spade cannot keep a straight face, while somehow Phil Hartman does keep a straight face because that's just what Phil Hartman used to do. Applegate was a terrific host because she blended into the cast and when that happens, "SNL" becomes a streamlined machine -- which it was last night. I'm already looking forward to when Applegate hosts again in 2031. Brace yourself kids, it's time for a quite jovial Scorecard ...
"Cold Open: Vice Presidential Debates" (Jason Sudeikis, Taran Killam, Kate McKinnon, Usain Bolt) I mean, they even nailed Paul Ryan's widow's peak. As opposed to last week's it's-a-stretch-but-we-don't-know-what-else-to-do angle for the first presidential debate, the vice-presidential debate was tackled head on and it was perfect: The mannerisms, the dialogue ... everything. (And, yes, we, as a society, are quite fortunate that Jason Sudeikis decided to return to "SNL" for the election.)
"Sirens" (Jason Sudeikis, Taran Killam, Bobby Moyihan, Cecily Strong, Christina Applegate, Kate McKinnon, Fred Armisen) This was pretty fantastic because I can't think of one reason why a self-respecting siren wouldn't be singing Lisa Loeb. The gist, since it's not online: Odysseus is tempted by the sirens' songs, which happen to be "No Scrubs," "I Don't Want To Wait," and "Stay." (Also, I, too, am tempted by those songs so I finally feel like I have something in common with Odysseus. Finally.
(Sadly, this sketch is not online due to songs rights issues.)
"Taken Trailer" (Jay Pharoah, Taran Killam, Bobby Moynihan, Bill Hader, Christina Applegate, Jason Sudeikis) You know, it's true, a lot of daughters seem to be kidnapped away from fathers who are quite vengeful in their ways of getting them back. Regardless, one of the underrated things that "SNL" does is fake movie blurbs: "'None of the characters have names or back stories, and I like that,' raves The Director." "Peter Travers of 'Rolling Stone' gives it, 'One Review.'" Honestly, I could listen to 10 minutes of fake movie blurbs.
"Christina Applegate Monologue" (Christina Applegate, Ensemble) Celebrating the lack of a holiday this weekend was clever. Though, there are already Christmas items available at my local drug store, so, I'm not sure how accurate Applegate's song really is, truth be told. Still, I'm always a sucker for a big "to-do" to be made out of the monologue -- and this was.
"Principal Fry" (Jay Pharoah, Vanessa Bayer, Christina Applegate, Kene Thompson) Wow, Jay Pharoah broke character. It's far from my favorite thing when cast members start laughing during a sketch, but, I think in the long run, this was really good for Pharoah. Even with his recent success as Obama, audiences may not feel connected to him because he's more hidden than the other cast members behind the guise of his fairly dead on impression. The fact that he broke (ever so slightly) while doing a character he loves (which also happens to be his former high school principal) is strangely endearing.
"Tech Talk" (Christina Applegate, Bill Hader, Kate McKinnon, Kenan Thompson, Fred Armisen, Nasim Pedrad, Cesily Strong) The line of the night might just be, "Does diabetes count as a product?" If nothing else, I've been considering upgrading to the iPhone 5 and, now, after watching this sketch, I may hold off because it sounds like there are a lot of problems. I have a strong feeling that wasn't supposed to be my biggest takeaway, but, alas.
"Weekend Update" (Seth Meyers, Nasim Pedrad, Kenan Thompson) First of all, Nasim Pedrad does a wonderful/terrible impression of Arianna Huffington. It sounds exactly/nothing like her and I hope this impression continues for a long time/never makes it to air again. (And the fact that Arianna just happens to be my boss's boss has absolutely nothing to do with me covering all of my bases. Nothing. Absolutely nothing.) Meyers was fine, I suppose. Serviceable even, but no real fire to speak of. And I always wonder how something like Jean K. Jean happens -- in the sense that it's been so long since we've seen this character. Does Kenan show up for work on Monday and think, This is the week Jean K. Jean returns. (If so, please do that for Deandre Cole.)
"Gillette Master of Style" (Armisen, Pharoah, Sudeikis, Killam) I admit, I laughed when Jerry Sandusky showed up (which is a statement that I'm sure doesn't get spoken very often). But that was it. I mean, why would Jerry Sandusky be hanging out with Adrian Brody? Then again, in the real commercial, why are any of these guys hanging out together? To be fair, once Sandusky is entered into the equation, there's really no place to go with that idea that wouldn't be in poor taste. So, why bother?
"Dance Studio" (Christina Applegate, Kenan Thompson, Nasim Pedrad, Taran Killam, Bobby Moynihan) Hey, who needs Kristin Wiig when Christina Applegate is hosting? Good grief, was she ever channeling Wiig in this sketch. I almost feel like this sketch exists to give Applegate a front and center role -- which she certainly deserved but, outside of the monologue, didn't really get -- but, there doesn't seem to be much here other than "act eccentric." For the record, Applegate was great in this, I'm just not sure there was much of a point.
"The Californians" (Armisen, Killam, Applegate, Hader, Bayer, Sudeikis, Thompson, Moynihan, McKinnon) "The Californians" is the most polarizing current recurring sketch. And, yes, in the past, I have never liked this sketch because I have no idea what any of these people are talking about. Then again, I do not live in Los Angeles. As it turns out, this time around, I happened to be watching with a friend who lives in L.A. and she was laughing hysterically. "This is so inside baseball, but it's true. This is great." Well, I live in New York and I still don't get it and it's my Scorecard, so:
Average Score for this Show: 6.13
Mike Ryan is senior writer for Huffington Post Entertainment. You can contact him directly on Twitter. Click below for this week's "SNL," Not Ready For Primetime Podcast featuring Mike Ryan and Hitfix's Ryan McGee.