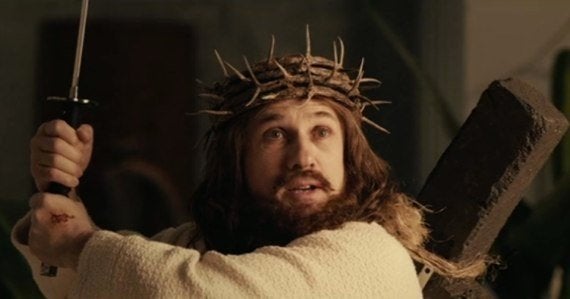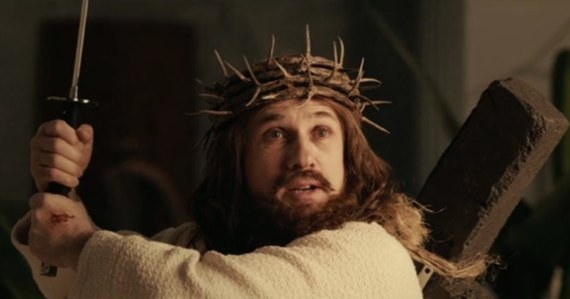 OK, yes, I have calmed down from last week's disaster of a show. Order has been restored. Not only did an actual actor host "SNL" this week -- after back-to-back shows featuring musical artists as the host -- an Academy Award-winning actor hosted. Oh, and, strangely, there was not one sketch in which Christoph Waltz played himself, like we have seen, lazily, with the hosts as of late. (Though, Waltz did play both the pope and Jesus.) Enough with the negative! Waltz was fantastic, which resulted in the best show of the season. Waltz is the type of actor who can do almost anything and it felt like there was a lot of saved up material, just waiting for a host that could do almost anything. On to a rejuvenated Scorecard!
"What Have You Become Game Show" (Christoph Waltz, Kenan Thompson, Bill Hader, Aidy Bryant) Along with the cold open, this was the second time that Alabama got a mention tonight. Admittedly, I was worried when I saw this was a game show sketch. Yes, there have been great game show sketches over the years, but "SNL" has a tendency to sleepwalk through these types of things, too. Instead, the format is turned on its ear as each formerly happy contestant is asked what he or she had done with his or her individual life. The best part was the depressing theme music that played as each contestant, then host, gave their answers. "What Have You Become Game Show" is one of the best sketches of this season.
"New Tarantino Movie" (Christoph Waltz, Taran Killam, Jay Pharoah) A fake movie trailer for the new Tarantino revenge film, "Djesus Uncrossed," with blurbs from critics that include, "I never knew how much Jesus used the n-word" and dialogue like "The H is silent." Honestly, I can't remember the last time I debated this much over sketch of the night. So, screw it, it's my scorecard and if I want two sketches of the night, there can be two sketches of the night. It was just that solid of a show. (And I always love Killam's Brad Pitt.) Honestly, for a lot of reasons, I can't believe this even aired. It's nice to see "SNL" test the limits.
"Retirement Ad" (Christoph Waltz, Jason Sudeikis) Remember a few weeks ago when "SNL" aired the commercial parody for the home Starbucks machine -- and the gist was that the machine would get the owners name wrong ... then the sketch just kept going and going for no apparent reason? The joke was over. I was reminded of that while watching this because the Pope's retirement could have easily been a one-note joke, too. Yet, here, it was made into a retirement firm narrative that ended with the best joke about no other testimonials available.
"Weekend Update" (Seth Meyers, Taran Killam, Kate McKinnon, Jay Pharoah) It's interesting, because it was evident on Seth Meyer's face that he knew that "SNL" was having a good night. And, thankfully, "Update" came out strong, too, with three segments. I have no idea what the crossover audience is for "SNL" and people who know who Stephen A. Smith is, but, boy, Pharoah's Stephen A. Smith is pretty fantastic. Also, I've never seen Pharoah break character, but if he didn't fully break last night, he came really close. Kate McKinnon and Seth Meyers seemed to be having the time of their lives with her "person who saw the Russian meteor" character. And it looks like Taran Killam will be taking on the role of Marco Rubio (good grief, I hope Killam's "parched Rubio voice" remains part of the impression forever), which might be tough once the Republican primaries start, considering he also plays Paul Ryan.
"Jamarcus Brothers" (Christoph Waltz, Taran Killan, Cecily Strong, Kenan Thompson, Jay Pharoah) I wish the Jamarcus Brothers would have played "Where does my penis go, point to where" during this sketch. You know, with a lesser host, this could have been ... not great. But the chemistry between Pharoah and Thompson, with Waltz as their oddball third brother of the musical trio, wound up hitting.
"Cold Open: Cruise Ship" (Jason Sudeikis, Cecily Strong, Jay Pharoah, Tim Robinson, Bobby Moynihan, Fred Armisen) This is perhaps the most depressing sketch "SNL" has ever aired. Not that it wasn't funny, but, boy this has been a lousy week as far as news goes -- which this sketch keenly reminded us. In other words: Instead of being a one-note sketch about the Poop Cruise, it was used as a way to address most of the recent (depressing) news items of the week. And it was nice seeing Cecily Strong playing a character that doesn't have some sort of "funny voice." Also, even though his monkey was eaten, I hope this isn't the last time we see Moynihan's Dan the Animal Man.
"Secret Admirer Letter" (Christoph Waltz, Cecily Strong, Jason Sudeikis, Bill Hader, Kenan Thompson, Vanessa Bayer) It feels like it's been a few weeks since we had a truly bizarre 10 to 1 sketch. I'm not sure that "Secret Admirer Letter' qualifies as "bizarre," but you know what? Close enough. If nothing else, it featured a half naked Christoph Waltz leaning against a Ferrari.
"Christoph Waltz Monologue" (Christoph Waltz, Kate McKinnon, Bobby Moynihan, Taran Killam, Nasim Pedrad, Cecily Strong, Fred Armisen) Wow, I never thought I'd ever laugh at something called "Casual Hitler." This was a fairly good monologue because it showed that Waltz came with a level of, well, talent for acting in front an audience that we hadn't seen in a few long weeks. And it was nice to see a good amount of the cast get involved, which was a sign of things to come for the entire evening.
"Tippy" (Nasim Pedrad, Christoph Waltz, Bobby Moynihan, Tim Robinson, Vanessa Bayer, Kate McKinnon, Kenan Thompson, Bobby Moynihan) Yes, Nasim Pedrad has played this type of "annoying, know-it-all" character before, but this is the first time that I can remember it not being a boy or a young child. Granted, perhaps it was the general good will from the quality of the rest of the show, but I laughed quite often during "Tippy." And, yes, it was really nice to see Pedrad be a major part of the show.
"Fox and Friends: 2013 State of the Union" (Taran Killam, Bobby Moynihan, Vanessa Bayer, Bill Hader, Fred Armisen) It was weird, I initially enjoyed last night's edition of "Fox and Friends" because I always enjoy "Fox and Friends." But I think my initial delight might have just been a result of the always great list of corrections. ("Zero Dark Thirty is not a diet soda.") Re-watching this morning, this was one of the weaker "Fox and Friends" installments -- which might be why it was relegated to the end of the show, as opposed to its usual spot in the cold open.
"Regine" (Christoph Waltz, Fred Armisen, Bill Hader, Vanessa Bayer, Aidy Bryant, Tim Robinson, Taran Killam) Oh, Regine, we were having such a nice evening before you showed up. The sentence before this one is how both the other characters in the sketch felt and how the audience at home felt watching. I mean, look, compared to what aired in past weeks, Regine would have been borderline fine. But our standards are just a little higher for this particular show and getting a glimpse of Fred Armisen's scrotum doesn't quite cut it this week.
Average Score for this Show: 7.03
Mike Ryan is senior writer for Huffington Post Entertainment. You can contact him directly on Twitter. Click below for this week's "SNL," Not Ready For Primetime Podcast featuring Mike Ryan and Hitfix's Ryan McGee.
Related
Popular in the Community