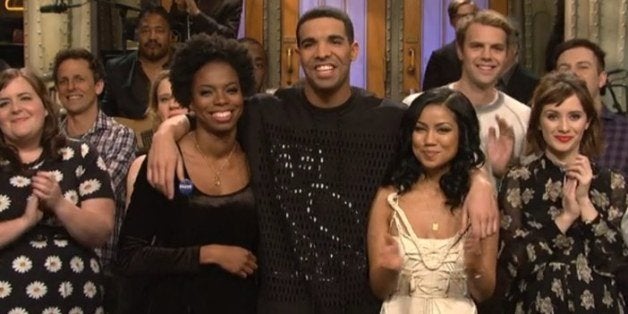 After an insane amount of coverage, Sasheer Zamata made her "SNL" debut last night with quite a few supporting appearances and ... that's the last time I'm going to mention Zamata other than when it comes to her actual participation on the show. (And I only mention it now just to avoid the, "How did you not mention that?" questions.) Look, it's hard enough to succeed on a show like "SNL" under normal circumstances and Zamata's debut has been met with more attention than possibly any brand new featured player in the history of "SNL" – which really isn't fair to her from a pressure and expectations standpoint.
Drake hosted tonight and was … really great, actually! And he went out of his way to sell everything he was given. It kind of reminded me of the Bruno Mars show from last season: An energetic host that's been given so-so material that he's able to elevate -- to a point. Here is your somewhat abbreviated (due to the fact I'm currently in Park City, Utah in the middle of Sundance coverage and haven't slept in three days) Scorecard…
"Resolution Revolution" (Killam, Zamata, Drake, Pharoah) This was great because this is true. Also: Drake doing cosplay.
"Before They Were Stars" (Thompson, Drake, Ensemble) Yes, this is an excuse for the cast to do impressions of whomever they happen to be able to impersonate – but a lot were pretty dead on – especially Jay Pharoah as 2 Chainz and Taran Killam as Eminem. (If "The Eminem Story" is ever made – well, at least a version that's not "8 Mile" – I hope Killam plays Eminem. Also: Mr. Wizard!)
"Drake Monologue" (Drake, Bayer, Pharoah, Thompson, Zamata, Mooney) Well, this was certainly an ambitious monologue. Drake cracked jokes, made references to "Degrassi" acted in a sketch and performed music. Anyway, it's always nice when "SNL" doesn't phone in the monologues.
"Weekend Update" (Meyers, Strong, Bayer, Pedrad) Whelp, we are getting really close to Seth Meyers' last show. Which is a shame (well, other than he gets his own late night show and he was recently on the cover of Time magazine) because this has been one of his best seasons on "Update" in the last few years. Pedrad returned as my boss' boss, which is always good, but nothing Earth shattering new. In a slight change from the norm, Vanessa Bayer played Jacqueline Bisset in a segment that lasted throughout "Update" (and a segment that's basically a week old) and I'm sure the audience members in the rafters were shocked to find themselves on live television.
"Mornin' Miami" (Moynihan, McKinnon, Drake) The first time this sketch was done, it was the only shining jewel of the Miley Cyrus show. It's funny, it's still a great sketch, but in a show that was pretty solid (or, at least, had a great host), it doesn't stand out quite as much.
"Cold Open: Piers Morgan" (Killam, Drake, McKinnon) Even though it seems to be happening more often lately, it's still a rarity to see the host in the cold open. Regardless, Drake makes a solid Alex Rodriguez. More importantly: Kate McKinnon makes a wonderful Justin Bieber.
"I Know" (Bennett, Mooney) If this had aired at the beginning of this season, I might have given it a pass as "the new guys at least trying something different." Well, at this point in the season, I have come to expect better stuff from both Bennett and Mooney, so … this doesn't quite hit like their Fraternity sketch or their Ice Cream sketch.
"Poetry Teacher" (Bayer, Drake, O'Brien, Wheelan, Milhiser, Zamata, Bryant, Thompson) Everyone looks like they're having a nice time, but this is pretty much the same sketch as the last time it was done. I just don't think this works as a recurring sketch.
"Slumber Party" (Drake, Strong, Bryant, Zamata, Wells, Pedrad, Mckinnon, Bayer) Aidy Bryant does her absolute best to save this sketch, but it's far too long just to keep doing a "your dad is good-looking" joke. Though, even in a subpar sketch, Drake does his best to sell what he's given.
"Nancy Grace" (Wells, McKinnon, Drake) Parodying Nancy Grace at this point just seems so boring. This feels like a sketch out of 2007. Why not Geraldo Rivera next? And Wells has been solid in her first season, but her Nancy Grace is fine at best. At least it's not so outstanding that we just must have Nancy Grace in a sketch.
"Disney World Show" (Drake, Pedrad, Wheelan, Thompson) Look, it's great that Nasim Pedrad had a big night, especially considering that she never gets as much screen time as she deserves. And Drake does his best to sell this one, but this goes nowhere. (But it's still better than "Indiana Jones and the Kingdom of the Crystal Skull.")
Average Score for this Show: 5.82
Mike Ryan is senior writer for Huffington Post Entertainment. You can contact him directly on Twitter. Click below for this week's "SNL," Not Ready For Primetime Podcast featuring Mike Ryan and Hitfix's Ryan McGee.
Related
Popular in the Community