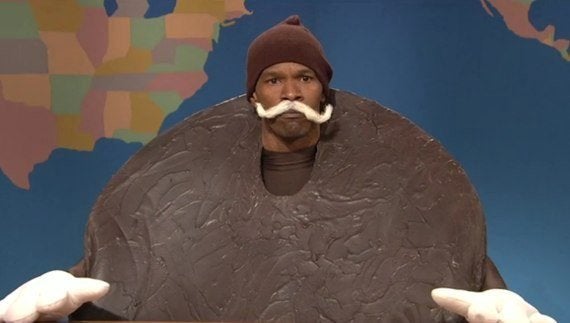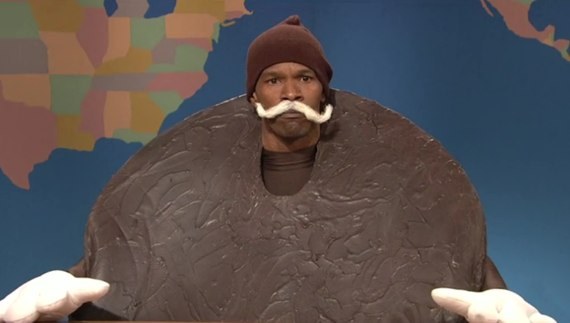 Quite surprisingly, it has been almost 13 years since Jamie Foxx last hosted "SNL." With the barrage of shows to open the season -- taking advantage of the election -- "SNL" is returning for only two December shows before disappearing for almost another month. It's hard to build momentum with that much time off and, without a major news story or scandal this week, this felt like a show with no purpose and no momentum. This wasn't Foxx's fault, who, with a sketch comedy background, is certainly a talented enough host, but this was a show devoid of anything particularly memorable. (Well, except for a warped version of Maine and Dermot Mulroney, of all people.) Let's just get on to the Scorecard, shall we?
"Maine Justice" (Jamie Foxx, Jason Sudeikis, Aidy Bryant, Bobby Moynihan, Charlie Day) During the second season of "Survivor," a friend and myself used to find enjoyment by referring to the contestant known as Kentucky Joe as Maine Don -- primarily because no one would ever nickname a human being with a thick Southern accent after the state of Maine. So, yes, the idea of an entire stereotypical Louisiana courtroom set in the state of Maine appeals to me greatly. And it didn't hurt that every time Jason Sudeikis spoke, it reminded me of his character from the NASA sketch.
"Dylan McDermott or Dermot Mulroney" (Bill Hader, Jamie Foxx, Kenan Thompson, Jay Pharoah, Durmot Mulroney) I think that I might be the only human being alive today who can tell these two apart. (I feel that says more about me than it does either of these two actors.) Regardless, even though this was the second game show sketch of the night (it's that kind of show), this was genius -- especially for involving Rupert Everett's name.
"Jamie Foxx Monologue" (Jamie Foxx) It's no surprise that Jamie Foxx knows what he's doing considering his sketch comedy background from "In Living Color." Sure, he got what was kind of, sort of political. But, not, really -- that's just Jamie Foxx knowing what he was doing on the stage. "SNL" was wise to just let him go out and do what he knows how do to.
"Weekend Update" (Seth Meyers, Aidy Bryant, Jamie Foxx) First, Meyers delivery on, "I fell asleep in the middle of a haircut," may have been the best thing from the entire show. Aidy Bryant's Mrs. Claus was fine, if not overly non-descript. It's rare to see the host appear on "Update," but Foxx looked like he was having a grand time playing a Ding Dong, of all things. I don't even think the Ding Dong segment was that great, but it was just fun to watch Foxx enjoy playing a Ding Dong that much.
"Cold Open: Fiscal Cliff (Jay Pharoah, Bill Hader) The sad thing is, John Boehner seems like a nice enough guy. Sadly, I would not be surprised if all the terrible things that Pharoah's Obama described actually happened to Boehner. Having said that, the bite of the impending fiscal cliff wasn't quite there. Regardless, I still enjoy seeing Pharoah's Obama, especially post election.
"Tree Pimps" (Kenan Thompson, Taran Killam, Jay Pharoah, Tim Robinson, Kate McKinnon, Fred Armisen, Jamie Foxx) Timely for me because I had just purchased a tree off the New York City streets on my way home to watch "SNL." Only the guy who sold me my tree had a very long beard and spoke with a Southern accent. The concept is interesting because these tree stands are everywhere this time of the year, but this seemed just like a concept alone. Actually, perhaps this would have worked better as a live sketch than a somewhat depressing pre-taped short.
"Tyler Perry" (Jamie Foxx, Jason Sudeikis, Taran Killam) Well, this seemed a bit too obvious. And another problem is that the concept -- Tyler Perry, in a "serious" role as Alex Cross, decides to play half the character as Madea -- is flawed because, no matter how silly a given Madea movie might, it's not as bad as "Alex Cross." Seriously, I've sat in a theater and watched both "Alex Cross" and a Madea movie this year and if I were forced to watch one of them again, I'd take the Madea movie.
"J-Pop: Christmas" (Taran Killam, Vanessa Bayer, Jason Sudeikis, Jamie Foxx, Fred Armisen) I used to like these so much. And it's nice to see Vanessa Bayer get some airtime, which has been sorely missing from the show over the last few weeks. But, sadly, these just feel stale now. When a sketch has aired as many times as this one has, it can't just live off, "Oh, they are Americans doing a Japanese stereotype," because we got the joke a long time ago. Most recurring sketches try to develop personalities for its characters. Unfortunately, when the gist of the joke is, "These two are doing something offensive and they don't realize it," it's hard to give them meaningful personalities.
"Swarvoski Crystals" (Vanessa Bayer, Cecily Strong, Jamie Foxx) Boy, this went on for a long time. Yes, I get the joke, but this would have benefited from being about half the length that it was. And there are a couple of good lines sprinkled out -- "I lost part of my foot. It broke off in a butt" -- but it was just hard to focus an attention span long enough to hear them.
"Bitch Game Show" (Jamie Foxx, Taran Killam, Nasim Pedrad, Bobby Moynihan, Tim Robinson) The only thing I really enjoyed was Bobby Moynihan's wide-eyed innocence when asking questions like, "Wait, is that the goal?" Actually, with more Moynihan, this probably could have worked. OK, this sketch was disappointing because the idea of asking nonsensical questions while looking for real answers is funny -- especially with how earnest Killam, Pedrad and Moynihan were playing the contestants. But that all was lost in the fact that it seemed we were supposed to laugh at just how many times the word "bitch" was being said, which just wound up being distracting. This was a waste of a good idea.
Average Score for this Show: 5.43
Mike Ryan is senior writer for Huffington Post Entertainment. You can contact him directly on Twitter. Click below for this week's "SNL," Not Ready For Primetime Podcast featuring Mike Ryan and Hitfix's Ryan McGee.