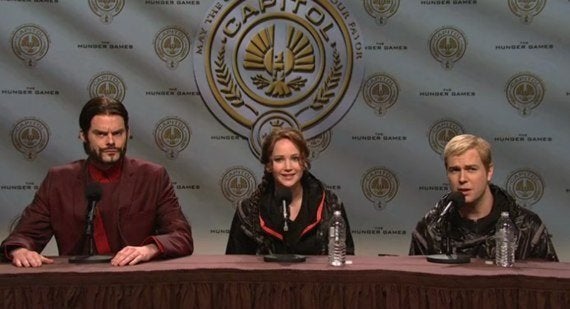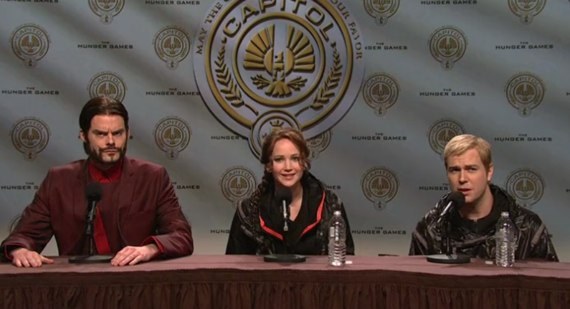 "They had a whole month off and that's what they come up with?" I'm not a big support of that line of thinking. Planning for Saturday Night Live, like with any show, starts on Monday. I think the success of a show as more to do with chemistry and momentum than it does a long break. Regardless, Saturday night's Jennifer Lawrence-hosted edition of SNL was... not good. (Though, I should point out that Bobby Moynihan had a great night.) Here is your abbreviated Scorecard:
(Abbreviated because I am currently in Utah covering the Sundance Film Festival. We will be back to full operating strength next week.)
"The Hobbit" (Sudeikis, Ensemble) Of course The Hobbit is now divided into 18 parts, which, honestly, doesn't seem too far-fetched. Then again, I would probably enjoy The Hobbit 4: Apple Maps An Unexpected Journey.
"Hunger Games Press Conference" (Lawrence, Hader, Killam, Pharoah, Thompson, Moynihan, Strong, Robinson) Well, we knew something like this was coming. And I thought painting Peeta as a schlub was a nice touch.
"Weekend Update" (Meyers, Moynihan) If nothing else, at least "Update" was loose, something I can't say for the rest of the show. Meyers and Moynihan (as Anthony Crispino) seemed to be having a genuinely nice time -- which, again, I didn't see anywhere else in this show.
"Piers Morgan Cold Open" (Killam, Sudeikis, Moynihan, McKinnon) Well, yes, SNL certainly can't do Oprah considering they don't have a female African-American cast member. So, Morgan it is. This was fine and did a nice job of addressing Lance Armstrong, Manti Te'o and Jodie Foster right off the bat.
"Danielle: A Free European Woman" (Lawrence, Armisen, Hader, Sudeikis, Killam, Strong, Thompson) On a night like last night, at least this was weird. Though, for whatever reason, I was expecting it to be weirder.
"Love Letters" (Robinson, Lawrence) I get the feeling that this sketch is lucky to have made to air -- being the second "10-1" sketch, which is rare. But, you know, good for Tim Robinson. He had such a nice start to the season, but all but disappeared during the final month of 2012. I really think SNL would be wise to use him more.
"'50s Diner" (Moynihan, Bayer, Lawrence, Bryant, Hader, Killam, Strong) This concept is great -- the "obnoxious" waiter at one of those intentionally rude retro-type restaurants actually saying some very hurtful things -- but the tone and execution has to be perfect. And it wasn't.
"Jennifer Lawrence Monologue" (Lawrence, Hader) This really could have been good. But Lawrence seemed rushed when she was "mocking" her Oscar rivals and it just came off... weird. So weird that, well, I hope not too many Academy members were watching.
"Starbucks Verismo" (Bayer) Admittedly, I laughed when the voice (Pharoah's, I think?) first got the name wrong. Then, well, there was really nowhere else to go with this. Yet, it kept going.
"Girlfriend Talk Show" (Lawrence, Strong, Bryant) As always, Aidy Bryant is good in this sketch. But why this gets such a strong presence immediately after the monologue is beyond me.
"B-108 Morning Show" (Killam, Moynihan, Lawrence, Bayer) It's weird, because I really enjoy almost everything that Taran Killam and Bobby Moynihan do on the show. And here they are together in a recurring sketch, and it's my least favorite thing from both of them.
"Top Dog Chef" (Sudeikis, Moynihan, Pedrad, Hader, Armisen, Bayer) When I look back on Hulu at some of the great sketches that get cut at dress rehearsal over the season -- this is the type of sketch that makes me angry it aired. Not that it was just so bad but that it just feels like a lazy idea. The dog costumes were nice, though.
Average Score for this Show: 5.38
Mike Ryan is senior writer for Huffington Post Entertainment. You can contact him directly on Twitter. Click below for this week's "SNL," Not Ready For Primetime Podcast featuring Mike Ryan and Hitfix's Ryan McGee.