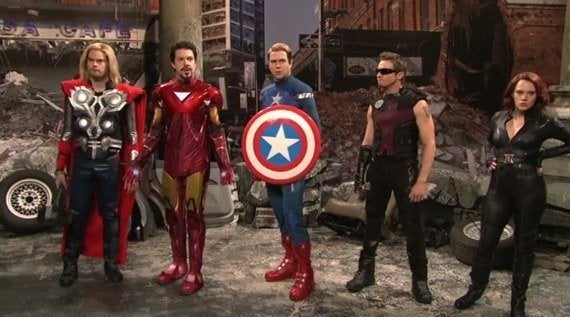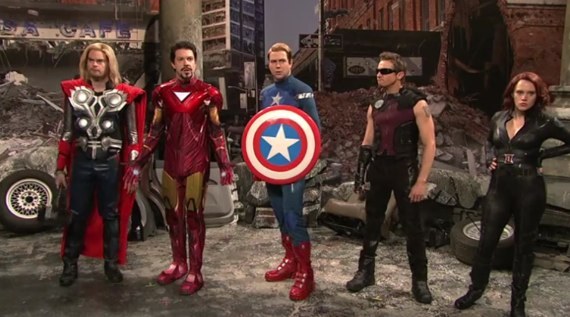 Jeremy Renner isn't what you would call the "prototypical 'SNL' host," but, bless his heart, he tried his best. As he admitted in his monologue, he's not known for comedy (but, hey, neither was Jon Hamm when he first hosted) and, as far as I can tell, Renner really isn't promoting anything at the moment. ("Hansel and Gretel: Witch Hunters," a movie that actually exists, doesn't come out until January.) Unfortunately, this show was just off from the start. An almost shockingly boring cold open (with perhaps the tamest "Live from New York ..." in the show's history) followed by a monologue with technical glitches -- resulting in Renner even audibly admitting that it's not a good way to start a show -- set a tone that never fully recovered. In other words: today's Scorecard is forlorn ...
"The Standoff" (Jeremy Renner, Taran Killam, Boby Moynihan, Vanessa Bayer, Adam Levine) Finally, a sketch that actually played to Jeremy Renner's strengths. No singing (though, Renner does have a surprisingly nice singing voice) and no funny accents, just a gun standoff taken to preposterous lengths. Seriously, though, didn't they all look so happy when the three of them were ice-skating?
"Weekend Update" (Seth Meyers, Jay Pharoah, Chris Christie) Living through Hurricane Sandy, even in New York City, it was hard not to grow an affection toward New Jersey Governor Chris Christie and his fleece. Now, after he and his fleece appeared on "Saturday Night Live," good grief, this guy and his fleece become harder and harder not to like. If nothing else, for a show that was so scattershot, "Weekend Update" was on point with Seth Meyers starting the segment on fire during "Winners/Losers" and ending with the aforementioned Chris Christie and his fleece.
"Tourism Ad" (Taran Killam, Aidy Bryant, Bill Hader, Tim Robinson) I'm not sure this is as much funny as it is more just the hard truth for many sad travelers this holiday season, including myself. Perhaps the best line of the evening was the one referencing that the old K-Mart is now Michael's. (And, yes, I have done the whole "let's visit my former high school teacher" only to realize at the last second that it's a terrible idea.")
"Coroner" (Jeremy Renner, Bill Hader, Jason Sudeikis, Taran Killam) The sketch concept -- a man continuously guesses wrong names when trying to identify his supposedly dead brother at the coroner's office -- was fine ... though, the reason to watch is to see Bill Hader wipe snot onto Taran Killam's face as Killam attempts to keep a straight face while playing a dead body.
"The Avengers" (Vanessa Bayer, Jay Pharoah, Bill Hader, Taran Killam, Bobby Moynihan, Kate McKinnon, Jason Sudeikis) For the entire length of this sketch, I couldn't help thinking, Shouldn't this be better? It certainly wasn't what would be called "tight," even though the costumes looked really good. And it was distressing that Renner looked so uncomfortable, stumbling through his lines, playing a character the he actually played in a movie! The concept here was great -- poor Hawkeye as the weak link of The Avengers -- but the execution was awkward.
"Drones" Hey, Robert Smigel called and he wants his "SNL" segment back. OK, admittedly, that's not really fair, but it's going to be impossible to make an animated segment -- especially one that uses the Hanna Barbera style end credits -- and not be compared to TV Funhouse. And the concept of four predator drones that also tour as a boy band? Sure, whatever, why not? I thought it would be interesting this season to see how "SNL" replaced The Lonely Island's "Digital Shorts" -- which we've seen with "Sad Mouse" and "Mokiki" -- but I really didn't think we'd also see "SNL" finally try to replace TV Funhouse this season, too.
"The Situation Room" (Jason Sudeikis, Cecily Strong, Bobby Moynihan, Jeremy Renner, Tim Robinson) Well, it seems that Cecily Strong will be playing both Paula Broadwell and Jill Kelly. Well, when Tim Robinson isn't playing Jill Kelly, at least. Actually, Tim Robinson's dramatization of the Jill Kelly footage might have been the funniest single moment of the show, but the rest of the sketch didn't have much of a point, unfortunately.
"Jeremy Renner Monologue" Didn't Daniel Craig do the exact same beginning to this monologue just a few weeks ago? Look, Renner did about as well as he could after a technical snafu with the piano that he was playing -- but, boy did it throw the timing off. It's weird, when Renner was ad-libbing his way through the technical problems, he seemed more calm and in charge than he did for the rest of the evening. When he was reading the cue cards, he seemed nervous. (And before anyone comments on the cue cards: the host and cast are instructed to not memorize lines and to always read off the cue cards because of the last minute changes that are made.) But, who knew Jeremy Renner had such a nice voice?
(Jeremy Renner's Monologue is not online because of song rights issues.)
"The Californians: Thanksgiving" (Fred Armisen, Bill Hader, Vanessa Bayer, Tim Robinson, Nasim Pedrad, Jeremy Renner, Kenan Thompson, Taran Killam) By coincidence, I happen to be in L.A. this weekend, so, as far as finally trying to understand this sketch, perhaps this was perfect timing. Admittedly, as I type, I've only been here for three days, but not one person has said anything remotely resembling what the people in this sketch say. It's just never going to happen for me. I will admit, this was the first installment of "The Californians" in which I actually laughed, but it had a lot more to do with Armisen perpetually in the verge of breaking character than the material.
"Movie Set" (Jeremy Renner, Bill Hader, Jason Sudeikis, Aidy Bryant, Tim Robinson) It would have been more realistic if Bill Hader's director character replaced the almost lifeless Renner in this sketch with Dick Fuel -- who, even as an actor with a bit part, was much more charismatic. I might consider seeing this movie is Dick Fuel was the lead. And it's never a good sign when the host of the show is "playing himself" and not doing a particularly great job of "playing himself."
"Cold Open: C-Span Booknotes" (Cecily Strong, Aidy Bryant, Bill Hader, Fred Armisen) Well, if nothing else, they sure nailed the monotonous tone of an actual book reading. I mean, seriously, it's as if there really was an argument of, "Come on, seriously, if we read these passages just like a typical book reading, it will be hilarious because most of them are so boring." So, if nothing else, it's hard to criticize the realism here.
Average Score for this Show: 5.39
Mike Ryan is senior writer for Huffington Post Entertainment. You can contact him directly on Twitter. Click below for this week's "SNL," Not Ready For Primetime Podcast featuring Mike Ryan and Hitfix's Ryan McGee.