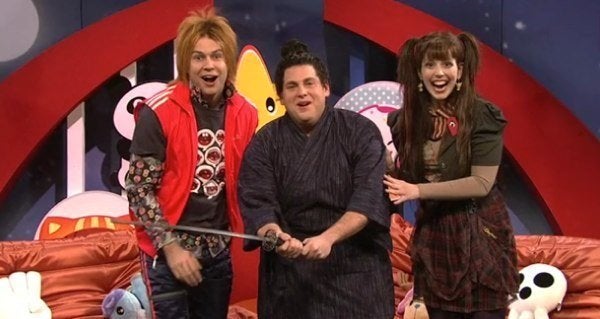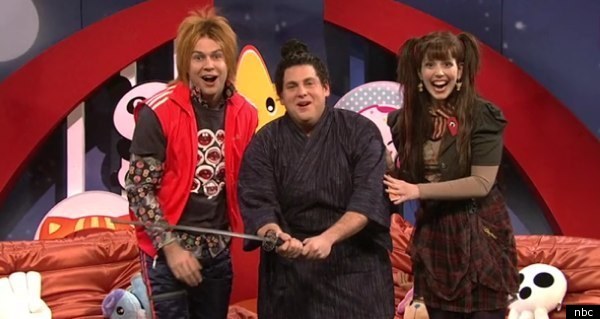 Last night's Jonah Hill hosted "Saturday Night Live" was "off." Not "Lindsay Lohan" off, but it was still "off." Put it this way: Sketches get cut. Often, this happens before dress rehearsal and the live show. Because of time, it also can happen at the end of the show. Though, I've never seen a sketch teased mid-commercial, then be cut by the time the commercial break ends. For whatever reason, that happened last night with what appeared to be a Sportscenter sketch right before The Shins' second musical performance.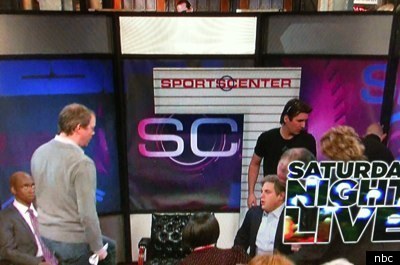 Regardless, "SNL" is off for the next three weeks -- the longest break of the season -- and there did seem to be a vibe in the air that the cast couldn't wait for their vacation to begin. There was not even one must-see sketch.
"Orchestra" (Jonah Hill, Kristen Wiig, Ensemble) "He wrote 'You' like the letter 'U' -- he was really ahead of his time." Yeah, that line made me laugh. OK, look, I'm a sucker for sketches that involve the entire cast -- especially when it involves the entire cast making its way into the audience, singing Coolio's "I'll C U When U Get There." For their anniversary, Jonah Hill has an encore orchestra waiting at home for Kristen Wiig -- an orchestra that plays Coolio. Here's my guess: The Sportcenter sketch that was teased wound up being cut for time instead of this sketch because this sketch had the better, more jubilant, ending. And it's nice knowing that Coolio will live until 3162. I'll admit: The score for this sketch is based more on energy than humor. So be it. (Unfortunately, this sketch isn't online. We'll update the post later if it pops up.)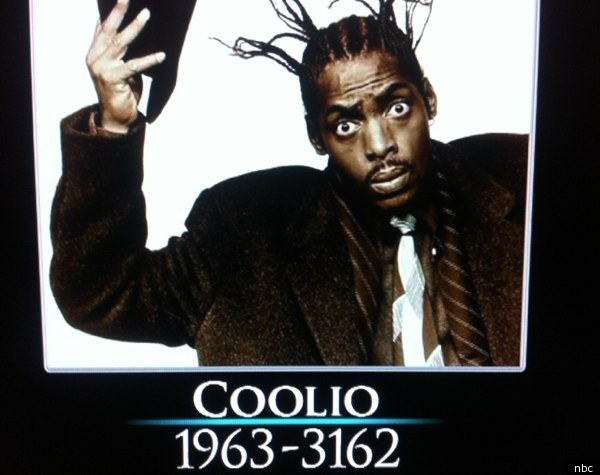 "Weekend Update" (Seth Meyers, Kristen Wiig, Andy Samberg, Bill Hader) OK, I actually liked Andy Samberg's version of Sarah Palin, only because "SNL" is in a really tough position when it comes to her. Tina Fey's version is so iconic, there's no way anyone that's actually a current cast member on the show can make a serious attempt to replace her. Anyway, whatever, the story is that Stefon is back -- which, really, was no different than any other Stefon we've ever seen. I'm starting to think that people think Stefon is funny because it's become conventional wisdom that Stefon is funny. Look, I'm not anti-Stefon, I just feel that it's a well that's dipped into way too often. Having said all of that, on a subpar show like last night's, I was happy to see Stefon.
"Jonah Hill Monologue" (Jonah Hill, Andy Samberg, Jay Pharoah, Bobby Moynihan, Kristen Wiig, Tom Hanks) The gist is that Jonah Hill has a big head because he was nominated for an Oscar. At this point, any monologue that's not a "fake Q&A" or "surprise walk on" will get my attention for being clever. OK, sure, Tom Hanks did walk on, but there was no reason for Hanks to walk on (as opposed to someone like Zuckerberg walking on the week Jesse Eisenberg hosted) so that gets a pass. Oh, who am I kidding? It's only because Tom Hanks referred to his two Oscars as "The Kick-Ass Twins."
"J-Pop America Fun Time Now" (Taran Killam, Vanessa Bayer, Jason Sudeikis, Jonah Hill, Fred Armisen) I loved this sketch the first time it aired. This is the third time its aired and ... I still think the concept is great, but the sketch doesn't feel any different than the first time I watched it. And Hill's mumbling was not endearing. Seriously, whose idea was that Also, as this sketch aired, it became March 11, which is the one-year anniversary of the tsunami hitting Japan. This sketch is making fun of Americans that have adopted an exaggerated version of Japanese culture as their own, but, perhaps, saving this for the next show would have been better.
"Cold Open: The Rush Limbaugh Show" (Taran Killam) This ... is what I wanted to see last week. My complaint was that the whole issue of Rush Limbaugh referring to Sandra Fluke as a "slut" was prime material for "SNL" to attack, but, for whatever reason, they glossed over it during "Weekend Update." Though, not quite as biting as I had hoped, I think this would have played better last week. Still, it was much better than another Romney cold open. (Full disclosure: I work for AOL, which was mentioned in this sketch. Full disclosure: My girlfriend is friends with Sandra Fluke. Full disclosure: I am the illegitimate child of Lorne Michaels and Jan Hooks. Full disclosure: Only two of the last three disclosures are true.)
"Six Year Old Returns" (Jonah Hill, Bill Hader, Vanessa Bayer, Abby Elliott, Nasim Pedrad, Kenan Thompson) True story, I brought up the first Adam Grossman sketch during a Vanity Fair interview with Hill and it did not go over well. Regardless, the reason that I brought up Adam Grossman is because I actually like the first Adam Grossman sketch. For whatever reason, this one seemed a little more mean-spirited and more aggressive, losing the wide-eyed innocence, if you will, that made the first one fun.
"Brutus" (Jonah Hill, Fred Armisen, Taran Killam, Abby Elliott, Bill Hader, Vanessa Bayer) Boy, this went on way too long. The original joke is a fairly good one: Scientist creates a talking ape and that ape reveals that the scientist enjoys having sex with apes. Problem is, after that first reveal, this sketch just ... lingers.
"Liza Minnelli Tries to Turn Off a Lamp" (Kristen Wiig, Jonah Hill) Yep, it's the long awaited sequel to "Ann-Margret Tries to Throw A Wad of Paper Into a Trash Can." This time, as you may have guessed, Liza Minnelli tries to turn off a lamp. I can't believe I'm writing this, but the former sketch had a "mod" charm to it that is completely missing this time. This time, it's just Kristen Wiig doing a weird voice.
"Digital Short: Tennis Balls" (Andy Samberg, Jonah Hill, Bobby Moynihan, Kenan Thompson, John McEnroe) Yep, guy gets hit in the nuts with a tennis ball -- over and over and over and over again. Last week, I suggested that it may be time, perhaps, for the Digital Short era of "SNL" to end. This week I'm just going to say it: It's time for the Digital Short era of "SNL" to end. I still love you, "Lazy Sunday."
Average Score for this Show: 5.44
Popular in the Community