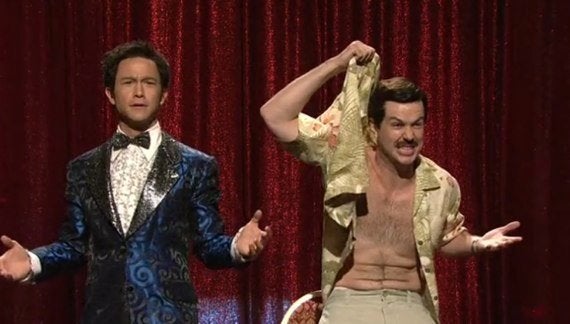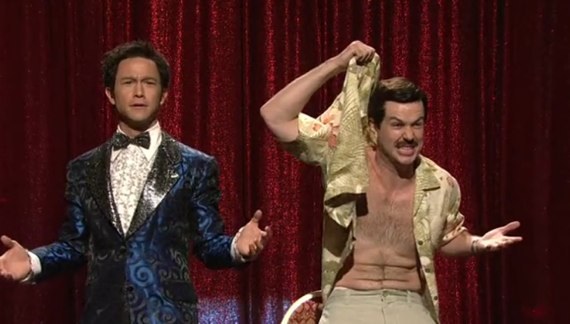 First of all, this is the year 2012, we live in the future. I get it that Lorne Michaels wants to run a tight ship when it comes to ending the show on time. But if any sporting event ever can last to "whenever it might end," I don't see why a sketch has to be cut off midway through just because, oh, heavens, SNL might go 30 seconds too long. (OK, that rant is now over, for now.) Joseph Gordon-Levitt did an admirable job with what he was given, but it's painfully obvious that the Thursday night primetime special took a lot of the political punch out of the show -- a political punch that was sorely needed. On to a mediocre-at-best Scorecard...
"Undecided Voters" (Cecily Strong, Taran Killam, Nasim Pedrad, Bill Hader, Tim Robinson, Vanessa Bayer) I've always wondered this. Being so close to an election, just who are these supposed undecided voters who are still out there thinking, "You know, I just don't know." I do like to think they actually are also the people asking, "When is the election?" and "Who is the current president?"
"Weekend Update" (Seth Meyers, Fred Armisen, Vanessa Bayer, Kate McKinnon, Bill Hader, Jay Pharoah) I think I've finally figured Seth Meyers out: Meyers absolutely owns the rant. Why he doesn't do some sort of rant every week, I will never know. In the past, there was "Really?!?" This show brought us "What are you doing?" I like Kate McKinnon and I'm quite pleased that her role in this particular show was quite huge, but her Ann Romney went on a bit too long. Bayer and Armisen's "Assad's Best Friends" was fine, though not much different than the other incarnations of this segment. But, boy, Jay Pharoah's Stephen A. Smith was just dead-on fantastic. And I know that Pharoah's been trying to get this character on "Update" for quite some time. Hopefully this continues. (I have a feeling it happened this time for no other reason than that Seth Meyers could brag on live television that his Pittsburgh Steelers beat the New York Jets.)
"Joseph Gordon-Levitt Monologue" (Joseph Gordon-Levitt, Aidy Bryant, Kenan Thompson, Cecily Strong, Jay Pharoah, Taran Killam, Bobby Moynihan, Nasim Pedrad) This made no sense. At all. And you know what? Who cares? If Joseph Gordon-Levitt wants to pretend he's Magic Mike for no reason whatsoever, let Joseph Gordon-Levitt pretend he's Magic Mike for no reason whatsoever. Also, yes, this is a far cry from his now so, so innocent rendition of "Make 'Em Laugh" from three seasons ago.
(Due to song rights issues I'm sure, the monologue isn't online.)
"Tres Equis" (Joseph Gordon-Levitt, Jason Sudeikis) In two separate spots, Joseph Gordon-Levitt plays "the son of the most interesting person in the world." This got a little silly and predictable when, of course, a shooting match begins between "the son of the most interesting person in the world" and "the most interesting person in the world." But, good grief, when "the son of the most interesting person in the world" is revealed to tip with a negative amount, demanding cash back, I laughed very, very hard.
"Private Detective" (Bill Hader, Joseph Gordon-Levitt) Bill Hader plays a private detective who, instead of taking photos for proof of his findings, instead draws exaggerated caricatures. This felt like, "last sketch of the night" territory, even though it wasn't. Sadly, the sketch really goes nowhere even though the concept is fantastic. I just imagine this being mentioned in the writers room and everyone laughing. I'm laughing to myself right now just thinking about it, though I have no desire to watch the sketch again. But, here, you can, if you want:
"G.O.B Tampons" (Vanessa Bayer, Bobby Moynihan, Taran Killam, Bill Hader) No one knows what a woman needs like a 60-year-old male Republican. I have to say, this needed more because, for whatever reason, it felt like it was holding back. Perhaps this is the native Missourian in me who is still ashamed that he's originally from a state in which people will look at Todd Akin's name on a ballot and think, Yep, this is the guy for me. Alas, this felt like a wasted opportunity to strike as hard as "Fox and Friends" did on Thursday night.
"Hypnotist" (Joseph Gordon-Levitt, Taran Killam, Vanessa Bayer, Bill Hader, Aidy Bryant, Kenan Thompson) This marks the second time that Taran Killam got the opportunity to take his shirt off during the show. (One more and we would have had a trend.) This sketch kind of summed up the show as a whole: Funny concept, high energy, slightly disappointing payoff and a sketch that we won't remember by tomorrow.
"Cold Open: Kelly and Michael" (Nasim Pedrad, Jay Pharoah, Bill Hader) Kelly Ripa is an overachiever and Michael Strahan is just happy to be there. Yep. This was servicable for no other reason than it's just so true. Again, though, just over a month away from a presidential election, it felt weird not having a politically themed cold open. (Also: If someone asked me, "Who will play Robert Pattinson on 'SNL'?" I would never have guessed Bill Hader.)
"The Finer Things" (Jay Pharoah, Kenan Thompson, Joseph Gordon-Levitt, Bobby Moynihan) First of all, just the fact that Gordon-Levitt's character's name is Jake Thrillah is fairly fantastic. This one, by the end, was OK, but, boy, it sure took a long time to get to that point. It felt like way too much indulgent banter between Pharoah and Thompson before it got to the point. Too often sketches like this have no point, so, thankfully it did. But if we see "The Finer Things" again, please, please, cut out the fat.
"London Bar" (Joseph Gordon-Levitt, Jason Sudeikis, Bill Hader, Kenan Thompson) If nothing else, this sketch makes me mill Will Forte. My favorite thing about past incarnations of the "sing along as we say shocking things" sketch is that the actual song was playing. (Yes, it would have probably been very expensive to actually play The Beatles' "You've Got To Hide Your Love Away.") But, when the actually song is playing, the timing here has to be 100 percent on the nose. With Mumford & Sons playing the song instead, the danger of the sketch - the danger on not finishing a line before the chorus kicks in -- just wasn't there.
(Again, because of song rights, this sketch is not online)
"My Daughter" (Fred Armisen, Joseph Gordon-Levitt, Kate McKinnon, Tim Robinson) Here's what I like about Fred Armisen and, now, Kate McKinnon: When a sketch fails, it fails in the most glorious, "what the hell was that?," way possible. If I could award points for taking chances with something truly bizarre, I would. I mean, I guess I could since I'm the one who makes up these rules, I'm just not going to because, at the end of the day, this was still just Joseph Gordon-Levitt in a dress.
"Powers Reality" (Tim Robinson, Nasim Pedrad, Joseph Gordon-Levitt) I mean, what am I supposed to do here? I saw a partial sketch. You saw a partial sketch. We all saw a partial sketch. Again! This is 2012, I feel the technology exists for "SNL" to run 90 minutes and 30 seconds if it has to. I mean, not to mention we barely got a "good nights." These people work so hard all week long and the "good nights" is always a nice payoff of pure elation. Nope, not last night. Because God forbid we don't get to see "1st Look" (at least here in New York) exactly on time.
Average Score for this Show: 5.51
Mike Ryan is senior writer for Huffington Post Entertainment. You can contact him directly on Twitter. Click below for the new SNL Podcast featuring Mike Ryan and Hitfix's Ryan McGee.