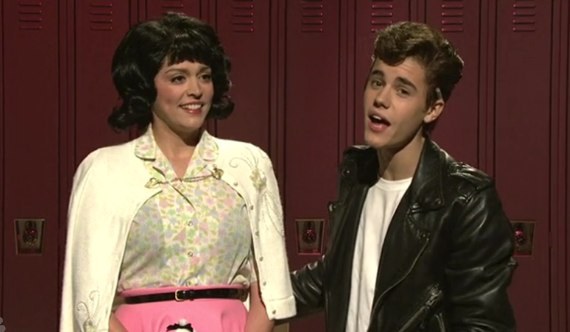 In "Live From New York" by Tom Shales and James Andrew Miller, one of Lorne Michaels' most painful nights was the one in which Milton Berle hosted. Yes, somehow, I'm comparing Milton Berle and Justin Bieber. Berle was in true Vaudevillian form, mugging for the camera and waiting for audience reaction. Last night wasn't quite like that, but every single second of the show seemed predicated on waiting for the reaction of audience screamers. Perhaps an episode of "Saved By the Bell" is a better comparison. Regardless, the entire show was about Justin Bieber -- and "SNL" is at its worst when the show is about the host as opposed to the host integrating him or herself into the cast. I mean, this is a host who spelled Lorne Michaels' name "Lauren" on an Instagram photo this week. Regardless, we all lost a little bit of dignity this week.
"Bravo Shows" (Vanessa Bayer, Tim Robinson, Bobby Moynihan, Fred Armisen, Bill Hader, Justin Bieber, Jason Sudeikis) It's funny because it's true. "Everyone in the world -- Bravo." Here's the thing, I would probably watch "The Real Houseplants of Beverly Hills." This whole concept was great. And, yes, maybe I'm biased because this sketch wasn't about the host and the host actually had to play a character in a sketch in which he wasn't mugging for the camera.
"Principal Frye" (Jay Pharoah, Vanessa Bayer, Justin Bieber, Nasim Pedrad, Kenan Thompson) Jay Pharoah's Principal Frye has been growing on me ... and then there's a night like tonight. A night in which seeing Principal Frye no longer felt like a character that I was warming up to. It was, by the "10 to 1" sketch, more of a feeling of, "Oh, thank God, it's you. A familiar face in this long, sad pit of despair."
"Justin Bieber Decoys" (Jason Sudeikis, Justin Bieber, Kate McKinnon, Ensemble) Screaming people! Screaming people! Screaming people! There were funny moments in this sketch, but, even as the cast was mocking Bieber, I got the feeling Bieber loved it -- because the sketch was about Justin Bieber. And Bieber got to dance and sing in a hacky, "No, no, that's not the way it's done -- this is how it's done," sort of way. If nothing else, at least Jason Sudeikis was in full on "dick" mode.
(This sketch is not online due to song rights issues, I assume.)
"Weekend Update" (Seth Meyers, Fred Armisen, Vanessa Bayer, Kenan Thompson) "Update," this week, felt like it was part of a different show. For all intents and purposes, this was fine edition of "Update" -- and Meyers seemed to be having a great time -- but it's really odd coming off a non-stop cavalcade of Justin Bieber to a segment about King Richard III. Regardless, everyone seemed to be having a nice time during "Update" and I hope Kenan Thompson finds a way to bring Corey back. (And, yes, I think Corey actually was in every Super Bowl commercial.)
"Cold Open: Super Bowl Blackout" (Kenan Thompson, Jay Pharoah, Jason Sudeikis, Taran Killam, Tim Robinson, Bill Hader) I wish that Taran Killam could somehow make his Steve Tasker a recurring character in every sketch. Look, this was a fine enough Super Bowl blackout sketch, but it's weird that it's only been six days, yet this felt as dated as Y2K.
"Protective Brother" (Justin Bieber, Taran Killam, Jason Sudeikis, Vanessa Bayer, Nasim Padrad) I can only guess that Taran Killam accidentally combined the words "glad" and "nice" once, which resulted in this sketch -- which is strangely great. And I won't blame Bieber for breaking character because, well, who wouldn't? (Of course, yes, screaming people in the audience ruined this sketch, too.)
"50s Romance" (Justin Bieber, Cecily Strong, Ensemble) It's a shame, because this concept was pretty funny, but, again, Bieber mugged and the audience screamed. And for every funny line -- and there were a few, especially from Aidy Bryant -- this, once again, became an excuse for Bieber to sing. Because this show was all about Justin Bieber, in case you forgot.
"Justin Bieber Monologue" (Justin Bieber, Kenan Thompson, Whoopi Goldberg) Screaming people! Screaming people! Screaming people! I can't help but think about what Justin Bieber will be like when he's 40. I will be much older than 40 by the time Bieber is 40, but I'm kind of looking forward to what that day will be like. Bieber's monologue was fine, all things considered. But, again, most of it was marred by the screaming people. Hey, if you think this is bad, just wait until Christoph Waltz's fans show up next week. (The only reason I haven't retired as an "SNL" recapper, by the way, is that I hold out high hopes for Waltz's show next week.)
"The Californians" (Fred Armisen, Cecily Strong, Bill Hader, Vanessa Bayer, Justin Bieber, Kenan Thompson, Kate McKinnon, Tim Robinson) Yep, this continues to be a thing. And, yes, I watched this with someone who currently lives in Los Angeles and she thought it was hysterical. I mean, at this point, what can I say: I will never find "The Californians" funny. But the cast finds it funny and, on a night like this one, perhaps that's all we can ask for.
"Valentine's Day Message from Justin" (Justin Bieber, Bobby Moynihan) Screaming people! Look, I love a strange Bobby Moynihan character. Unfortunately, this one just seemed like background noise to give Justin Bieber an excuse to play Justin Bieber and mug for the camera, which caused people in the audience to scream. Awesome.
"Miley Cyrus Show" (Vanessa Bayer, Jason Sudeikis, Justin Bieber, Taran Killam, Tim Robinson) So, Justin Bieber's character hates Justin Bieber. This is the biggest problem with a show like this: Even when Bieber is not playing Justin Bieber, everything is still about Justin Bieber. Bieber, playing a character who hates Justin Bieber, is smug. It's a false since of humility. His fans love it because it portrays Bieber as "humble" -- which he's well aware of -- but, in reality, it just gives Justin Bieber the opportunity to talk about Justin Bieber. (On a positive note, it's nice to see Vanessa Bayer have a nice night.)
Average Score for this Show: 5.23
Mike Ryan is senior writer for Huffington Post Entertainment. You can contact him directly on Twitter. Click below for this week's "SNL," Not Ready For Primetime Podcast featuring Mike Ryan and Hitfix's Ryan McGee.
Popular in the Community