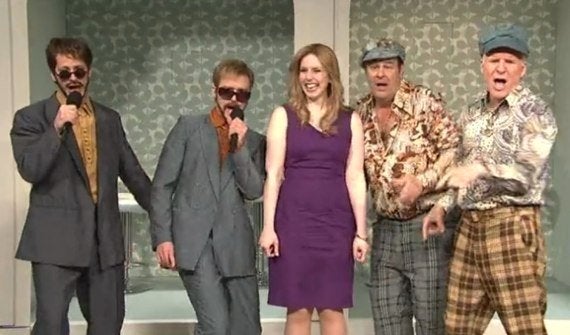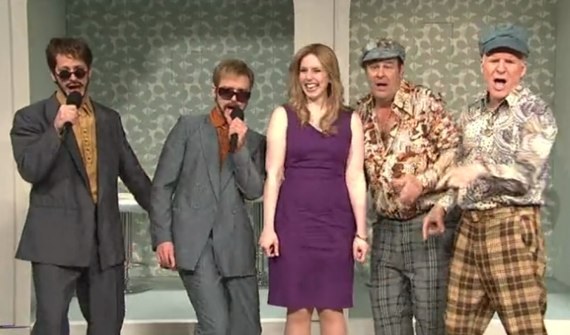 Of course when Justin Timberlake hosts "Saturday Night Live," it's going to be, at the very least, a solid show. He is a good host! (Though I'm not sure that Timberlake had to acknowledge this in his monologue in an "expectations are high because, hey, it's me," sort of way.) And, yes, last night was a solid show that was littered with cameos. So many cameos that "SNL" was basically tripping over its own nostalgia (because of all of the litter and all). This is a small complaint. Timberlake was, as always, a great host and seems to actually be enjoying every minute he's on screen -- which was a lot, considering that Timberlake, including his musical performances, appeared in all but two segments last night.
"Maine Justice" (Justin Timberlake, Jason Sudeikis, Andy Samberg, Kate McKinnon, Ensemble) Not quite as good as the first "Maine Justice," but still pretty fantastic. What may have been lost in the lack of surprise at the concept this time was made up by the appearance of an alligator with a gavel. (As an aside: I get why Andy Samberg would return to the show to play his half of the "Dick in the Box" team, but I don't understand why he was playing the straight man in this sketch when a current cast member like Tim Robinson could have easily done that.)
"Weekend Update" (Seth Meyers, Bill Hader) First: poor Jar Jar Binks. Second: I often complain about the overuse of Bill Hader's Stefon -- a character that has been absolutely and unmercifully beaten into the ground. Having said that: This was my favorite Stefon appearance. There was something legitimately fresh about this particular appearance (Donald Duck's Vietnam dream sure helps) that's been missing from Stefon for the last, oh, five or six appearances.
"Cold Open: Chavez" (Fred Armisen, Justin Timberlake) The show started with a little misdirect, thankfully. What appeared to be one of Fred Armisen's "speak a foreign language while a translator says funny things" type sketch turned out to be Timberlake, as Elton John, singing a new version of "Candle in the Wind" about Hugo Chavez. It's a dated idea, but it didn't matter because the new lyrics were just so funny.
"Justin Timberlake Monologue" (Justin Timberlake, Paul Simon, Steve Martin, Dan Aykroyd, Chevy Chase, Martin Short, Alec Baldwin, Tom Hanks, Tran Killam, Bobby Moynihan, Candice Bergen) Pretty much the same sketch from when Tom Hanks became a member of the Five Timers Club. All nostalgia, no real punch, which is fine because there's nothing inherently wrong with nostalgia. Also, it was great seeing Candice Bergen back, but why haven't we seen John Goodman in so long? He hasn't hosted since 2001 and it's not like the guy's not around considering that he's been in the last two Best Picture winners.
"Vegenville" (Justin Timberlake, Bobby Moynihan) I've never really understood the mass appeal of these sketches. They are ... fine. But I certainly don't understand why there needs to be one every single time Timberlake hosts. Yes, he's charming in these, so I suppose it's Timberlake's "The Continental." (Speaking of, why wasn't Christopher Walken at least mentioned in the "Five Timers Club" sketch? Also: Poor Buck Henry, Elliot Gould, Danny DeVito and Bill Murray.)
"Moet & Chandon" (Vanessa Bayer, Cecily Strong, Justin Timberlake) The first time this sketch aired it felt like it lasted a solid 30 minutes. This is one of the rare occasions in which it turned out to be wise to attempt a sketch again that really didn't work the first time. The timing between Bayer and Strong was just much more in sync this time around.
"It's a Date" (Justin Timberlake, Andy Samberg, Steve Martin, Dan Aykroyd, Bobby Moynihan, Vanessa Bayer, Bill Hader) Yep, more nostalgia! Unfortunately, this time, the nostalgia was a bit of a mess. The best part of this sketch was the lousy treatment of Bobby Moynihan's character, which wasn't really the point of this sketch. The point was, "Hey, it's the 'Dick in a Box' guys and the 'Wild and Crazy Guys' guys on the same stage ... neat." Thankfully, someone must have stopped Chevy from doing his Gerald Ford.
"NuvaBling" (Kate McKinnon, Vanessa Bayer, Cecily Strong, Aidy Bryant) A fairly funny premise -- fancy female contraceptive -- but it never really went anywhere past "smiling, dancing sperm," unfortunately.
"Caligula" (Justin Timberlake, Bill Hader, Cecily Strong, Nasim Pedrad, Bobby Moynihan, Aidy Bryant, Taran Killam, Kate McKinnon, Tim Robinson) Sketches like this are frustrating: high concept (or, perhaps "weird concept") that just doesn't know what to do with itself. I suppose, when in doubt, go for the "I want to have sex with a pig" joke.
"Romantic Comedy" (Justin Timberlake, Nasim Pedrad, Kenan Thompson, Kate McKinnon, Fred Armisen) The problem here is that the premise went for "outlandishly crass," yet nothing outlandish or crass ever happened. Other than Kenan asking about the supposed penis that Nasim Pedrad's character has, the rest of the sketch seems to have very little to do with that, even though it's the title of the fake movie. Really, this is just another, "here are things that often happen in romantic comedies" type sketch, only with an edgy-ish title.
Average Score for this Show: 6.40
(Some quick housekeeping announcements: If you were a reader of the "SNL" Relevancy Poll, you may have noticed it hasn't published since December. Sadly, due to time commitments, two "SNL" posts per weekend were proving to be too much. Also, after much - much! -- thought, I've decided that this will be the last season that I cover "SNL" on a weekly basis. The "SNL" Scorecard started in 2010 as a labor of love at Movieline and has continued on the last two seasons over here -- but, frankly, I just want to be able to watch the show once again as a fan. But, hey, we still have a few more shows left this season, so let's not talk about all of this nonsense quite yet, though I'm sure I will get sentimental later.)
Mike Ryan is senior writer for Huffington Post Entertainment. You can contact him directly on Twitter. Click below for this week's "SNL," Not Ready For Primetime Podcast featuring Mike Ryan and Hitfix's Ryan McGee.
REAL LIFE. REAL NEWS. REAL VOICES.
Help us tell more of the stories that matter from voices that too often remain unheard.