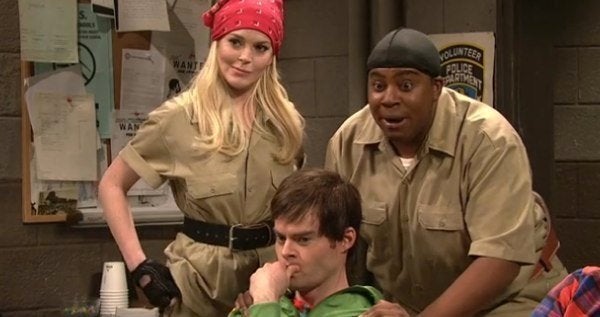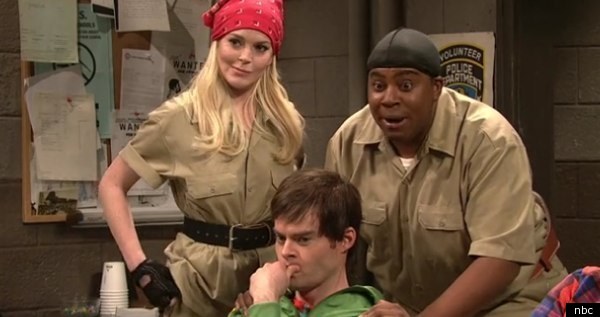 Letting Lindsay Lohan host "Saturday Night Live" was a mistake. And that isn't anything against Lohan, her well documented escapades or her hopeful recovery. The fact is she just wasn't ready. It was apparent that the cast and the writers didn't particularly trust her (and why should they?) since they relegated her to backup duty in pretty much every sketch.
Also, she hasn't acted in so long that her cue card reading was really obvious. (To be fair, all hosts are told to the read the cue cards because of the last-second changes that are made, but with Lohan it became particularly distracting.) And, you know what, it's never a good thing when the host's lawyer has final approval over sketches. Then, during the good nights, I watched Lohan approach cast member after cast member, seeking an endorsement, but, instead, receiving what seemed to be a forced, "Oh, yeah, you were great." Anyway, all of this culminated with a terrible vibe. And, worse, because they were playing it so safe with Lohan (on a night, I should add, that two commercial parodies were repeated from earlier this season) this was a really boring show.
"'70s Album" (Jason Sudeikis) After what turned out to be a long, boring night, this still made me laugh out loud. I mean, seriously, by the time this aired, I was almost comatose. "SNL" would have been wise to make this one of those short sketches that reappears a few times during the night -- instead of one right after another -- because the show really could have used it an influx of ... well, whatever this was.
"Real Housewives of Disney" (Vanessa Bayer, Nasim Pedrad, Lindsay Lohan, Kristen Wiig, Abby Elliott, Taran Killam) This sketch is the kind of sketch that I watch and never laugh much, but just kind of think to myself: A) If "Real Housewives of Disney" were a real show, I'd watch that and B) You know, that was really well done.
"Delinquent Girl Teen Gang" (Fred Armisen, Bill Hader, Lindsay Lohan, Abby Elliott, Kristen Wiig, Andy Samberg) Vintage Fred Armisen. And vintage "keep repeating a joke over and over and over and over" until it becomes funny. I wanted to hate this sketch, but it won't let you hate it. It just keeps going until you're forced to love it. Somewhere, right now, as you're reading this, Fred Armisen is still being run over by a car.
"B108FM" (Taran Killam, Bobby Moynihan, LIndsay Lohan, Vanessa Bayer) I can only assume that Taran Killam or Bobby Moynihan at some point during the week found themselves saying something like: "Oh, yeah, Lindsay ... did you want to be in this sketch, too? I'm sure we can make room for you. Hey guys, can we make some room for Lindsay? I don't know, at the table. Yeah, she can just kind of yell like we're doing, or whatever. It really doesn't mater." Killam and Moynihan's chemistry was really good -- I can only imagine it would have been better without Lohan there, considering that she served no purpose in the sketch.
"2012 Psychic Awards" (Andy Samberg, Lindsay Lohan, Ensemble) Hey, it's basically the same intro from "The Adult Film Awards" from earlier this season? And, hey, it's another death montage, just like "The Adult Film Awards." The adult film death montage is one of my favorite things from this season. Unfortunately, this one -- even with the inclusion of Terrific Vince -- didn't quite live up to its predecessor. Though, the award presentation to start the sketch was solid ... so that's something, right?
"Weekend Update" (Seth Meyers, Bill Hader, Bobby Moynihan) I'd like to see a scientific study done on Meyers' performances on the show following an Amy Poehler appearance because I'm going to bet the energy level is off. And it was off last night. Also: Hader does an excellent James Carville, but the peg of his appearance was the Rush Limbaugh contraceptive controversy and there could have -- and should have -- been a been a better response to that issue than just Hader's Carville. Moynihan's Snooki is always solid, but not solid enough to save "Update." Then Jon Hamm showed up for not nearly enough time. Also, explain to me again why Jon Hamm didn't host this week?
"Cold Open: Shephard Smith-Mitt Romney" (Jason Sudeikis, Kristen Wiig, Bill Hader, Vanessa Meyers, Bobby Moynihan, Fred Armisen, Taran Killam, Andy Samberg) I'm sorry, Mitt Romney is not an interesting guy. And he's even less interesting to parody. Why "SNL" continues to lead off a large amount of shows this season with Sudeikis ' Romney is beyond me. Though, it's always fun to see Seth Meyers in a sketch. (Come on, Seth, next time Amy's on, bring back "The Needlers.")
"Lindsay Lohan Monologue" (Lindsay Lohan, Jimmy Fallon, Jon Hamm, Kristen Wiig, Kenan Thompson) Yes, Jon Hamm saved the monologue. Well, first, I will admit that Kenan's "I've been stoned since 'Good Burger'" made me laugh. But the idea of the cast being concerned about Lindsay seems ... premature. I mean, it may have worked better if we were all reasonably sure Lohan wouldn't relapse. It just came off a little too real and obvious. Then, Jon Hamm showed up as the emergency host, which only made me really wish that Jon Hamm was actually hosting. Also, explain to me again why Jon Hamm didn't host this week?
"Scared Straight" (Jason Sudeikis, Lindsay Lohan, Kenan Thompson, Andy Samberg, Bobby Moynihan, Bill Hader) I've never really liked "Scared Straight" as a recurring sketch, because it really is the same thing every single time. But, boy, it was sure fun to watch when Bill Hader breaks character -- but even Hader seems kind of bored with it now. (Well, at least until Sudeikis hopped up onto the desk and knocked over a cup of pencils.) The joke is that Lohan plays herself as a Scared Straight representative, which is fine. But once that was revealed, it really went nowhere (well, again, until Sudeikis knocked that pesky cup of pencils off of his desk.)
"Rude Buddha" (Andy Samberg, Bill Hader, Fred Armisen, Nasim Pedrad, Vanessa Bayer, Bobby Moynihan, Lindsay Lohan) I think the title of this sketch is misleading. I don't know if the Buddha is actually rude, just kind of a dick after you leave the room. Regardless, thankfully, "Weird Guy By Fire" aired right after this and made you immediately forget about "Rude Buddha."
Score: 3.0
"House Sitting" (Kristen Wiig, Lindsay Lohan) Kristen Wiig's character has obviously been harassed my a mysterious caller. Lindsay Lohan will be staying at Kristen Wiig's house while Wiig is gone. Every time the phone rings, Wiig screams into it with her Target Lady voice. Spoiler alert, it turns out that Kristen Wiig has been butt dialing herself with her cell phone. And the only reason that I took the time to write out the plot of this sketch in its entirety is a last-ditch effort to fight the effects of the carbon monoxide that I started pumping into my apartment halfway though this sketch.
"Digital Short: Afros" (Samberg, Wiig, Thompson) Well, that was ... something. And, yes, Andy Samberg and Kristen Wiig with very large Afros was only the second Digital Short of 2012. You know, maybe it's time to end the Digital Short era once and for all. Yeah, maybe it's time to end them. (Boy, "Lazy Sunday" sure seems like a long time ago, doesn't it?)
(Note: "Chantix" and "Verizon" originally appeared on an earlier show and is not part of this week's Scorecard.)
Average Score for this Show: 5.13
Related
Popular in the Community