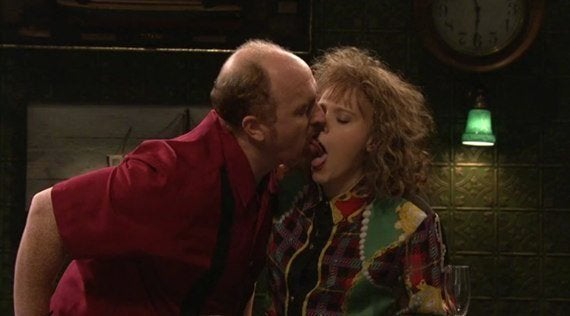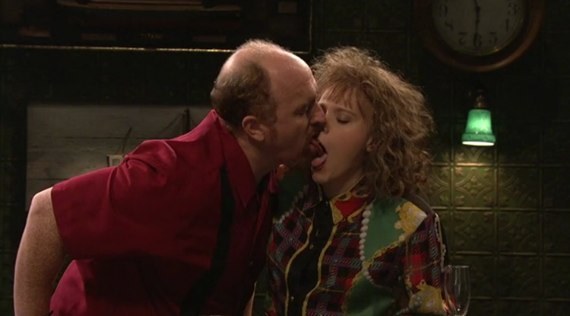 Yes, it was surprising to learn that Louis C.K. was going to host "Saturday Night Live." Not because his comedy stylings wouldn't mesh with those of "SNL," or that hosting is somehow beneath his current status as "comedic genius" -- but more than the last time C.K. was involved with a network sketch comedy show, which was ABC's "The Dana Carvey Show" and he was miserable. Louis C.K. has developed the reputation that he's only happy when he's 100 percent in charge and on last night's show, at times, that seemed evident. During the moments that he was comfortable, he was electric. When he wasn't comfortable, he broke character. (And not in the usual "can't stop laughing" kind of way.) In other words: Louis C.K. was Louis C.K.
"Lincoln" (Louis C.K., Kenan Thompson, Aidy Bryant, Jay Pharoah) If you've never seen Louis C.K.'s self-titled television show, this probably didn't make quite as much sense -- especially the opening credits scene. Regardless, it's probably not a surprise that C.K. looked most at home while parodying his own show. (Though, for those on Twitter joking that C.K. is a better Lincoln than Daniel Day-Lewis: Having seen Lincoln, that's not true.) Also, below is a slightly longer version of the sketch that aired during dress rehearsal.
"Last Call" (Louis C.K., Kate McKinnon, Kenan Thompson) Boy, what a contrast between "Last Call," a sketch C.K. was obviously into doing, versus something like "Mountain Pass" (see below). You know, Bobby Moynihan gets a lot of (deserved) credit for his reaction shots, but Kenan Thompson is right there with him. And for anyone out there who has been clamoring for a Louis C.K.-Kate McKinnon make out scene, your wish finally came true ... and then some.
"Louis C.K. Monologue" (Louis C.K.) Case in point about Louis C.K. being comfortable: it was interesting to note that he used a microphone during his monologue, even though it was clearly not needed. Regardless, I found this fascinating for whatever reason. I mean, look, Louis C.K. is one of the best comedians working and of course if his monologue is a standup routine, it's going to be excellent. It was just smart of "SNL" to let him do that.
"Weekend Update" (Seth Meyers, Jason Sudeikis, Aidy Bryant, Cecily Strong) This week's "Update" featured three segments instead of the usual two, which, for whatever reason, didn't seem forced in or rushed. Actually, if anything, it gave Meyers more opportunities to banter -- which he excels at -- and, of course, got more cast members involved. Most notably: Aidy Bryant as a social media guru was wonderful. Also, Cecily Strong's "Girl You Wish You Hadn't Started a Conversation With at a Party" played much better here than it did on the Thursday night primetime special.
"Hotel Fees" (Louis C.K., Bobby Moynihan) We all thought it was going to be porn, not argon, right? I actually wish "SNL" would do more sketches like this: Simple in premise, but the timing between the two performers drives the comedy.
"Cold Open: Bloomberg's Hurricane Sandy Address" (Fred Armisen, Cecily Strong, Bobby Moynihan, Nasim Pedrad) I would have loved to have been a fly on the wall at 30 Rockefeller Center when the words, "We're going to need a fleece with the words 'Chris Christie' and 'Governor' sewn into it," were spoken. Being a resident of New York City during Hurricane Sandy, I have fallen in love with Chris Christie's fleece and the skills of Michael Bloomberg's sign language interpreter. Here, I saw both. Which almost made up for the fact that Armisen's usually reliable Bloomberg impression seemed off, for whatever reason. Though Strong was outstanding, there wasn't the bite here that a sketch three days before a presidential election deserved.
"Australian Screen Legends" (Fred Armisen, Bill Hader, Kate McKinnon, Louis C.K.) From the setup, I was hoping for a little more. In other words that mean the same thing: The premise was funny, but the execution just felt light. Though, one of the funniest lines of the show was when Kate McKinnon's character was asked if she had any last words and replied, "Kangaroo, I guess."
"Fox and Friends" (Taran Killam, Vanessa Bayer, Bobby Moynihan, Jason Sudeikis, Louis C.K.) Remember when Donald Trump was the rich, yet lovable, asshole? When he used to host "SNL" and we all kind of thought he was in on the joke? I kind of miss that version, because this version is just a sad caricature of himself. Maybe that's why I didn't like this particular impression or maybe I just miss Darrell Hammond. Regardless, this was the first "Fox and Friends" that felt like a miss. (As always, I could watch an entire show of just the corrections. My personal favorite tonight: "Kris Krostie is not Chris Christie with his pants on backwards.")
"Mountain Pass" (Louis C.K., Fred Armisen, Kenan Thompson, Kate McKinnon, Bill Hader, Bobby Moynihan, Taran Killam, Jason Sudeikis) Here's the problem with Louis C.K.: If he doesn't want to do something, the look on his face just let's you know that he really doesn't want to do something. Look, this wasn't a great sketch from the beginning, but C.K. mumbling through a few lines -- actually substituting, "Something, something," in place of what he was actually going to say -- made it much worse. Also, yes, we get it: He couldn't get the timing down on the horn sound. But visibly reacting to the bad timing looked really out of place and the other cast members involved didn't seem amused. If Louis C.K was trying to sandbag this sketch, he succeeded.
Average Score for this Show: 5.92
Mike Ryan is senior writer for Huffington Post Entertainment. You can contact him directly on Twitter. Click below for this week's "SNL," Not Ready For Primetime Podcast featuring Mike Ryan and Hitfix's Ryan McGee.