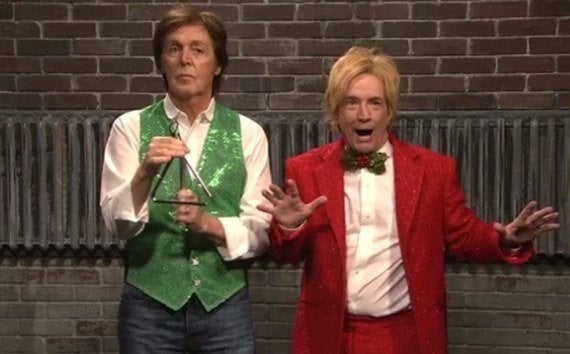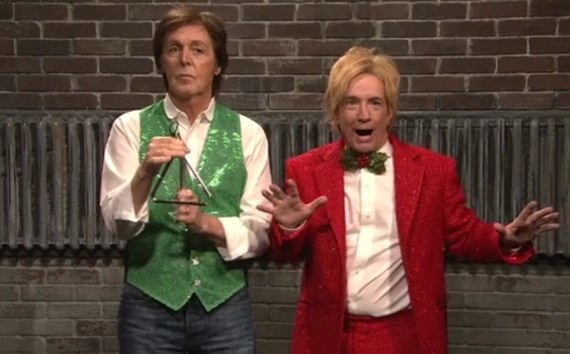 "Saturday Night Live" had the difficult task of airing one day after one of the worst mass shootings in the history of the United States -- a shooting that occurred a mere 75 miles from 30 Rockefeller Plaza. It was never specifically mentioned, but it presided over the night after a haunting (considering the circumstances) children's choir rendition of "Silent Night" as the cold open. Martin Short, after a 16-year hiatus -- in what is surprisingly only his second time as sole host (not counting the time he co-hosted with Chevy Chase and Steve Martin) -- sank a ton of effort into his duties and almost made this feel like the joyous holiday show that it should have been. Almost. Also: Samuel L. Jackson cussed. Here is your last "SNL" Scorecard until January 19, 2013...
"Cold Open: Silent Night" My best guess is that the New York City Children's Chorus was already booked to play with Paul McCartney during "Wonderful Christmastime" before a decision was made to put them in the cold open. Regardless, this was very good decision. Again, the only word that I can think of is haunting.
"Martin Short Monologue" (Martin Short, Paul Shaffer, Cecily Strong, Aidy Bryant, Kate McKinnon, Kristen Wiig, Jimmy Fallon, Tom Hanks, Samuel L. Jackson, Tina Fey, Lorn Michaels) Hey: There's the taste of Ed Grimley that we all kind of knew that was coming. Anyway, this was Martin Short being Martin Short and, yes, I was in the mood to watch Martin Short be Martin Short. There was a strange resemblance to last year's holiday monologue when Jimmy Fallon danced through the hallways (and Fallon even made a cameo tonight) -- only this time there were many more celebrity cameos. Including an ominous appearance by Samuel L. Jackson that didn't quite foreshadow what kind of night he was going to have. (One complaint: I never like the "these people are new and I cant remember their names" joke. Kate McKinnon has been on for almost a full year now and it's been half of a season for Strong and Bryant. This joke only makes sort of sense if it's the opening show of the season with brand new cast members.)
("Martin Short Monologue" is not online due to song rights issues.)
"Royal Family Doctor" (Martin Short, Bill Hader, Nasim Pedrad, Bobby Moynihan, Fred Armisen) The longer this went, the more I liked it. I mean, seriously, I really had to warm up to what was going on here, but just staring at Bill Hader's face (who did yeoman's work not truly breaking) as Short read a parade of genital euphemisms was vastly entertaining. Oh, euphemisms, how truly innocent you are when faced with the stark reality that is known as "What's Up With That?"
"A Charlie Brown Christmas" (Bill Hader, Jason Sudeikis, Kate McKinnon, Martin Short, Cecily Strong, Nasim Pedrad, Taran Killam) For whatever reason, this one never truly took off. I sat there watching it, just assuming that any second it was going to kick into high gear instead of just being "fairly amusing." Yet, "fairly amusing" is all it stayed. Though, I love it anytime Sudeikis gets a chance to do his Philip Seymour Hoffman impression. Also: I hope this is not the last we see of Taran Killam's Michael Keaton. (Also: Who knew Martin Short could do an almost spot on Larry David?)
"Holiday Pageant" (Martin Short, Paul McCartney, Kenan Thompson, Jason Sudeikis, Cecily Strong, Fred Armisen) Yeah, basically this was an extended lead in so that Paul McCartney could sing "Wonderful Christmastime." But, still, it's always fun to see McCartney in sketches. Sure, it was nowhere near as memorable as his appearance on "The Chris Farley Show" or even singing Berlin's "Take My Breath Away" in the "Sumblin'" Digital Short with Paul Rudd. But, c'mon, it's a Beatle playing the triangle.
"Old Friends" (Fred Armisen, Martin Short, Taran Killam) I have no real good reason for enjoying this other than the fact that I enjoyed the timing between Armisen and Short. Especially with lines like, "Those were just lies I spread." I just enjoyed the fact that there was no real high concept here or great punchline, just two comedians playing off of one another. It reminded me a bit of the "Hotel Fees" sketch with Louis C.K. and Bobby Moynihan.
"Tony Bennett Christmas" (Alec Baldwin, Martin Short, Jay Pharoah) Alec Baldwin (oh, by the way, Alec Baldwin is on the show this week, too) always seems to be having a nice time playing Tony Bennett. And it was certainly nice to have a proper comedic sendoff to Kanye West's leather kilt, but there just didn't seem to be enough material here to warrant including this in the show. This just felt like, "How do we include Alec Baldwin this week?"
("Tony Bennett Christmas" is not online due to song rights issues.)
"Weekend Update" (Seth Meyers, Vanessa Bayer, Cecily Strong) I love a good "St. Elsewhere," Tommy Westphall reference as much as the next person. And I know that this would go against every tradition of "SNL" ... but, if "Update" is still going to be introduced as, "and here are tonight's top stories," while the biggest story in the country is not even going to be mentioned -- not even as a quick condolence -- perhaps it would be best to just skip "Weekend Update" on a week like this. I guess my question is: Would "The Daily Show" have not addressed what happened? Regardless, the tone of the proceedings, somewhat understandably, seemed off. (Having said that: I did enjoy Vanessa Bayer's "Jacob.")
"What's Up With That?" (Kenan Thompson, Samuel L. Jackson, Carrie Brownstein, Bill Hader, Taran Killam, Bobby Moynihan, Jason Sudeikis, Fred Armisen, Martin Short, Nasim Pedrad) Yep, I think it's time to put this one away for good. Look, I have been quite the proponent of "What's Up With That?" over the years, but this one was a disjointed mess. For whatever reason, the timing with Samuel L. Jackson was completely off which let to an awkward exchange that, yes, eventually led to two expletives. (Or, if you believe Jackson, maybe just one since it's debatable if that "k" was pronounced or not.) Anyway, somewhere, Jenny Slate is smiling. If nothing else, at least we saw Jason Sudeikis' red tracksuit guy one last time this season.
Average Score for this Show: 6.28
Mike Ryan is senior writer for Huffington Post Entertainment. You can contact him directly on Twitter. Click below for this week's "SNL," Not Ready For Primetime Podcast featuring Mike Ryan and Hitfix's Ryan McGee.