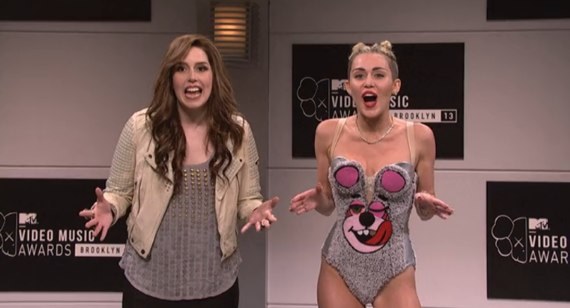 Perhaps it would have been better for Miley Cyrus' show to lead off this "SNL" season, followed by last week's host Tina Fey. The cast seemed, for the most part, more organized this week, but it was hard to notice because the cast was basically relegated to, "Hey, look, Miley Cyrus is here" mode. (Though, Taran Killam and Vanessa Bayer both had a big week.) With a pro like Fey hosting last week, those first show jitters just seemed magnified.
The most successful hosts of late -- Justin Timberlake, Emma Stone, Christoph Waltz -- never try to make the show about them. They try to integrate themselves into the cast, basically becoming a cast member. The Miley Cyrus installment was mostly about Miley Cyrus. And, it's funny, in the few sketches that she wasn't playing herself or an exaggerated version of herself, she was good. Unfortunately, there just wasn't a lot of that.
Off we go to the second scorecard of this young season...
"Mornin' Miami" (Cyrus, Moynihan, McKinnon)
Here's what's frustrating about "Mornin' Miami": It's one of the few sketches during this show that Miley Cyrus wasn't playing herself or an exaggerated version of herself ... and it's terrific. It proves she can be a good host when she and the writers aren't making lazy self-referential jokes. Anyway, "Mornin' Miami" serves now as a reminder of what this particular show could have been.
"Weekend Update" (Meyers, Strong, McKinnon, Pharoah, Bayer) Cecily Strong's confidence was much improved over last week. Though, as a few people were pointing out on Twitter last night, she does kind of lean into the camera in an odd way. I'm sure it's just whatever pose that makes her feel comfortable, but I keep getting the sense that she wants to tell me a secret. Anyway, regardless, her "Weekend Update" jitters are just about gone. (And I did like that she looked off camera at someone to acknowledge when a joke went well. Meyers does this all the time and it just has a confident look to it, for whatever reason.)
McKinnon was solid as a mother who is addicted to "Grand Theft Auto V." It's funny because we are all addicted to "Grand Theft Auto V." Pharoah's Shannon Sharpe was pretty great, though it might have gone on a bit too long. (Also, Seth Meyers is just so good in the role of straight man during segments like this). Vanessa Bayer (who, again, had quite a night) was back with Jacob. I still can't put a finger on why Jacob makes me laugh -- but Jacob makes me laugh. So, whatever, there it is.
"50 Shades of Grey Auditions" (Ensemble) This certainly isn't the best of these types of sketches. And it's really noticeable how much it hurts losing Bill Hader while watching this type of thing -- I kept, sadly, hoping that Alan Alda would show up to audition for "50 Shades of Grey." And it was probably a good idea to show off a few impressions, especially for the new people. Though, Taran Killam's Christoph Waltz impression is a delight. I mean, who knew? I hope we see an entire sketch of this impression.
"Poetry Class" (Bayer, O'Brien, Wheelan, Pharoah, Bryant, Thompson, Cyrus)
It's official: Brooks Wheelan has nailed down the job as "swarmy bro" when needed. Yeah, this is a bizarre sketch. But it's nice when they let Vanessa Bayer be weird. And, on this night, it seems they were letting Vanessa Bayer do whatever she wanted, which is usually a good thing. Though, I do wish this sketch would have featured more of Mike O'Brien.
"We Did Stop" (Killam, Cyrus) Here, Taran Killam pretty much sealed the deal on his claim as the star of "SNL." And Killam just looks so funny dressed as John Boehner. Unfortunately, Cyrus couldn't resist doing her Miley Cyrus things -- there's her tongue again -- so I just felt like I was watching John Boehner and Miley Cyrus dance around. Instead of Boehner and Michele Bachman. (To be fair: A different song probably should have been used. It's probably hard for Miley Cyrus to not do Miley Cyrus things when she's dancing around to a parody of one of her own songs.)
"Girlfriends Talk Show" (Bryant, Strong, Cyrus) Aidy Bryant is so, so good in this sketch. Unfortunately, there was just something off. The contrast of her character works when it's Bryant and Cecily Strong on stage. Miley Cyrus was hamming it up so much that the subtleties of what Bryant was trying to do got lost. Cyrus was going for the "This is funny because I'm talking with an exaggerated accent" laughs (she got none) and seemed to try harder and harder to get them as the sketch went on -- even pulling out another twerking joke -- when what's supposed to be funny about this sketch is Bryant's reactions.
"Piers Morgan: The Clintons" (Killam, Pedrad, Bayer, Bennett, Pharoah, McKinnon, Cyrus, Thompson) Fist of all, it's great to see Nasim Pedrad get some quality airtime in this sketch. Seeing the different versions of the Hillary Clinton miniseries based on the network was a solid idea, but it just didn't work as well as it should have. Also, it was really weird seeing someone play Bill Clinton on "SNL" who is not named Phil Hartman or Darrell Hammond. Beck Bennett becomes only the fourth Clinton in the show's history -- Michael McKean played Clinton during the 1994-1995 season. (Well, unless you count the "Clinton Audition" sketch from 1994, then you also have to include Farley, Sandler, Spade, Chris Elliott and Tim Meadows.)
"Cold Open: VMAs Backstage" (Cyrus, Thompson, Wells, Bayer, Killam, Moynihan, Pharoah) This is one of those, "Hey, I'm making fun of myself" type sketches when, in reality, no one is making fun of herself. ("Oh, I'm so making fun of myself. Something I did was so important that it caused an apocalypse. How embarrassing!") Instead, Cyrus got to insinuate that she smokes marijuana. Great. Also: This is another reason it would have been better for Cyrus to have hosted the first show of the season: at least we could have pretended this sketch was still relevant. Unfortunately, by now, all this stuff has been done to death. It happened 42 days ago. But, yet, here we are, still trying to keep that one night alive.
"Miley's Sex Tape" (Mooney, Moynihan, Bennett, Killam, Cyrus) This one rubbed me the wrong way. I mean, yeah, as a stand-alone sketch, I get it. I just think it would have played better if the rest of the show hadn't been what it was. I mean, I usually like these "around the office" type shorts. In the past it was Bill Hader and Andy Samberg playing with laser cats. Now, it's Kyle Mooney contemplating having sex with Miley Cyrus. I don't know ... that seems like quite a jump. The main problem is that even though, of course, Cyrus was in on the joke, it didn't have the feel like she was in on the joke. In reality it wasn't mean, but it seemed mean.
"Miley Cyrus Monologue" (Cyrus, Moynihan)
More VMA references. Awesome. To tell the truth, here is where it wouldn't have been the worst thing in the world. But since we just watched an entire sketch about that night, it's starting to come off as desperate. I mean, c'mon, there's got to be something else going on, right? (Though, seeing Bobby Moynihan on a wrecking ball was fun.) Also, for whatever reason, this is one of the shortest monologues that I can remember.
"Cheer Squad" (Cyrus, Killam, Strong, Bayer, Pedrad, Bryant, McKinnon, Wells) I'm not sure what's the worst part of this sketch: The fact we could see the tech guy hooking up the wires, or just the fact this sketch exists at all. Boy, this was dumb. And the thing is: I like a good dumb sketch every now and then. Why was the alien rapping? What was the punchline? Was it that they stole our moon? I'm very, very confused. (Note: I have a terrible cold right now and I'm open to the possibility that this sketch doesn't actually exist and that, instead, it's a hallucination from all of the medication that I'm on.)
Average Score for this Show: 5.20
Mike Ryan is senior writer for Huffington Post Entertainment. You can contact him directly on Twitter. Click below for this week's "SNL," Not Ready For Primetime Podcast featuring Mike Ryan and Hitfix's Ryan McGee.
Related
Popular in the Community