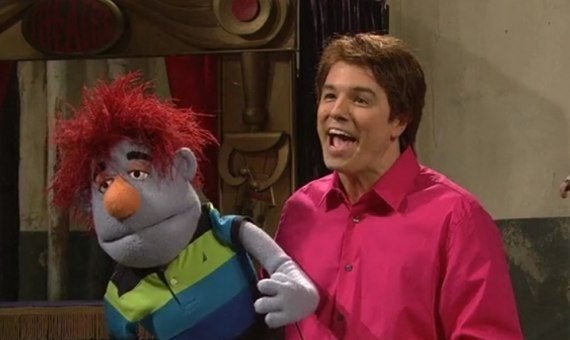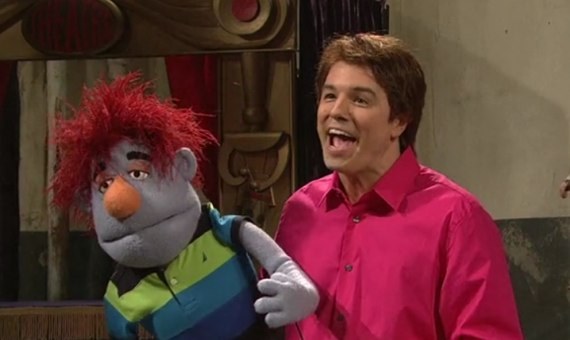 This is not quite the same "Saturday Night Live" that we left in May. Gone is (for better or worse) the manic domination of the show by Kristen Wiig and the sense that at any time the words "SNL Digital Short" could flash across the screen and completely change the tone. Seth MacFarlane hosted the first "SNL" since 2010 to feature new cast members at the start of the season -- Aidy Bryant, Tim Robinson and Cecily Strong (Kate McKinnon joined the cast late last season) -- and he was ... fairly excellent. The last time "SNL" premiered after the Olympics we were unfortunate enough to get Michael Phelps as host. Thankfully, this time, the strategy was just to just to have MacFarlane mock Ryan Lochte instead. Welcome back all ... onto the first Scorecard of Season 38!
(And as a quick announcement, the great Ryan McGee from Hitfix and myself have started a new "SNL" podcast, which you can find here. The full audio is embedded at the bottom of this post. I apologize for my voice in advance.)
"Puppet Class" (MacFarlane, Thompson, Bayer, Hader) If a full-length feature movie were made about Bill Hader's Anthony Peter Coleman and his puppet, I would watch this movie. I mean, seriously, can we just go ahead and get this green lit? I've never before felt the fictional pain and horrors of war (particularly Grenada) through the eyes of a physically shaking, smoking puppet. Also, I want Paul Thomas Anderson to direct this movie.
"Cold Open: Obama Vs. Romney" (Pharoah, Armisen, Sudeikis, Killam) First, quite a classy thing for Armisen to "introduce" Jay Pharoah as the new Obama. I have to say, Pharoah did seem a little nervous to begin, but, boy what an improvement over Armisen's recent offerings. (Though, I still have a soft spot for "Obama Plays it Cool.") There was, oh, how do you say it, personality in the delivery. Yes, we now know that Taran Killam will be our new Paul Ryan and that Mitt Romney loves a good rendition of "Old McDonald Had a Farm," but this sketch was to introduce Pharoah as Obama before the all-important debates start. For that, it more than served its purpose.
"Eastwood and Chair" (Hader, Moynihan, Bayer, Robinson, Pharoah, Killam) Well, this just had to be done. Sure, it's a tad dated, but Hader's Eastwood is just too good for this not to happen. (And I already pictured invisible Obama being played by an invisible Jay Pharoah.)
"Seth MacFarlane Monologue" (MacFarlane) Seth MacFarlane does voices. Neat. I have a feeling MacFarlane basically acting out an episode of "Family Guy" on stage played better in the studio. Alas, this is about the time that I was thinking, Well, at least this isn't Ryan Lochte hosting. Yes, I'm being a little hard on him. And he certainly more than saved the monologue with his song (which I honestly can't believe I actually enjoyed), and his much less indulgent Marty McFly impression.
"Mitt Romney Ad" (Pharoah, Hader, Thompson) Bain Capital borrows money to buy a majority interest in companies, then, after Bain makes its money, sells its stake and leaves the company to fend off the debt for themselves. Which often results in layoffs. That's the true story. In this exaggerated Obama campaign ad, poor Kenan Thompson has worked for multiple companies that were taken over by Bain. Honestly, what Bain does is so ripe for satire, I kind of wish the "exaggerated campaign ad" aspect of this sketch was left out.
"Wooden Spoons" (Robinson, MacFarlane) I always wonder with sketches like this if they are mean to be this short. Or if, in this case, a decision was made, "just read off the name of the website because that's the best part of the sketch anyway."
"Drill Sergeant" (MacFarlane, Moynihan, Thompson, Armisen, Robinson, Killam) MacFarlane plays a drill sergeant with a stuttering problem. And ... that's pretty much it. He yells and he stutters. And because of his stuttering, hijinks ensue. MacFarlane was good in this, and if the punchline were not so telegraphed from the opening seconds, this may have deserved slightly more recognition.
"Weekend Update" (Meyers, Bayer, Moynihan, MacFarlane, Pharoah, Strong) Since Amy Poehler left "SNL," Seth Meyers has had two gears when it comes to hosting "Update" on his own: Either he's on fire or something's off. There never seems to be an in-between. Last night, Meyers was off. But, next week, he'll probably be on fire because this is just the way it works. Also, I've done my best to avoid this whole "Honey Boo Boo" nonsense -- this streak has now ended. And I can only assume that Bayer and Moynihan nailed their impressions because I refuse to look up the real thing to check. MacFarlane was solid as "doofus Lochte," but sadly, Cecily Strong's "SNL" debut as Mimi Moralas, a Get Out The Vote volunteer, brought everything to a screeching halt. Honestly, there's nothing worse than, "Hey everyone, I'm doing a thick accent: Time to laugh!" (I'm sure we will see better things from Miss Strong, but, please, no more of this.)
"Blind Date" (Pedrad, MacFarlane, Bryant, Moynihan, Robinson, Hader, Armisen) In a sketch featuring characters doing impression after impression, of course MacFarlane busted out another "Family Guy" impression. Again, it just felt indulgent. It was disappointing (especially after the departure of Kristen Wiig) it took this late into the show to see Nasim Pedrad with a major role. But, regardless, she still had one: Which is encouraging for the season. Anyway, this became ... tiresome. The only highlights were Bill Hader splashing water, of all things, and Aidy Bryant's line, "I want to become you!" (Channeling Chris Farley's, "Leave me alone, I'm starving.")
"Rodger Brush" (Armisen, Hader, Bayer, Moynihan, MacFarlane, Robinson, McKinnon) "So, Fred, the bad news: you're losing Obama. The good news: You can do Rodger Brush. And we'll put in near the top of the show for you." Anyway, nothing new here. If you've seen one Rodger Brush sketch there's no reason to see another one. And in this particular offering, the timing even seemed flat compared to other installments. I have no idea why this became a recurring sketch, but, here we are: The World We Live In.
"Steve Harvey" (Thompson, Bayer, MacFarlane) This went nowhere. Interesting premise, I suppose: Steve Harvey provides makeovers to men, stylizing them to look exactly like Steve Harvey. Sadly, after MacFarlane walked out dressed like Steve Harvey, the joke was over. Which means the sketch was over, yet it kept going.
"Lids" (Moynihan, MacFarlane, Thompson, Sudeikis, Killam, Hader, Pedrad, McKinnon) There was absolutely no reason this sketch existed other than to point out, "Hey, look, we flew in that Psy fellow." Great. Sure, for a few seconds it was fun to watch Moynihan dance around, but that was sure a lot of setup just so we could watch a YouTube star, that very few real human beings are aware of, ham it up on stage. And I would have loved to be in the writers room when the idea of a hat store was thought up, because it could have been anything really. "So, what if Psy shows up at a belt store?" "Maybe Psy visits an antique mall?" "No, I have it, hats! Sudeikis, do you want to be in this for no reason?"
Average Score for this Show: 5.93
Mike Ryan is senior writer for Huffington Post Entertainment. You can contact him directly on Twitter.
Click below for the new SNL Podcast featuring Mike Ryan and Ryan McGee.
Popular in the Community