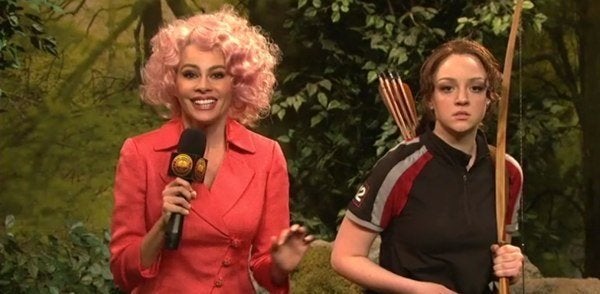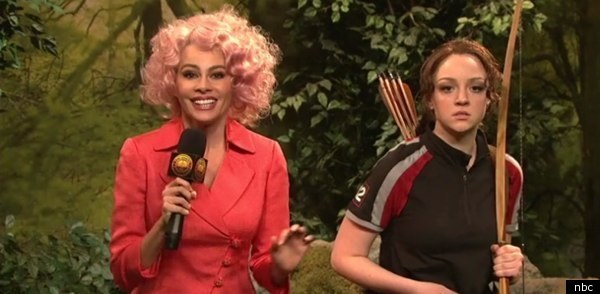 My biggest takeaway from the Sofia Vergara hosted "Saturday Night Live" is that, boy, Sofia Vergara sure does like to yell. And she's quite talented at doing so. Vergara is so talented at yelling that last night she even had the power to circumvent the volume setting on my television. Vergara was better than expected, if, for no other reason, the show put her in easy situations. (Hence the yelling, I suppose.) Oh, and Gilly was back. But there is good news, as newcomer Kate McKinnon, eventually, had a pretty decent debut episode. After a month's hiatus, it's time for a very noisy Scorecard.
"Almost Pizza" (Kristen Wiig, Bill Hader, Nasim Pedrad) The only thing that I didn't like about "Almost Pizza" is that I never found out what Almost Pizza actually is. Is it an alien? If it is an alien, it now lives under that family's refrigerator. What's the solution to that? Would an exterminator be called? The best part was Hader, who can somehow still do the "I'm a dad in a commercial" voice even in an angry tone.
"Bein' Quirky" (Abby Elliott, Taran Killam, Kristen Wiig, Sofia Vergara, Andy Samberg, Fred Armisen) I enjoyed "Bein' Quirky" the first time it aired during the Zooey Deschanel hosted episode. And I enjoyed this version, too. OK, let me rephrase: I was enjoying it until Sofia Vergara's Fran Drescher showed up. Good lord, what was that? It's as if Vergara asked, "So, how do I do a Fran Drescher impression?" And she was told, "Oh, just yell. As loud as you can. It will be great." (Also: How is Fran Drescher "quirky"? ) Though, thankfully, the greatness of Killam's Michael Cera canceled out all of that nonsense.
"Pantene Commercial" (Sofia Vergara, Kate McKinnon, Jason Sudeikis, Bobby Moynihan) It's fitting that there was a sketch that featured Sofia Vergara filming a commercial, because, in reality, she spends a lot of her time doing just that. This time, she gets a lot of easy lines while McKinnon's Penelope Cruz gets the difficult lines. You see, they both have accents. Just writing that out, it makes me want to cringe -- but, for whatever reason, it worked. Also: It's nice to see McKinnon get a starring role during her first show. (Backstage, Jay Pharoah had to be asking himself, "Seriously?")
"Watch What Happens Live" (Taran Killam, Sofia Vergara, Nasim Pedrad, Kenan Thompson, Andy Samberg, Kate McKinnon) Killam is channeling his best Paul Lynde for his Andy Cohen impression. So, I wonder what I'm thinking about this if I'm Cohen. On one hand, it's a nice sign that I'm relevant enough to have an entire sketch based on my talk show. So, that's a good thing! On the other hand: This was a fairly relentless attack for being a narcissist. So, that's a bad thing. Maybe call it even? (For the record, I tend to like Cohen, based on nothing more than the fact the he's a St. Louis Cardinals fan.)
"News Team Promo" (Fred Armisen, Jason Sudeikis, Sofia Vergara, Bill Hader) Hope Hines is having a tough time filming his local news promo commercial. Good lord, I'm a sucker for Fred Armisen's brand of eccentric humor. And his name is "Hope." Good lord, I'm a sucker for the names that Armisen comes up with for his characters. And it doesn't hurt that I find the concept of local news promos funny on their own. Look, there's nothing new here: This is far from the first time this concept has been done (something similar was aired during the Channing Tatum episode), but I laughed. What can I say?
"Cold Open: Mitt Romney" (Jason Sudeikis, Ensemble) Mitt Romney panders. Again. I'll admit, I wasn't enjoying this until Mitt Romney found himself in East St. Louis, IL. As someone who grew up across the river from that place, yeah, that really is nobody's favorite place. And I did laugh when Romney gave his "Hey, New York, let's start the show" introduction because that sounds like how Romney would start the show. And I've said this before: Sheesh, what a boring election. (Somewhere, in an alternate universe, Chris Christie is running for president and, right now, we are still laughing about Bobby Moynihan's latest portrayal.)
"Hunger Games" (Bill Hader, Fred Armisen, Sofia Vergara, Jay Pharoah, Taran Killam, Nasim Pedrad, Abby Elliott) I found this disappointing. For no other reason then, for of all "The Hunger Games" related sketches that could have been done, this was it? Sofia Vergara as sideline reporter? And as the last sketch of the night? I mean, we get yet another Mitt Romney sketch and "The Hunger Games" is an afterthought. They did such a nice job with the costumes and makeup; I just wish a little more time had gone into the premise of the sketch. Even so, it still deserved better than the last sketch of the night.
"Weekend Update" (Seth Meyers, Bobby Moynihan) Well, that was ... brisk. If I weren't lazy and this wasn't Sunday morning, I might go back and check to see if that was the shortest "Update" this season -- but I'm just going to go ahead and assume that it was. I do enjoy Moynihan's Drunk Uncle, but I love it more when "Update" fires on all cylinders. Let me use another overused analogy: I love it when "Update" feels like a well-oiled machine. Or when it feels like a circus right in the middle of the show. This just felt like Meyers wanted it over as quickly as possible. I guess they needed to cut time somewhere so that "Lil' Poundcake" could air for a third(!) time.
"Sofia Vergara Monologue" (Sofia Vergara) I suppose this was... fine? To be honest, I immediately forgot pretty much everything she said the second it was over, but it was short. So that's a plus. And that's not a knock on Vergara; it's more the fact that if her monologue is going to primarily consist of her telling stories of good fortune, while alluding to her looks -- well, yeah, it was best to keep that short. Also, it is pretty odd that while Vergara did mention "Modern Family," she also stars in a new movie next weekend, "The Three Stooges," and didn't mention it once.
"Just Friends" (Jason Sudeikis, Andy Samberg, Nasim Pedrad, Taran Killam, Vanessa Bayer) Sudeikis and Samberg do a nice job of selling the giddiness of just a couple of pals out on the town, dancing in short shorts. But, yikes, aren't we past the whole, "People think we're gay, ew," type premise?
"The Manuel Ortiz Show" (Fred Armisen, Taran Killam, Sofia Vergara, Kristen Wiig, Kenan Thompson, Bill Hader, One Direction) This really is the exact same sketch every single time. I mean, even "Gilly" does shift the narrative ever so slightly. Part of me wants to address the race issue and how it relates to this sketch -- especially with Vergara as part of the sketch. But, honestly, I just don't have it in me. This sketch is so stale, I can't even find the energy to find it offensive or not. Also: I'll be honest, I don't know much about One Direction, but I will admit that they are dreamy. (And, from the catcalls, I assume that they probably all did very well for themselves at the after party.)
"Gilly" (Kristen Wiig, Sofia Vergara, Bobby Moynihan, Abby Elliott, Kenan Thompson, Andy Samberg) I have a feeling that during the next few weeks we'll be seeing the Greatest Hits, of sorts, for the departing Kristen Wiig. And even though Wiig stated that her Gilly and Penelope were retired, well, we now know that's not true. And, yes, I get it. And in a way, I admire Wiig for taking a "Screw you: If I want to play Gilly one last time, I'm going to play Gilly" attitude. But that doesn't mean that I have to like Gilly. I mean, even Kristen Wiig's mom doesn't like Gilly. (And I never realized until now how much I liked Will Forte in the "Gilly" sketches.) So, yes, prepare yourself for one more Penelope and, with Sudeikis leaving, too, I wouldn't be surprised to see the "Two A-Holes" come back after a long hiatus.
(Note: "Lil' Poundcake" originally aired on a prior episode and is not a part of this Scorecard.)
Average Score for this Show: 5.58
Calling all HuffPost superfans!
Sign up for membership to become a founding member and help shape HuffPost's next chapter