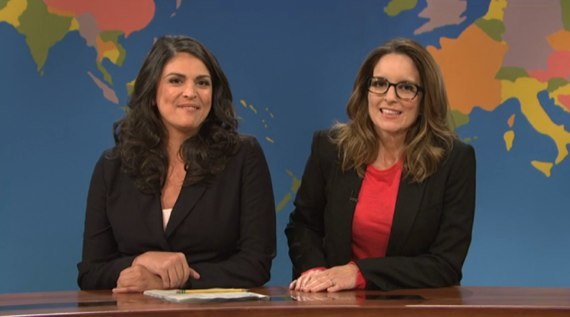 Soooo, yes, that wasn't the smoothest of transitions. (Oh, hi, welcome back, by the way to the now fourth year of "SNL" Scorecard.) Look, it's well documented that this is a transition year for "SNL." The show has six new cast members. Bobby Moynihan is third on the tenure list right now. After Seth Meyers leaves in December, Moynihan will be second. My point is ... give them a break. Things will eventually come together for this cast. They were, of course, not going to have a cohesive, perfect show to start the season, even with Tina Fey hosting. And that's not to say that there weren't some good moments, because there certainly was some good moments.
Anyway, I think Arcade Fire is still playing. Regardless! Here is your first "SNL" Scorecard of the season...
"Girls Promo" (Tina Fey, Noël Wells, Cecily Strong, Kate McKinnon, Vanessa Bayer, Taran Killam) With Noël Wells, "SNL" now has someone who can do a pretty great Lena Dunham. What was surprising about this sketch is just how good Kate McKinnon and Vanessa Bayer's impressions are. It's like they've just been waiting for someone to be added to the cast who can play Dunham and -- boom! -- here's our "Girls" sketch. And, yes, having Tina Fey play an immigrant from Albania that shows how kind of terrible everyone is, well, kind of obvious but still kind of great. Also, Taran Killam does a good Adam Driver. But Taran Killam wasn't a Marine and Adam Driver was a Marine. (That is my favorite fun fact about Adam Driver.)
"Weekend Update" (Seth Meyers, Cecily Strong, Tina Fey, Kyle Mooney, Bobby Moynihan) The worst part of the new Meyers-Strong combo is that we already know it's temporary. The rapport between these two will get better and better as the season progresses, then, in December, Meyers will leave. Regardless, these two work well together. Yes, Cecily Strong was visibly nervous in comparison to Meyers who has been doing this for so long now. But, whatever, that's to be expected.
Plus, having Tina Fey and Drunk Uncle around made "Update" at least feel more familiar than maybe it is. Well, at least until Kyle Mooney's Bruce Chandling showed up, which felt like a segment from 1988. I look forward to seeing more from Mr. Mooney, but I sure hope that's the last time we see Bruce Chandling. (I can only imagine while this was going on, somewhere in the writer's room, Tim Robinson was doing something funny.)
"Tina Fey Monologue" (Tina Fey, Beck Bennett, Josh Milhiser, Kyle Mooney, Mike O'Brien, Noël Wells, Brooks Wheelan) As tradition, the first monologue of the new season introduced us to the new cast members. Thankfully we were spared the whole "calling someone by the wrong name" joke. Instead, Tina Fey brought them out and made them dance. Which, all in all, was probably the best way to do this. (Also: Good grief there are a lot of new faces on this show.)
Manolo Blahnik (Vanessa Bayer, Cecily Strong, Tina Fey) I mean, look, this is basically the same sketch every time they do it. And, you know what, on a night like tonight ... fine. If anything, tonight's "SNL" needed something familiar -- even though this wasn't the best entry into this now recurring sketch series. Though, next time, let's please do something different.
E-Meth (Taran Killam, Brooks Wheelen, Kate McKinnon, Kenan Thompson, Aaron Paul) Well, yes, if you have Aaron Paul hanging around, you might as well get some good meth jokes out of him. This was fine, if not obvious.
"Cold Open: Obamacare" (Jay Pharoah, Aidy Bryant, Bobby Moynihan, Beck Bennett, Taran Killam, Kate McKinnon, Kenan Thompson, Aaron Paul) It's weird, with all of the nonsense going on in the Congress right now that may lead to a government shutdown, this already felt dated. As in: This felt like it was completely written on Tuesday, then, as the week progressed, little references were added in when something else crazy happened, but the gist stayed the same. With the insanity that's going on in real life, this could have been a nice way for "SNL" to announce, "Hey, we made some change, but we're still here." Instead, it just felt like a show that made some changes. Anyway, it was nice to see Jesse Pinkman show up. I'm glad he escaped from the Nazis.
"Airport" (Tina Fey, Taran Killam, ensemble) This was very one note and it's kind of crazy how early in the show this aired. Though, it's obvious that the male lead of "SNL" is now, officially, Taran Killam. And it's notable that Bobby Moynihan has a confidence that he's not quite had in the past. He actually looked like he was glowing. Again, it doesn't feel like Moynihan has been on the show that long (his first season was 2008-2009), but he's already one of the top dogs on the show. And he should be glowing because of that.
"Cinema Classics" (Kenan Thompson, Taran Killam, Tina Fey, Aidy Bryant) Yikes. This was the kind of sketch that Bill Hader and Fred Armisen just killed on. Also, it's weird to do a joke about a taxidermist that uses the punchline "You can't write this stuff" when, yes, actually this was written. And, in this case, not written very well. Anyway having said that, there was something funny in here. Like, just writing about it right now, I'm thinking to myself A taxidermist blackmails a director into using his stuffed animals on a movie set ... yeah, that's pretty funny but yet, while I watch the sketch, I am not laughing. Alas.
"Used Car Commercial" (Mike O'Brien, Tina Fey) So, yeah, I really have no clue. I can only imagine this has been stirring in Mike O'Brien's head as a writer (O'Brien had been a writer before he joined the cast) and, well, let's just be glad this one is out of his system. Though, even though this sketch was a dud, it should be noted that O'Brien is funny as a performer --though this just didn't feel like he went "all in" on the weird. Like, he wanted this to be weird, but held back, which just created something kind of dumb instead of weird. In the past, I would have been calling for O'Brien to grab that "weird sketch" mantle that someone like Will Forte was so good at doing -- but that hasn't really worked out to well for Tim Robinson and Paul Brittain over the last couple of seasons. So, maybe not.
"New Cast Member or Arcade Fire" (Kenan Thompson, Tina Fey, Kyle Mooney, Noël Wells, Mike O'Brien, Lorne Michaels) OK, sure, this is a cute idea, but it's way too self-referential. This feels like something someone says in the pitch meeting to get a laugh, then moves on. Not actually make a sketch out of it. Look, we get it, there are new cast members. Actually, we were just told how many new cast members there are in the monologue. And the lack of diversity in the "SNL" cast is a real issue and pointing out on national TV that you just hired five new white guys and one white woman may not have been the best move. Plus, in general, "SNL" shouldn't be doing sketches about "SNL."
Average Score for this Show: 5.35
Mike Ryan is senior writer for Huffington Post Entertainment. You can contact him directly on Twitter. Click below for this week's "SNL," Not Ready For Primetime Podcast featuring Mike Ryan and Hitfix's Ryan McGee.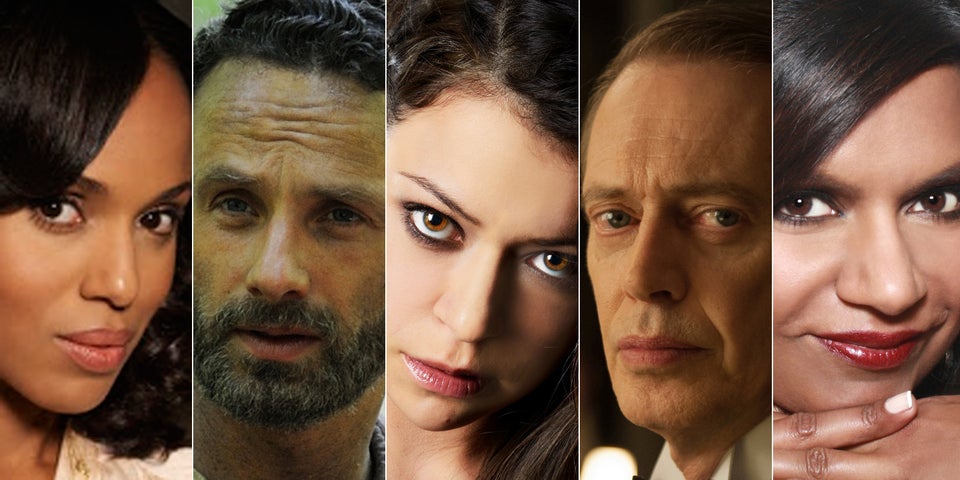 Critics Picks 2013-2014
Related
Popular in the Community