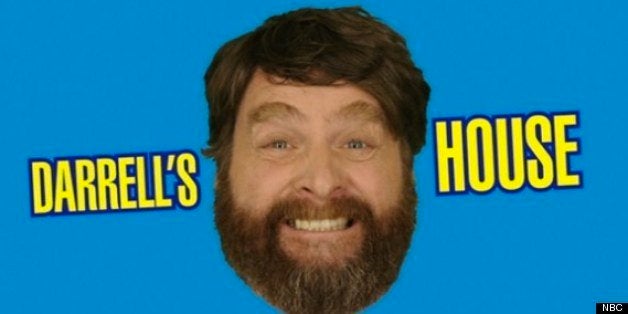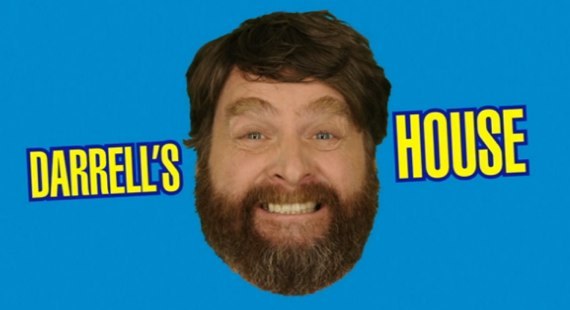 The past hallmarks of a Zach Galifianakis-hosted "SNL" have been (A) absurdest humor and (B) Galifianakis ending the show with less hair than when he started. Last night, Galifianakis' hair remained intact in what was an ... OK enough show. But, really, it felt at times that the cast was just sitting around waiting for the reaction to final sketch of the night -- which turned out to be one of the most ambitious sketches in recent memory. Off we go to a slightly repetitive, but still pleasant enough Scorecard ...
"Darrell's House Parts 1 and 2" (Zach Galifianakis, Vanessa Bayer, Kenan Thompson, Jon Hamm) I can honestly say that I've never seen anything quite like this attempted on "SNL" before. Sure, there are plenty of sketches that have had reprises throughout the show, but never anything quite like this -- "Z-Shirt" came close, but the first sketch really was independent of the funeral, payoff sketch -- never anything that the entire payoff of the sketch is dependent on watching the second part. I mean, the first part is close to unwatchable, but the second part payoff makes the whole thing brilliant.
"New Balance" (Zach Galifianakis, Taran Killam, Bobby Moynihan, Tim Robinson) It's funny because it's true. (But, c'mon, New Balance has some pretty decent looking shoes.) Also, this feels like it has Tim Robinson's fingerprints all over it. And, if that's the case, I'm really enjoying his late season surge.
"Zach Galifianakis Monologue" (Zach Galifianakis) Yes, Galifianakis' opening line, "I hope everyone had a good Thanksgiving," made me laugh. Though, there wasn't much new to see here -- this was basically a continuation of Galifianakis' heralded monologue from the first time that he hosted in 2010. Though, for whatever reason, this time around, the piano-accompanied non-sequiturs didn't really land with the same odd punch that they had the first time. Regardless, it's still better than most monologue efforts.
"Weekend Update" (Seth Meyers, Bill Hader, Fred Armisen, Cecily Strong) Another three segment "Update," which we seem to be seeing more and more of as of late. Hader as James Carville and Strong as "Girl You Wish You Hadn't Started A Conversation With at a Party" were both fine, but (again, a recurring theme tonight), more of the same. The standout here was Fred Armisen as a tech blogger named Randall Meeks who has the new Google Glass. And, yes, this is what people will look like who use Google Glass. This will be our future.
"Cold Open: Fox and Friends" (Taran Killam, Vanessa Bayer, Bobby Moynihan, Fred Armisen) It really seems like the mantra of this "SNL" season is, "When in doubt, write a 'Fox & Friends.'" And, look, for the most part, these always wind of being pretty good. And, yes, the "corrections" are always a highlight. With only two shows remaining, we probably won't be seeing "Fox and Friends" again until this fall anyway, but, boy, it would be nice to see "SNL" come up with something new instead of wearing this one out -- which is dangerously close to happening.
"Game of Game of Thrones" (Bill Hader, Zach Galifianakis, Taran Killam, Aidy Bryant, Nikolaj Coster-Waldau) I thought this would be better. Seeing the setup as the sketch started, I just really thought that this would be better because there's just so much to work with (including a walk-on by "Game of Thrones" star Nikolaj Coster-Waldau). Instead, they went with the tried and true: Fans of a certain genre don't know anything except about that genre. I mean, it's comedy, who cares? It's just that there's absolutely nothing new to see here. (I feel "SNL" has been chasing the ghost of Shatner's "get a life" sketch for 26 years and can't quite recreate it.)
"M&M Store" (Zach Galifianakis, Jason Sudeikis, Nasim Pedrad, Fred Armisen, Tim Robinson, Bobby Moynihan, Kennan Thompson, Vanessa Bayer) I've watched this sketch three times now and I really am having a hard time with it. I think there are some interesting ideas in here -- and even flirts with edginess -- but it still feels like a misfire. A smart misfire, for sure, but there's something missing here that could have really made this one jump.
"Match.com" (Kate McKinnon, Vanessa Bayer, Aidy Bryant, Nasim Pedrad, Cecily Strong, Taran Killam) Martha Stewart wants to meet a man -- that's pretty much the gist. Though Kate McKinnon does a fairly good Stewart impression, I pretty much forgot this sketch existed the second it ended. A sketch involving either Martha Stewart or Match.com seems like it belongs on something that aired 10 years ago.
"Jennifer Aniston Lookalike Pageant" (Jason Sudeikis, Zach Galifianakis, Cecily Strong, Bobby Moynihan, Kenan Thompson, Taran Killam, Nasim Pedrad, Vanessa Bayer, Bradley Cooper, Ed Helms) I have two takeaways from this sketch: Vanessa Bayer does a really great Jennifer Aniston impression and that someone really wants me to see "The Hangover Part III."
(This sketch is not online because a Dione Warwick song was sung by the cast of "The Hangover Part III.")
"Michael Jordan Wedding" (Zach Galifianakis, Jason Sudeikis, Kenan Thompson, Fred Armisen, Aidy Bryant, Jay Pharoah) Boy, this went on for a long time. I mean, it's listed as an under five minute sketch, but I don't know how that could possibly be true. The only good thing I can say about this sketch is that it didn't turn into a commercial for "The Hangover Part III."
Average Score for this Show: 5.78
Mike Ryan is senior writer for Huffington Post Entertainment. You can contact him directly on Twitter. Click below for this week's "SNL," Not Ready For Primetime Podcast featuring Mike Ryan and Hitfix's Ryan McGee.
Related
Popular in the Community