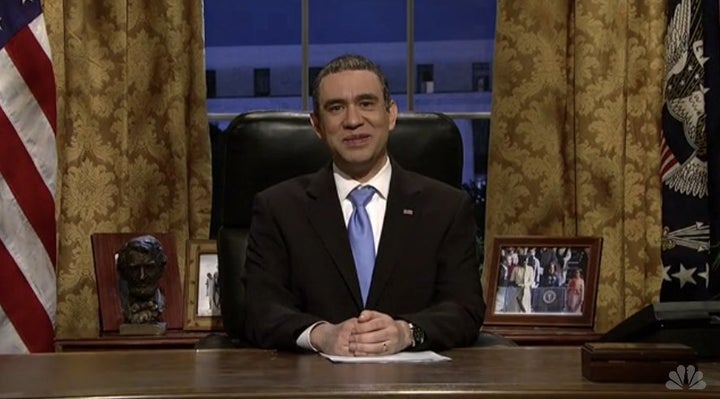 This weekend's episode of "Saturday Night Live" opened with a scathing parody of "Fox & Friends," the right-leaning morning show that airs on the Fox News Channel. But had things gone differently, the cold open would have been a monologue from President Obama (Fred Armisen), asking citizens to celebrate the anniversary of terrorist Osama bin Laden's assassination. The Daily Caller obtained the full script of the scrapped sketch.
President Obama has been accused of politicizing the death of bin Laden by both sides of the aisle for running campaign ads implying that Obama's GOP opponent Mitt Romney would not have made the call to target bin Laden. The leaked sketch portrays Obama as eagerly reminding audiences that he made the call to perform the raid.
Unfortunately, I wasn't able to be at home this year, as I had to fly to Afghanistan, to remind President Karzai that, exactly one year ago, we killed Osama bin Laden, and that the decision to do so was a gutsy one. And was mine. To Michelle, Sasha, and Malia, I'm sorry I couldn't be with you this time. You know there's no place I'd rather be on Killing Osama bin Laden Day than with you.
The sketch was written by Jim Downey, who has penned the bulk of "SNL"'s political satire since the show's debut in 1975. The decision to scrap the Obama sketch is unlikely to have been politically motivated, but rather it probably did not receive the requisite response to earn its way into the live broadcast. Even liberals (or especially liberals) have felt that the show's Obama sketches are often a weak link in the show.
Speaking to The New York Times' Maureen Dowd last month, Downey admitted that the show has struggled to make Obama parodies work comedically. Unlike past presidents like Bill Clinton or George W. Bush, Obama is "smooth without big handles," according to Downey. In other words, comedy writers do not find much fodder for caricature from the real-life Obama, to their professional dismay. Working in Studio 8H does not automatically endear comedians to Obama, as former "SNL" cast member and self-identified Democrat Jon Lovitz recently reminded us with a vulgar anti-Obama rant.
The Caller story about the leaked sketch makes no indication of whether or not the sketch made it to dress rehearsal, but programming decisions on "SNL" tend to be made with only one priority in mind: Whether the audience laughs. If the sketch failed to make it to air, it's almost certainly because it did not go over as well as the "Fox & Friends" parody.
Below, read the discarded Obama sketch. Why do you think it was scrapped? Let us know in the comments.
Popular in the Community