For a devoted fan, there are many takeaways from last night's kickoff to the 33rd season of "Saturday Night Live," but for the media and the internet there will be only one: Last night's digital short featuring Andy Samberg singing a love song to Mahmoud Ahmadinejad, played with bearded brilliance by Fred Armisen, and featuring Maroon 5's Adam Levine plus a cameo from Jake Gyllenhaal. That's what's going to go viral, and NBC has finally learned how to help it along by posting the video to its YouTube page by 9am this morning. Just because the video will be the biggest takeaway, though, does not mean it will be the only takeaway — not by a long shot in a show that included a great hosting turn by LeBron James, surprise self-mocking cameo by Kanye West and the kickoff to SNL's take on the presidential campaign. But first, because we know you're straight trippin', boo, the vid — and lines like this: "You can deny the Holocaust all you want, but you can't deny that there's something between us." Aw. Who says romance is dead?
Those of you who are interested in musings on SNL from a self-appointed expert on the subject can remain.
Before getting into the individual sketches, a note on the show in general: More than anything else, it seemed like a continuation of last season. Which is a good thing, and, I think, exactly what Lorne Michaels intended when he expressed to me last year that the show was in a "rebuilding" phase. Last year the season kicked off after a budget cut and a downsizing, with an unevenly-known cast and the usual dark talk about how SNL just wasn't what it used to be in the good old days of Will Ferrell/Chevy Chase/Eddie Murphy/Joe Piscopo. They spent the season consolidating, growing the show and the characters, and this season the exact same cast has taken the stage (after some Hamlet-style soul-searching for Maya Rudolph, who decided at the last minute that she'd come back for another season). But now, the cast on the stage is more familiar. Audiences already knew Amy Poehler and Darrell Hammond — now in his 13th season, he's the show's longest-running cast member — but now they know the other guys, too: There's Samberg, obviously, famous for lazy Sundays and body parts in boxes but also from the summer flick "Hot Rod"; Will Forte, who starred with Poehler-hubby Will Arnett in the recent "The Brothers Solomon"; Kirsten Wiig, who stole scenes in the summer blockbuster "Knocked Up", which also featured airtime for fellow cast member Bill Hader who had turns in "Hot Rod," "Solomon" and "Superbad" as well; and Jason Sudeikis, who enjoyed a recurring prime-time role as Tina Fey's nerdily perfect lawyer boyfriend on the Emmy-winning "30 Rock" (who's the blando now, Ken Tucker?). Okay fine, these are not household names — there is a certain amount of comedy-nerdery that goes along with knowing this — but still. This is not the newbie cast that critics were fretting about a year ago.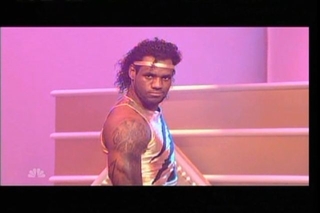 Okay! On to the show. Full disclosure: I didn't know much about LeBron James going in, so I totally didn't get that opening monologue (or his joke about the Cleveland Cavaliers. Or that there was a team called the Cleveland Cavaliers). I knew enough to be wary of sport-star hosts — bold choice for a season opener; last year they had Steve Carrell — but he was great, a full team player, gamely going for it in all the scenes, most memorably singing in the "High School Musical" sketch ("On second thought, I think I'll stick around/Play a little ball and have sex with your girlfriend"). Not all that tuneful, but funny. (NB: Going to the Vanessa Hudgens nudie shot was funny, but why telegraph the joke with a set-up beforehand? It dulled the reveal. Making the joke was predictible; Maya Rudolph's tan lines were not, so why steal your own thunder?)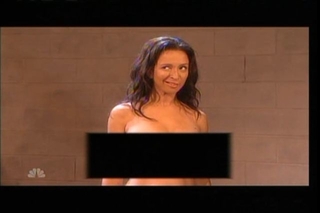 Some other notes: Thanks to a strong opening lineup (LeBronalogue; High School Musical; Armisenejad), you almost forgot that the opening credits totally screwed up. I've never seen that before, except on Capitol Hill during the Petraeus hearings: Don Pardo was totally micless, and for the first show of the season, there was no voice saying "It's Saturday Night Live!" Cast members flitted by unannounced until Seth Myers, though if you strained you could hear the faintest calls of "Bill Hader!" and "Darrell Hammond" in the distance. Even worse, just before they got to Maya Rudolph, you could actually hear rustling, and a man's voice, as they tried to get Pardo to a working mic. Oh well. That's what's fun about live TV, right, Kanye?
Some fun nuggetry: In the sketch where he trash-talks LeBron, Jason Sudeikis talks about playing high school ball ("Shawnee Mission West Vikings...point guard. I led the team in assists") and being a "lefty from Kansas" — it happens to be true. Sudeikis did indeed play ball for Shawnee Mission and then went to Kansas University on a basketball scholarship. Funfact! Also, if you thought Kenan Thompson was looking slimmer, you are correct: He's been on a diet all summer so he can play Barack Obama. Not quite there yet, but that's okay, Maya Rudolph as Time Travelling Scott Joplin is actually a pretty decent facsimile in a pinch. Wow, it's a good thing Maya stayed, otherwise the cast would have lost one-half of its visible minorities and one-third of its women. Hmm. A black and female candidate (can Amy Poehler play Hillary AND Kucinich?) plus a bunch of prominent political wives also part of the story...casting might be trickier than your usual presidential leadership contest. This may be a year when the SNL diversity debate looms large — or maybe Lorne will hearken unto Kanye's plea to "give a short black man a chance." (Related: This promo for the show.)
A note on cameos: Lotsa bonding goes on in Studio 8H, so it's not surprising that last year's penultimate musical guest Levine cropped up in the "Iran So Far" video, as well as last January's host Gyllenhaal (he of manly arms and sequined gown). Today's cameos are tomorrow's Five Timer's club members (Timberlake is well on his way; we'll see him again this year), so watch for these and other Friends of SNL to pop up this season (this includes friends from movies, and now goes double for 30 Rock — we predict more cross-pollination). And if you think I'm exaggerating, well, I just gave birth to seven baby cows today.
Related In Coverage From The Year Before, Even:
Media-riffic highlights from Saturday Night Live Season Opener, 2005 [FishbowlNY]



Calling all HuffPost superfans!
Sign up for membership to become a founding member and help shape HuffPost's next chapter